I'm a Self-Made Millionaire: This Is the First Purchase I Made When I Hit $1M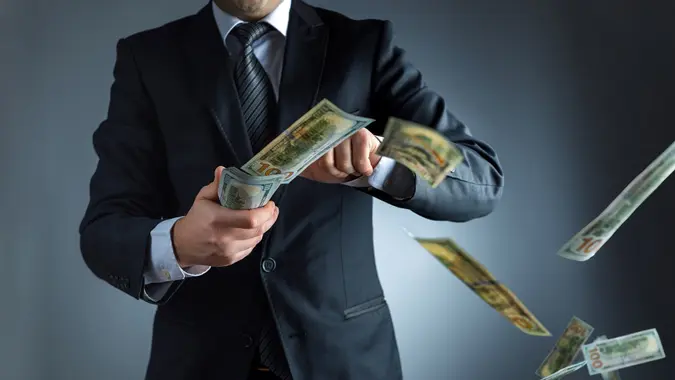 turk_stock_photographer / iStock.com
Average earners who fantasize about being rich probably have a mental list of all the things they'll buy when they make their first million — a supercar, a mansion, a boat, a luxury vacation.
But fantasies rarely line up with reality, and in real life, those who work their way up to seven-figure net worths are unlikely to spend their newfound wealth as they might have imagined when they were still hustling, scrambling, scrimping and saving.
GOBankingRates spoke to three self-made millionaires to learn what rich people buy when they finally reach the longstanding benchmark of true wealth. All three followed very different paths to financial security, and their first post-millionaire purchases reflect their unique views on spending, affluence and money's unique ability to provide joy and compound existing wealth into an even greater fortune.
Here's what they bought first after striking it rich.
All-You-Can-Eat Shrimp With Friends
Fawn Bowe is the founder of Skincare Stacy, a skincare, beauty and biohacking site, and the co-founder of biöm, a successful personal care products company.
Although she's juggling two thriving projects, her current entrepreneurial endeavors are hardly her first. In February, she told Mentors Collective that she's been developing online revenue streams since her teen years. It was a long road from those early days of unbridled ambition to her current status as a millionaire businesswoman — but she clearly remembers her finest day during the journey. When Mentors asked about her most satisfying moment in business, Bowe said it was her first $10,000 day.
Make Your Money Work Better for You
She also remembers what she bought to celebrate another major professional milestone — the moment her net worth hit seven figures.
"Funny enough, the day I finally became a millionaire, the first thing I did was head to Red Lobster for dinner with a few friends, because we heard they were offering unlimited shrimp," said Bowe. "Let me tell you, while the food wasn't great, the company was awesome, and they've been my good friends long before I had any financial success. Those relationships are worth way more than a million dollars to me."
An Investment Property for Building Wealth
Ritika Asrani is the head broker and sole owner of Century21 St Maarten, a luxury real estate agency in Sint Maarten in the Caribbean. While the agency serves mostly American and Canadian clientele, it's a truly international enterprise that conducts business in English, Dutch, Italian, Hindi, Russian, French and Spanish.
The agency specializes in the sales of luxury villas, condos and hotels, along with rentals and property management across both Sint Maarten and Saint Martin. It's been named the best real estate agency on the island for 13 years, most recently in 2023, but Asrani has been a real estate professional and entrepreneur for 25 years.
Her efforts have earned her millionaire status, and she made her first purchase upon reaching that milestone with the intention of turning one million into many.
"When I reached a net worth of $1 million, my first purchase was an income-generating property," said Asrani. "Real estate has always been my forte, and I wanted to make my money work for me. I purchased a small apartment building in an up-and-coming neighborhood. The reason behind this choice was to continue building wealth and diversify my income streams. This investment not only appreciated over the years but also provided a steady rental income, which accelerated my path to financial success."
Make Your Money Work Better for You
A Vacation Property for Building Memories
Rory Donadio is CEO of Tribeca Capital Group, a unique financing firm that specializes in lawsuit loans. It's headquartered in Los Angeles, but his team operates nationwide, providing funding that his clients use to pay expenses for ongoing legal cases in anticipation of settlements.
The company has loaned more than $45 million to fund cases involving civil rights, mass tort, personal injury, product liability, employment and labor, inheritance and accidents. Donadio's company has been a pioneer in the legal lending field, which was an obscure niche when he started that has since evolved into a multi-billion-dollar industry.
Donadio's work has made him a millionaire, and like Asrani, his first purchase upon hitting the seven-figure mark was real estate — but he bought a different kind of property for different reasons.
"My first significant purchase after reaching a net worth of $1 million was a vacation home," he said. "Not only was it a reward for my hard work, but it also represented an investment that could appreciate over time and provide a retreat for family gatherings."
More From GOBankingRates