These Super Rich People Bought an Entire Town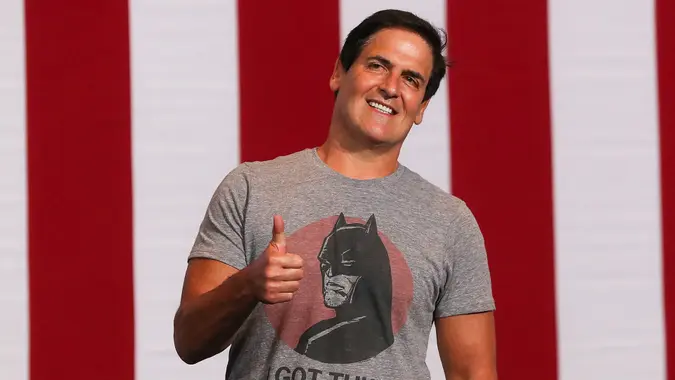 Justin Sullivan / Getty Images
Real estate has always been a sought-after investment. There's a constant demand for it and only a finite amount to go around. The super-rich, of course, have long made it a habit of purchasing properties, but they haven't always stopped there. 
Sometimes, the super-rich have gone so far as to buy entire towns. These transactions happen for a variety of reasons, and usually with wildly mixed results, as well. Here's a look at a few noteworthy celebrities and other uber-wealthy individuals who took real estate to its extremes and bought entire towns. 
Learn: Here's How Much You Need To Earn To Be 'Rich' in Every State
Also Read: 25 Secrets Every Rich Person Knows
Kim Basinger – Braselton, GA
Fresh off Tim Burton's mega-hit Batman, co-star Kim Basinger announced that she was buying almost all of the town of Braselton, GA for a cool $20 million. The initial plan, as Basinger explained at the time, was to turn the little town 50 miles NE of Atlanta into a tourist attraction. 
Make Your Money Work Better for You
However, Basinger's plans for movie studios and production houses soon fell apart. By 1992, several residents told the Chicago Tribune that the town was worse off than it was before the deal. Basinger's brother, Mick, who was handling the business end of things, blamed the recession for giving potential investors and other developers cold feet. 
Basinger filed for bankruptcy that same year. She's since sold their interests in the town. 
Find Out: How Much You Need To Be 'Rich' in 50 Major US Cities
Mark Cuban – Mustang, TX
Billionaire investor and longtime Shark Tank host Mark Cuban purchased the very small town of Mustang, TX in December of 2021. While the town only boasts the lone watering hole in the otherwise dry county of Navarro, along with a population of 21 residents (and one alligator), he's not sure if he'll be involved in any development plans. 
"I don't know what if anything I will do with it," Cuban told the Dallas Morning News about the purchase, stating he only bought it because a friend of his needed to sell it. The sale price is unclear, though the town was previously listed for sale in 2017 for $4 million. 
Make Your Money Work Better for You
How To: Make a Debt-Free Future Your Reality
Michael Bruno – Tuxedo, NY
Entrepreneur and self-described "real-estate junkie" Michael Bruno hasn't quite purchased all of Sloatsburg, just yet, but he's poured about $15 million into real estate in the scenic New England town about 35 miles from midtown Manhattan. 
"Once we get rid of the visual blight, and Tuxedo begins to have this rural, foodie character, other neighbors will beautify as well," Bruno told the New York Post in 2016. It's part of a larger project that involves real estate, beautification, and rejuvenation of the area. The 1stdibs.com founder also invested Chester Agriculture Center, a for-profit collective that buys long-held farmland in the area in order to lease it to a new generation of innovative, organic farmers. 
Also See: How To Support Women-Owned Small Businesses
Larry Ellison – the island of Lanai, Hawaii
While buying a town is definitely a status symbol, it doesn't quite compare to buying an entire island. That's what Oracle founder Larry Ellison did following a vacation to the remote island of Lanai. Back in 2012, CNBC noted that he bought 98 percent of the island for $300 million dollars back in 2012. 
Make Your Money Work Better for You
Ellison's purchase netted him a whopping 90,000 acres of land, a town with 3,200 residents, and a pair of Four Seasons luxury resorts. Both are still functioning, of course, and their new landlord promises that those who visit "will be treated like royalty" at either of the five-star resorts. 
More From GOBankingRates
Make Your Money Work Better for You