Vacations Only the Rich Can Afford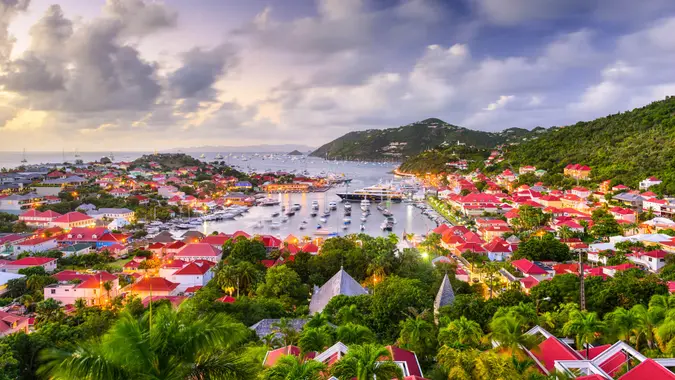 SeanPavonePhoto / Getty Images/iStockphoto
Unless you save up for a long time or receive an unexpected financial windfall, there are certain vacations that you might never be able to afford. But for the affluent, there are virtually no limits on where they can go or how much they can spend on their vacation. This allows for some pretty spectacular luxury holidays to places that might be out of reach for most people.
If you've ever wondered where the rich spend their vacations, or what they spend their money on, here are some of the top spots, according to experts.
Islands of French Polynesia
The islands of French Polynesia, most notably Bora Bora, are known as a top destination for the wealthy. One of the biggest reasons for this is that they can be difficult to reach.
"In my experience, the only destinations that only wealthy or rich people can afford are those that are hard to get to," said Mac Steer, owner and director of Simify. "That's why people who have money tend to go to places like Tahiti and Bora Bora in the South Pacific. Even though those places are beautiful, they're also difficult to get to."
Since these places are harder for the average person to get to, there's a higher likelihood of coming across other wealthy individuals while on vacation.
Make Your Money Work Better for You
St. Barts in the Caribbean
"One of the most expensive holiday destinations in the world is the Caribbean Island of St. Barthélemy, where accommodations alone cost an average of $1,770 per night," said Alonso Marly, travel expert at Skylux Travel.
Besides pricey accommodations, several other factors make St. Barts a prime destination for the wealthy.
The island is a tropical paradise with "upscale villas, high-end designer boutiques, gourmet restaurants, white sand beaches, and crystal-clear waters that have always allured those who want nothing but an ultimate luxury," said Marly. "In St. Barts, every day is a unique adventure that offers everything from sailing a luxury yacht and exploring the vibrant marine life through scuba diving to simply soaking [up] the sun at one of the island's many picture-perfect beaches."
Adding to the exclusivity of the island is the fact that there aren't any direct flights to St. Barts from the U.S. This means a trip to St. Barts is often a longer and more expensive endeavor than a jaunt to many other Caribbean islands — unless of course to go by private plane.
Aspen, Colorado
For wealthy travelers taking a winter vacation, the mountain town of Aspen, Colorado, is a top destination. Aspen is "one of the most popular go-to winter destinations in the world with some of the most expensive skiing resorts and five-diamond hotels that can go up to $5,000 per night," said Marly.
"This elite winter wonderland is renowned for its fine dining, upscale shopping, and world-class outdoor activities, which makes it a top spot for celebrities and billionaires looking for a glamorous winter getaway where luxury meets wilderness," added Marly. "Among all the other unique adventures, Aspen also offers private snowmobile tours, hot air balloon rides over the snowy mountains, horseback riding, dog sled rides and tandem sky diving that cost way more than an average traveler could afford."
Make Your Money Work Better for You
Those looking for a truly high-end, bespoke experience can also enjoy luxury spas, personal concierge services, private dining experiences, and more at Aspen.
High-end Vacations for the Rich: Money Is No Object
For the truly affluent, the cost of the vacation is less of a concern than the reason for going.
"High-net-worth individuals travel to diverse destinations around the world based on a number of factors, including their sporting and leisure activity preferences (i.e. golf, skiing, sailing, film festivals, yacht shows, charity events, etc.), when the weather is ideal, the high society social calendar, or based on privacy needs," said Philip Ballard, chief communications officer and head of investor relations at HotelPlanner.
"Generally speaking, the cost is less of a determining factor than the purpose of the travel," Ballard said. "Luxury travelers are typically less cost-sensitive than average travelers. It's not uncommon for many to spend $50,000-$100,000 on an all-inclusive, bespoke, or ultra-luxury experience (from transportation to accommodation to entertainment)."
With that in mind, here are some more destinations only the truly wealthy can afford to vacation to, according to Ballard:
Fall destination vacations — The Maldives, Lake Como (Italy), Ko Semui (Thailand), Fiji
Winter destination vacations — Upscale ski towns like Chamonix or Megève (French Alps), Gstaad (Switzerland), Nozawa Onsen (Japan)
Spring destination vacations — Cannes or Saint-Tropez (France), Venice (Italy), Monaco
U.S. destination vacations — Palm Beach (Florida), The Hamptons (New York), Newport (Rhode Island), Napa Valley (California), Philipsburg (Montana)
Africa and the Middle East — Marrakech and Tangiers (Morocco), Dubai, Botswana, Kenya, Rwanda
For some of these destinations, it's not necessary to be wealthy just to visit or spend a few days there. But for many people, the cost of accommodations, airfare, food, and entertainment can all add up to an amount they can't afford. This is especially true of more secluded, exclusive, or distant hot spots, as well as those that come with custom-built experiences.
Make Your Money Work Better for You
Plus, many of these places become more expensive during peak travel times or events, like fashion weeks, film festivals, and yacht shows. This doesn't typically affect wealthy travelers, but it can definitely exclude travelers looking for a more budget-friendly experience.
More From GOBankingRates