10 Ways for Millennials To Get Rich in 2023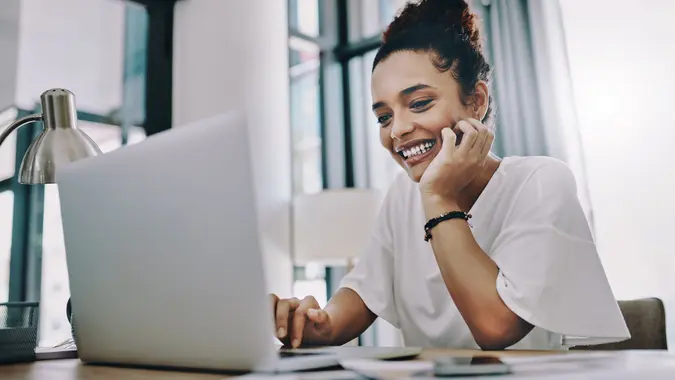 Delmaine Donson / iStock.com
From entering the workforce during the height of the Great Recession to being saddled with student loan debt, millennials haven't had it easy. And the financial challenges are adding up in the form of debt. According to a recent survey by Real Estate Witch, the average millennial currently owes $117,000 in non-mortgage debt.
The Future of Finances: Gen Z & How They Relate to Money
Read: 5 Things You Must Do When Your Savings Reach $50,000
Living a life in debt is dangerous and stressful, so how can millennials get out of the situation? They need to consider ways they can get rich in the new year. Here's a look at what they can do to get on track to building wealth in 2023.
Become a Realtor
"Becoming a realtor is one of the quickest and most lucrative ways for millennials to generate wealth fast," said Marcus P. Miller, CFP, financial advisor at Mainstay Capital. "You can become a licensed real estate agent by completing your state's required pre-licensing education, passing your state's licensing exam, and then getting hired or joining a brokerage. As a realtor, you can make money quickly by selling homes and collecting commission."
Make Your Money Work Better for You
Get Into Aggressive Investing
"Aggressive investing involves taking on more risk in order to generate higher returns," said Michael Ryan of the financial literacy site Michael Ryan Money. "This could involve investing in stocks, options, futures, or other high-risk investments. Be sure to do your research and understand the risks before you get started."
Take Our Poll: Do You Think Student Loan Debt Should Be Forgiven?
Start a Digital Company
"This can be ecommerce, selling a course or taking the influencer route," said CJ Ahlquist of Olive the Money. "It can take a lot of hustle, or a lot of time, but if you focus on the basic premise of starting a business — answering the question, 'What problem am I solving for who?' you can get there." 
Take on Freelance Work 
"To get started, you will need to identify the skills or expertise that you have that people are willing to pay for. This could be writing, graphic design, web development, or any number of other skills," said Emma Salveson, a founder of HR and management company The Hub Events. "You can then use websites like Upwork or Freelancer to find clients who are looking for someone with your skills. With the right skills and a good reputation, you can earn a significant amount of money quickly by taking on freelance work."
Make Your Money Work Better for You
Become a Consultant
"If you have an expertise in a particular field, you could become a consultant and offer your services to companies looking to tap into your knowledge," Ryan said. "Many companies are willing to pay top dollar for specialized expertise, and you can start earning money fast."
Offer Coaching Services
"Offering coaching or tutoring services is another great way for millennials to generate wealth quickly," Miller said. "You can specialize in any number of areas such as business, fitness, nutrition, art, music and more. To get started with this type of work, millennials should create a website to showcase their expertise and find ways to market their services through social media and other platforms."
Start a Small Business
"Starting a small business could be a great way to generate wealth quickly," Ryan said. "You can start a business in any field — from web design to pet care — and you can start earning money as soon as you get your business up and running."
Jump on the Short-Term Rental Trend
"With travel continuing to expand and recover post-pandemic, the best ways millennials can build wealth quickly through 2023 will be those that capitalize on travel trends," said Dr. Enoch Omololu, founder of the Canadian finance website Savvy New Canadians. "Specifically, short-term rentals through sites like Airbnb and VRBO are going to become even more popular, as travelers seek out local boutique experiences, rather than hotel rooms that all look the same. If you have an extra room in your home, rent it out on one of these short-term rental sites. If you live in a well-visited area, especially during tourist season, you could make a strong income, even from just a single room rental."
Make Your Money Work Better for You
Invest In Real Estate  
"High inflation and high interest rates have combined to make most investments especially expensive and limit quick returns, but one type of asset offers a higher value floor as well as excellent resilience during high inflation: real estate," said Leonard Ang, the CEO of iPropertyManagement. "Residential rental properties in particular are a good enough deal that even owning a single property — or even renting out a single room in your home — can easily pay most or all of your mortgage payments and help you build equity in a high-value asset. If you can't afford a whole building, consider tokenized real estate investing through firms like RealT or SolidBlock."
Seek Professional Advice From a Financial Advisor
"A financial advisor can provide you with personalized advice and guidance, working with you to make a plan to achieve your unique financial goals and also help you prepare for the unexpected," said Matt Gellene, head of consumer client management at Bank of America. "They can also provide you with access to educational tools and resources to help you make more confident decisions about managing your money and future investments. Lean into their expertise and do not be afraid to ask questions."
More From GOBankingRates
Make Your Money Work Better for You