What Are Civil War Coins and How Valuable Can They Be?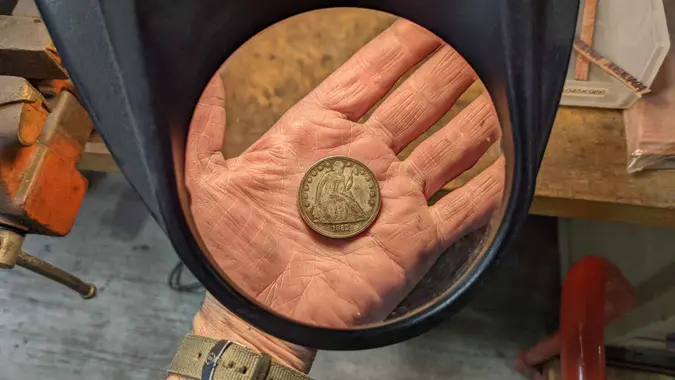 Wirestock / Getty Images/iStockphoto
Civil War-era coins made big headlines over the summer when a Kentucky man unearthed hundreds of lost gold coins and became about $2 million richer because of it. His discovery, made in a cornfield, brought Civil War coins into greater focus both in terms of their value and how many more might be lurking beneath the ground.
More than 700 coins were discovered during the haul, The New York Times reported in July. They were later certified by the Numismatic Guaranty Company (NGC) as genuine $1, $10 and $20 gold coins minted both before and during the Civil War.
At the time of the discovery, a single gold dollar from the collection was valued at about $1,000 by coin dealer GovMint.com, according to the NYT. These coins sold out in a hurry. The collection — dubbed "The Great Kentucky Hoard" — also included 18 gold Liberty double eagles minted in 1863, whose values can range from a few thousand dollars to more than $380,000 at auction.
Experts pegged the total value of the collection at more than $2 million, Newsweek reported.
"The discovery is exciting because it is incredibly unusual to find a group of rare coins like this buried in the ground, period," Andy Salzberg, executive vice president of the Certified Collectibles Group, which includes the NGC, told Newsweek. "And then to have also discovered varieties along with other Civil War-era $20 gold pieces, one of which is the highest grade that coin has ever achieved, it's pretty much unheard of."
Which Civil War Coins Are Worth Money?
Unless you're lucky enough to stumble across a massive collection of gold coins on a farm, you're not likely to become a millionaire off of Civil War coins unless you already have a whole lot of money to invest. But you can make a decent haul with certain coins of the era.
Make Your Money Work Better for You
Many different types of Civil War coins and tokens were produced during the Civil War, with values as low as one cent and as high as hundreds of thousands of dollars, according to the U.S. Coin Guide. As with any collectible, values are largely determined by condition, demand and scarcity.
Civil War-era coin values "are typically high" since many are rare, according to APMEX, a coin dealer. For example, the Confederate States of America (CSA) had dies created so it could issue metal currency but "lost the war before any coins were issued for circulation," APMEX stated in a blog.
Those dies were discovered several years after the war and then used to mint a limited quantity for historical purposes – fewer than 100 pieces. But these coins "are almost never seen available for purchase," according to APMEX.
The U.S. Coins Guide lists the 1861 CSA half dollar as "perhaps the most famous Civil War coin." It was produced at the New Orleans mint in very minimal quantities, and is valued in the hundreds of thousands of dollars. If you own or see one, it's probably a copy worth less than $10, according to the U.S. Coins Guide. However, 500 restrikes were also minted and these can fetch between $3,000 and $10,000.
Another coin dealer site, U.S. Rare Coins Investments, recently listed prices on more than a dozen Civil War coins. The prices ranged from $2,912 for an 1863-S $20 coin to $80,640 for an 1864-S $10 coin, though other websites list both coins for a lot more than that.
Make Your Money Work Better for You
If you do find any Civil War coins while digging around in the dirt, it's recommended that you immediately get them appraised by a reputable dealer or appraiser. Contact the American Numismatic Association or the Professional Numismatists Guild's Dealer Directory.
More From GOBankingRates