How Much Does a Yacht Charter Cost?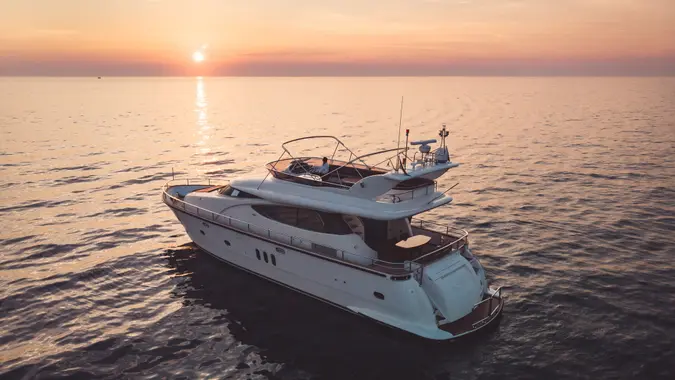 spyderskidoo / Getty Images
Have you ever dreamed of cruising the seas aboard a luxury yacht? Recognized as the domain of the wealthy elite, a yacht can cost $1 million for a "small," 60-foot model. Price tags for yachts can go as high as $4.8 billion, which is the price of History Supreme, a 100-foot long vessel crafted from solid gold and platinum and owned by Robert Kuok, the richest man in Malaysia.
Plus, if you purchase a yacht you have to consider dock fees, maintenance, fuel and repair costs, as well as the cost of a crew to run it. United Yacht Sales reported that the cost of ownership runs around 10% of its value. So a $1 million yacht would cost roughly $100,000 per year, which would include employing a professional captain or yacht manager for voyages. The bigger the boat, the higher the costs, of course.
All these costs, obviously, would be prohibitive for all but the world's wealthiest individuals. But how much does a yacht charter cost? Is chartering a yacht a viable alternative for people with money to spend on a luxury vacation?
How Much Does It Cost to Go on a Yacht Charter?
The cost to charter a yacht varies widely depending on several factors — it can run from around $50,000 to over $1 million.
Make Your Money Work Better for You
When you charter a yacht, you don't have to pay for maintenance or repairs, and you can enjoy the benefits of a private yacht voyage without investing millions to own the vessel.
The global yacht charter market size was valued at $6.5 billion in 2019 and is expected to grow by more than 5% between 2020 and 2027. But how much does it cost to go on a yacht charter? The answer will depend on several factors.
Yacht Charter: All-Inclusive or Plus Expenses?
Just like when you go on a cruise or book a vacation at a resort, you have choices between "all-inclusive" pricing or "plus expenses," sometimes called "separated charges."
However, unlike at a resort or on a cruise, when you charter a yacht "plus expenses," you'll typically pay an upfront fee for food, beverages, sporting equipment, activities and excursions. This way, you don't have to think about costs or pulling out your wallet or smartphone while you're on your voyage. This type of pricing is called an Advance Provisioning Allowance.
Using an APA for your journey is the more common pricing model, since it allows for a tailored experience with your favorite foods and beverages, according to Elite Traveler.
Make Your Money Work Better for You
If you are going the all-inclusive route, make sure you know what is included, as it may vary. Likewise with the APA model, you will want to make sure that fuel and dockage are also covered. Dockage fees may vary depending on where you are going and even the time of year that you're traveling.
APA fees also include digital connections for satellite internet and streaming. It's nice to "get away from it all" on a yacht, but you may want to maintain communications with your family, friends and colleagues, continue conducting your business while you're on the high seas or just stream Netflix in the evening.
Other Costs Related to Your Yacht Charter
Even if you use the APA pricing model, you can still expect some additional expenses. You may want to invest in travel insurance to protect your trip if you have to cancel. And, depending on your port of departure and destination, you may have to pay Value Added Tax or other taxes, ranging from 4% in the Bahamas up to 22% in Italy.
So, bottom line, how much does it cost to charter a yacht?
Make Your Money Work Better for You
Prices for "plus expenses" charters for one week from Northop & Johnson run from $53,000 per week for a 160-foot yacht with 19 staterooms, up to nearly $1 million per week for a ride on the 273-foot Savannah.
The 160-foot Cristal accommodates 38 guests. Unfortunately, most yachts can only carry a maximum of 12 passengers, regardless of size and accommodations on the yacht, due to maritime laws.
That means the price to charter a $53,000 yacht would come out to roughly $4417 per person, plus expenses, for a week.
Compare this to the price of a 7-day cruise, which Cruise Addicts pegs at roughly $1,500 per person, and you can see a private charter is more costly than your average cruise. However, luxury cruise line rates could be $4,000 per person or higher, according to the Cruise Addicts website, which is comparable to an inexpensive private charter.
What Other Factors Influence the Price of a Yacht Charter?
As with cruises and other vacations, there are other factors that affect the price of your yacht charter, including the size of the boat, the location you're traveling to and the time of year that you plan to book your yacht charter.
Yacht pricing also has other considerations, such as the experience and size of the crew, the age of the yacht and even its design. Sailing catamarans are much less costly than yachts with motors, for instance. And the onboard amenities, luxuries and overall design will also affect the costs of your yacht charter.
Here are some of the factors affecting the price of your vacation getaway:
Size of the Yacht
It makes sense that the size of the yacht is the biggest determining factor in price. However, if you think a bigger boat means a lower price per head, you'd be wrong. Most yachts can only hold 12 passengers due to the Safety of Life at Sea Convention regulation, set forth and enforced by the International Maritime Organization.
Onboard Amenities and Reputation of the Yacht
Just like luxury hotels and resorts — and even cruise ships — the more amenities and onboard water toys the yacht includes, the higher the price. A yacht with an onboard DJ, like the 312-foot O'Pari, can cost $1.1 million or more.
Yachts who have been owned by famous people, have distinguishing characteristics in their design or have otherwise developed a reputation as a trend and desirable vessel may also cost more to charter.
The Yacht's Destination and the Time of Year
Where the yacht is traveling, as well as the time of year, can affect the costs. These two factors are connected because certain destinations cost more during their busy seasons.
For instance, if you are traveling to the Mediterranean during the summer months, it will cost more than other times of year. During the North American winter months, many people want to escape to the warmth of the Caribbean, so anyone cruising out of North America might pay more between December and March. And if your trip is tied to the holiday season or special events like the Cannes Film Festival, you could pay even more.
The Crew
The size and experience of the crew can also make a difference in the price of your trip. Don't forget to include gratuities for the crew when you are calculating your total costs. Worldwide Luxury Yacht recommends tipping 15% to 20% of your base charter rate, not including APA cost.
How Much Is a Yacht for a Day?
If these numbers seem out-of-range, don't despair. You may be able to experience the glamour and luxury of a yacht charter for a shorter duration.
Most luxury yacht companies only charter their ships for a week or more. However, some companies allow you to charter yachts for a day at vacation destinations. For instance, if you are vacationing in the French Riviera, you can charter a yacht for under $2,000 per day.
Takeaway
Does chartering a yacht sound like a dream come true? Keeping these prices in mind can give you goals to shoot for.
At the very least, your next luxury cruise may sound like a bargain compared to the rates to charter a yacht for a week.
Information is accurate as of Oct. 4, 2022, and is subject to change.
Our in-house research team and on-site financial experts work together to create content that's accurate, impartial, and up to date. We fact-check every single statistic, quote and fact using trusted primary resources to make sure the information we provide is correct. You can learn more about GOBankingRates' processes and standards in our editorial policy.
Make Your Money Work Better for You