Here's How Rich All the Big Oil Executives Are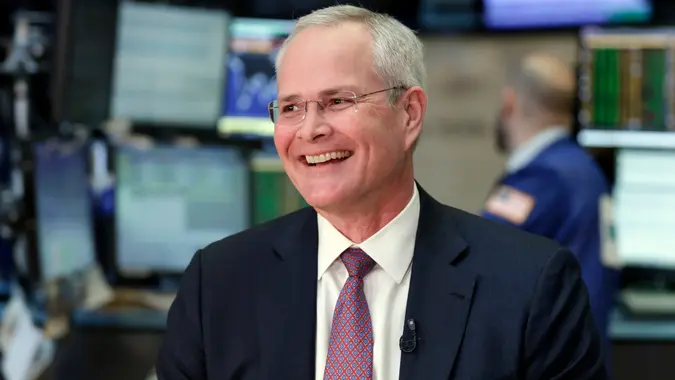 Richard Drew/AP / Shutterstock.com
Last year was unkind to anyone who visits a gas station to keep their cars moving — the price at the pump topped $5 for the first time in June. But the companies that keep those pumps filled with gas had a blockbuster 2022. 
According to Reuters, the major Western oil companies doubled their profits last year to a record $219 billion.
Companies such as ExxonMobil, Chevron, Shell, BP, Eni and TotalEnergies are among the biggest multinationals on Earth, and the people who run them are paid handsomely for the revenues their leadership helps to generate. 
So, just how rich are the CEOs of the world's biggest energy companies? Here's a look at the enviable salaries of the Big Oil chief executives. 
Also see the richest people in tech.
ExxonMobil: Darren W. Woods
Darren Woods joined ExxonMobil in 1992 and rose through the ranks until he took over as CEO on Jan. 1, 2017. He has a net worth of $80 million.
In 2022, Reuters reported that the company gave Woods a raise, bumping his salary from $1.7 million to $1.88 million per year — but his base salary represents less than 10% of his total compensation package, which was closer to $24 million in 2021.
The AFL-CIO broke it down like this: 
Salary: $1,615,000
Bonus: $3,142,000
Stock awards: $13,505,225
Change in pension value and deferred compensation: $5,137,153
All other compensation: $173,110
Make Your Money Work Better for You
His total compensation of $23,572,488 was 125 times the median company employee's earnings.
Chevron: Michael Wirth
Michael Wirth, who took over as Chevron CEO and chairman of the board in 2018, has a net worth of $50 million.
According to Bloomberg, his company's record 2022 profits earned the chief executive an 8.8% pay raise. His salary is now $1.85 million per year.
Although its most recent salary data is from the year before in 2021, the AFL-CIO outlined what Wirth's pay package looks like when you include all the post-salary goodies:
Salary: $1,650,000
Stock awards: $12,233,699
Options awards: $3,874,962
Non-equity incentive plan compensation: $4,500,000
All other compensation: $351,624
His total pay of $22,610,285 was 123 times that of the median Chevron employee. 
Shell: Wael Sawan
Wael Sawan, who's new to the CEO position as of January, joined the British multinational Shell in 1997. His net worth is unknown.
According to Reuters, Sawan was appointed with a salary of 1.4 million pounds, or about $1.72 million.
While the particulars of his pay package are not yet known, his predecessor's compensation offers some insight. According to Time, Shell's outgoing CEO received a full year's pay as a parting gift. Thanks to last year's record profits, that pay increased by more than 50% over the previous year to nearly $12 million.
BP: Bernard Looney
Bernard Looney, whose net worth is unknown, joined British Petroleum as an engineer in 1991 and took over the top executive spot in 2020.
Make Your Money Work Better for You
BP reported a record-high profit of $28 billion in 2022 — and Looney reaped the rewards. According to Reuters, his base salary is the equivalent of $1.6 million and his total stock and bonus pay more than doubled from the year before to nearly $12 million.
Eni: Claudio Descalzi
Milan native Claudio Descalzi has served as CEO of the Italian multinational Eni since 2014.
While his net worth is unknown, Eni's most recent executive remuneration report sheds light on Descalzi's earnings. His base pay (in euros) is the equivalent of $1.73 million. He also earned a bonus of a little over $4 million and roughly $43,000 in non-monetary benefits for a total of $5.8 million. He also picked up $748,000 in equity-based compensation.
TotalEnergies: Patrick Pouyanné
Patrick Pouyanné, whose net worth is unknown, joined TotalEnergies in 1997 and rose to CEO in 2014.
TotalEnergies hasn't yet released its 2022 annual report, but Pouyanné earned the equivalent of $6.5 million in 2021, according to Reuters. That haul represented a raise of more than 50% over 2020. He also was scheduled to receive 1 million euros — about $1.73 million — in dividends in 2022.
All available net worth info is from CelebrityNetWorth.com.
More From GOBankingRates