How Rich Are the Highest-Paid CEOs in America?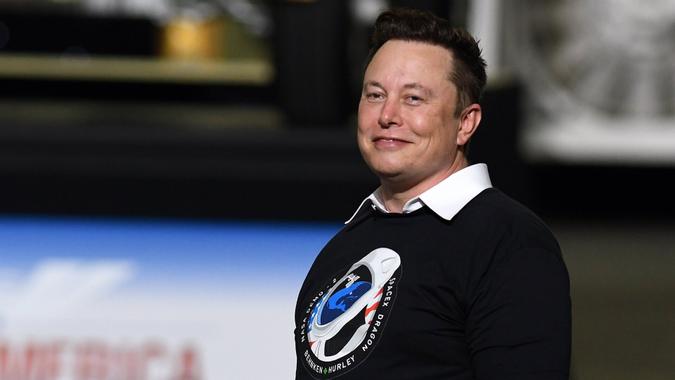 Paul Hennessy/SOPA Images/Shutterstock / Paul Hennessy/SOPA Images/Shutterstock
America's highest-paid corporate bosses rake in nine-figure compensation packages that — in a single year's pay — guarantee wealth and privilege for generations of posterity. Many of them are structured as what Bloomberg refers to as "moonshot awards," which offer outrageous financial incentives to CEOs who can reach ambitious business goals. 
Find Out: Just How Rich Are Elon Musk, Donald Trump and These Other Big Names?
Don't Sink The Ship: 28 CEOs That Have Saved or Sunk Major Corporations
In 2020, one CEO cashed in on the biggest moonshot award in history, and as a result, corporate brass across all industries are beginning to demand performance-based compensation offers that would instantly launch them into the 1% — if they're not there already. 
Here's a look at the highest-earning CEOs in America, which GOBankingRates based on compensation information — including salary, bonuses, perks and stock awards — from Bloomberg Wealth.
5. Eric Wu: Opendoor Technologies
Total compensation: $388,713,679
In December 2020, Forbes reported that Opendoor co-founder and CEO Eric Wu had become a billionaire when his homebuying firm went public with a SPAC merger. With a value of $1.01 billion, his 6% share in the company let him squeeze in just under the wire, although his exact net worth today is unclear.
Make Your Money Work Better for You
The iBuying giant has disrupted the real estate industry by purchasing homes quickly and directly from sellers who are willing to lower the asking price in exchange for the speed and convenience that Opendoor delivers. 
All but about $190,000 of Eric Wu's compensation is from stock awards, according to Bloomberg, with the rest coming from salary.
4. Douglas Hirsch: GoodRx Holdings 
Total compensation: 497,836,647
Like Eric Wu, most of Douglas Hirsch's compensation comes from stock awards. His salary is $500,000 even, which, along with a $480,785 bonus and $6,921 in perks, accounts for about $1 million — but when your total pay flirts with a half-billion dollars, what's a million bucks here or there? 
According to Fortune, GoodRx, which allows customers to price shop for the best deal on prescription medication, says it has helped 100 million Americans save more than $10 billion on the medications that they purchase.
According to Celebrity Net Worth, Hirsch has a net worth of $2 billion.
See: The Most Outrageous CEO Salaries and Perks
3. Trevor Bezdek: GoodRx Holdings
Total compensation: 497,838,903
Douglas Hirsch is the co-CEO of GoodRx — and his partner in executive wealth actually outearns him by just a smidge. Trevor Bezdek's salary is the same $500,000 that Hirsch receives, as is his $496,848,941 in stock awards. But Bezdek comes out on top because his perks are a little plumper than Hirsch's at $9,511. Meanwhile, his bonus is slightly less at $480,451.
Make Your Money Work Better for You
The two co-CEOs are pretty much even-steven in the personal fortune category, as well — Celebrity Net Worth lists Bezdek's net worth at $2 billion, same as Hirsch. In September 2020 when GoodRx went public, both Bezdek and Hirsch owned 4.5 million shares of company stock, which were worth about $225 million each, according to Forbes.
Back then, the stock was trading above $50. Today, it's around $16.
2. Mike Pykosz: Oak Street Health
Total compensation: $568,442,024
One of only two people with net worths that eclipse the half-billion-dollar mark, Mike Pykosz enjoys a richer compensation package than all but one CEO in America, but his earnings package is more diverse than those of the others on this list.
Pykosz receives perks worth $11,400, earns a salary of $579,319 and scored a $392,700 bonus — but that's just the crumbs. His massive options awards are worth $207,739,093, but that's not the only nine-figure portion of his compensation package. Oak Street Health, which provides primary care for adults on Medicare, sweetened the pot with $359,719,512 in stock awards, as well. 
Mike Pykosz's net worth is unknown.
1. Elon Musk: Tesla
Total Compensation: $6,658,803,818
Make Your Money Work Better for You
Elon Musk's compensation package dwarfs that of No. 2 Mike Pykosz by a multiplier of 11. In 2018, Tesla shareholders approved the biggest pay package in history, which gave Musk the right to purchase Tesla shares at a predetermined price if the company achieved certain business targets for figures like revenue growth and stock price.
It was the ultimate moonshot award.
In 2020, Tesla shares pulled a SpaceX when they blasted off for gains of 740%, according to the New York Post, which gave Musk the leverage to exercise his stock options — and exercise them, he did. As of 2021, Musk's award has increased his net worth by $33 billion, according to Bloomberg. 
The richest person on Earth and in space, Elon Musk's net worth is $237 billion, according to Forbes, compared to $183 billion for No. 2 Jeff Bezos.
More From GOBankingRates
Make Your Money Work Better for You