Tony Robbins' First Job Paid Him $40 a Week — Why He 'Cleaned Floors' and How It Helped Him Make Millions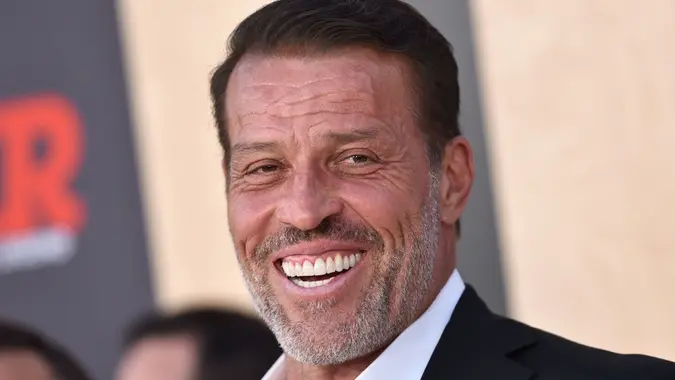 Stewart Cook / Shutterstock.com
Self-help guru Tony Robbins overcame significant obstacles to become a household name in the motivational space. Born Anthony J. Mahavorick in 1960 to a working-class family in Glenora, California, he adopted his stepfather Jim Robbins' last name as a child. 
The Robbins family didn't have much money. It's been said they lived in poverty and were even homeless at times. Tony's mother was an addict who was abusive. She kicked him out at age 17 leaving him to survive on his own. But these years of suffering were the catalyst for Robbins wanting to understand people and behavior.  
His bleak beginnings were the foundation for Robbins to become the author and motivational speaker he is today.
His first job was working as a janitor. He earned $40 a week in the late 1970s. While working as a janitor he also began following motivational speaker Jim Rohn. An opportunity to attend one of Rohn's seminars popped up but it would cost Robbins $35-almost his entire paycheck. Robbins decided the risk was worth it and purchased a ticket to attend. Afterward, Robbins approached Rohn about working for him. Soon he was organizing Rohn's seminars, acting as the speaker's assistant. 
He also trained with John Grinder, a linguist who helped him hone his speaking skills. By the 1980s, Robbins was holding his coaching seminars.
He's known for "Unleash the Power Within," an in-person "transformative 4-day experience" where Robbins leads sessions designed to help participants master their next level of success and "unleash their full potential." It's said to net about $9 million a year.
Make Your Money Work Better for You
​​By 1984 he had a $40,000 annual income which he grew to over $1 million by 1985 and maintained a consistent million-dollar income every year since as a bestselling author, speaker and coach.
His company was estimated to generate $50 million annually by 1991 and by 2005, he was paying himself $30 million each year from his empire.
Today, Tony Robbins receives as much as $300,000 for one speaking engagement. His estimated net worth is $600 million and he's involved in more than 100 privately held businesses with combined sales exceeding $7 billion a year. 
More From GOBankingRates