Warren Buffett or Jeff Bezos: Who Has the Higher Net Worth?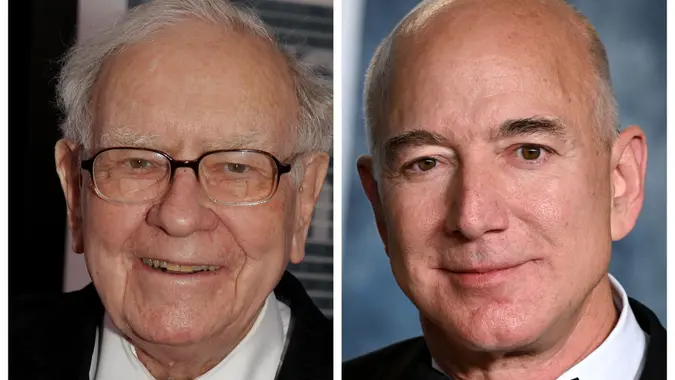 Dave Allocca/Starpix; Anthony Harvey / Shutterstock.com
When it comes to titans of finance and industry, few names have been as influential in the past decades as Warren Buffett and Jeff Bezos. Buffett, known as the Oracle of Omaha, made a name for himself as perhaps the world's greatest value investor.
Bezos, on the other hand, built Amazon from a simple online bookstore into one of the world's most formidable companies. Read on to learn which entrepreneur has the higher net worth.
Warren Buffett: The Investment Guru
Buffett has long been revered in financial circles. CEO of Berkshire Hathaway, Buffett's investment strategy has always been about finding value and sticking with it for the long term. He's known for iconic purchases such as Coca-Cola, Apple, and many others. His approach is based on the principles of Benjamin Graham, emphasizing intrinsic value and the "margin of safety."
As of this writing, Buffett has a net worth of roughly $122.8 billion, according to Forbes. However, it's crucial to note that he has pledged to give away 99% of his wealth to philanthropic ventures, mainly through the Gates Foundation. Over the years, he has donated tens of billions of dollars to various causes.
Jeff Bezos: The E-Commerce Mogul
Bezos's journey is more recent but no less remarkable. From launching Amazon in 1994 in his garage, he has overseen its metamorphosis from an online bookseller to an e-commerce giant, and now to a diversified conglomerate with its hands in everything from cloud computing with AWS to space exploration with Blue Origin.
Make Your Money Work Better for You
With this growth, Bezos' fortune also saw astronomical growth. Two years ago, he was near the top spot of the world's richest people list, sometimes swapping places with Elon Musk, depending on stock market performance. As of this writing, Bezos' net worth is around $167.8 billion, though this number frequently fluctuates due to the volatile nature of stock prices.
Comparing Warren Buffett and Jeff Bezos' Wealth
Bezos has the lead over Buffett in terms of net worth. However, there are several factors to consider:
Stock market performance. A bulk of Bezos's wealth is tied to Amazon stocks. A surge or decline in Amazon stock prices can dramatically impact his net worth. Similarly, the performance of companies in Berkshire Hathaway's portfolio affects Buffett's net worth, albeit distributed across multiple assets.
Philanthropic efforts. Buffett's decision to give away most of his wealth is a significant factor. The substantial donations he's made over the years have reduced his net worth. Bezos has also ventured into philanthropy, committing billions to various causes, but the scale, in comparison to his net worth, hasn't been as large as Buffett's.
New ventures. Both Buffett and Bezos are not static in their investments. Bezos' pursuits in space and other sectors mean that his fortune might see growth from areas outside of Amazon. Buffett's Berkshire Hathaway continually scouts for valuable additions to its vast portfolio, leading to potential growth in his wealth.
The Bottom Line
While Bezos has a higher net worth than Buffett, both have contributed immensely to the world of business. Their strategies, principles, and visions have been instructive, guiding entrepreneurs and investors worldwide. In the grand scheme of things, the actual net worth figures might be less relevant than the legacies these business magnates leave behind.  
Editor's note: This article was produced via automated technology and then fine-tuned and verified for accuracy by a member of GOBankingRates' editorial team.
More From GOBankingRates
Make Your Money Work Better for You