How Much Is Gwyneth Paltrow Worth? A Look at the Finances of Goop's Founder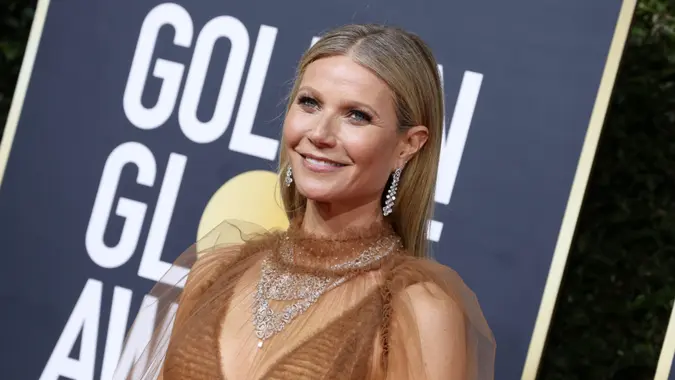 Shutterstock / Shutterstock
Gwyneth Paltrow, who turned 50 on Sept. 27, was raised to become an actor, beginning her career at age 5. But despite winning some of her profession's biggest prizes, including both an Oscar and an Emmy, Paltrow has another passion: her lifestyle and wellness empire, Goop.
In 2019, she signed a deal with Netflix to produce content for the network, and out of that partnership came "the goop lab with Gwyneth Paltrow" (2020) and "Sex, Love & goop." (2021)
Despite Goop's cult-like following of devotees, some outlets rebuked Netflix for giving Paltrow and her often-questioned lifestyle brand a bigger platform. Since Goop launched as a newsletter from Paltrow's kitchen in 2008, the company has been accused of, and scrutinized for, outlandish and borderline dangerous medical claims — and for selling products or ideas that are unattainable for the average consumer. Despite the drama, here's a look at how Paltrow has expanded her net worth by expanding her career.
Gwyneth Paltrow Net Worth: $200 Million
Career Highlights: Academy Award, Golden Globe and Emmy Award winner
In the nearly 25 years since Paltrow accepted her Academy Award for "Shakespeare in Love," her celebrity has risen to icon status and her Oscar has afforded her a luxury only extended to a few in Hollywood: selectivity. Her fortune of an estimated $200 million, according to Celebrity Net Worth, likely has something to do with the shifting of her focus away from acting projects in the past decade. However, she appears busier than ever with her second career in elevating and expanding Goop. As of May 2021, CEO Magazine reported the private company was worth $250 million.
She is ready to share what she's learned in business with others, too. She is serving as a guest "Shark" on "Shark Tank" as the hit ABC show launches its 14th season this fall.
Make Your Money Work Better for You
Gwyneth Paltrow's Personal Life
Since Paltrow's mainstream debut in the 1990s, her personal life has been a huge subject of interest for tabloids and gossip columns. She's dated fellow A-listers like Ben Affleck and Luke Wilson and was even engaged to Brad Pitt. But even if you know nothing else about Paltrow's romantic history, you probably know how her marriage to Coldplay frontman Chris Martin ended. In 2014, after 10 years together, the pair released a joint statement and announced their decision to "consciously uncouple." Almost immediately thereafter, the term was mercilessly mocked in pop culture.
Paltrow and Martin, who are parents to daughter Apple, 18, and son Moses, 16, appear to relish in unconventionality. Paltrow married Brad Falchuk, a TV producer, in September 2018, and the newlyweds honeymooned in the Maldives with Paltrow's children, Falchuk's children from a prior marriage and even Martin.
More From GOBankingRates