How an Endorsement From Oprah Made These Authors Big Money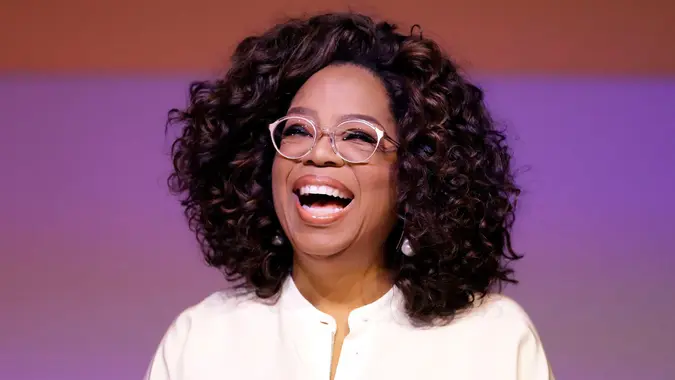 Themba Hadebe/AP/REX / Shutterstock.com
As National Book Month arrives here in October, there's perhaps no contemporary person who has championed books and reading more than Oprah Winfrey, celebrated talk show host and cultural taste maker. Her Oprah book club launched on Sept. 17, 1996, and she has since picked over 90 books (some being classic literature, its authors long dead). Over time, however, that book club has become more than just a great way to engage Americans in reading; when Oprah selected a book for her club, it boosted sales and could change an author's life. The power of Oprah's opinion is so potent, generating mega-sales and even boosting stock prices, that it's become known as The Oprah Effect.
See: 10 Financial Books That Will Change Your Life (and Finances)Read: Where Do Americans Get Their Money Advice? Top TV Shows
Oprah's Word Is More Powerful Than the Nobel Prize
So powerful is The Oprah Effect, not only does she make bestsellers out of lesser-known authors, she even revitalized Nobel Prize winning author Toni Morrison's sales when she picked her books (four times total). According to Mother Jones magazine, when Morrison first published her beloved novel "The Bluest Eye" in 1970, it sold 2,000 copies. After Oprah featured it in her book club in 2000, it sold 800,000 additional copies from Oprah's word alone.
Make Your Money Work Better for You
When Oprah left primetime TV and set down her popular talk show and the book club, many wondered if authors would ever see such promotion again. But after starting her OWN network, she relaunched the book club in 2012, though with only six selections per year, rather than the previous 12.
One of the Oprah-approved books that first made its author rich was the 2006 "The Secret" by Rhonda Byrne, a nonfiction self-help book that claimed to draw upon a force known as "The Law of Attraction" to attract anyone's greatest desires to them. Byrne made over $300 million on that book, thanks to Oprah's blessing.
Expert Earful: 10 Must-Listen Personal Finance Audiobooks
Supporting Black Authors
Oprah, who grew up poor in rural Mississippi and endured childhood abuse, has made a habit in the relaunched version of her book club to champion Black authors as often as possible. Oprah knows the power of success — she is the first Black woman billionaire, with a net worth of $3.5 billion, and she does much to pay it forward to other Black creatives. One such author was Colson Whitehead, whose novel "The Underground Railroad," a 2016 pick, went on to sell more than a million copies, and won both the National Book Award and the Pulitzer Prize.
Make Your Money Work Better for You
Another previously less well-known author, Tayari Jones, author of "An American Marriage," received Oprah's book club blessing in 2018 and went on to become a New York Times bestseller. With her earnings, she told The Cut, she was able to buy a house.
Ready To Shop? Businesses You Didn't Know Your Favorite Celebrity Owns
Author Controversies
Oprah's book picks make significantly more money in royalties for authors than those that don't receive her blessing. However, some of her picks have come with controversies that make the public angry and question how she vets authors. In 2006, Oprah picked "A Million Little Pieces" by James Frey, touted as a memoir (thus true story) of his drug addiction and recovery. The book sold more than two million copies more quickly than any other book in the club's history at that point, according to The New York Times. There was only one problem: Frey had made the story up. When Oprah found out, she revoked the book from her club and confronted Frey on stage, furious.
In 2020, Oprah picked "American Dirt," a novel by Jeanine Cummins that portrays a Mexican mother fleeing from her country in the wake of her husband's murder by a drug cartel. Preorders were apparently so strong based on the book's hype and Oprah's blessing that publisher Flatiron Books increased its initial print run from 300,000 to 500,000 copies. However, Latino authors and scholars soon expressed outrage over what they felt was Cummins' cultural appropriation of a story she didn't have the right to tell, and at a lack of similar support in publishing for Latino authors telling their own stories. The book still sold hundreds of thousands of copies.
Make Your Money Work Better for You
Read More: 30 Celebrities Who Went From Rags to Riches
Latest Selection
Oprah's current book club selection for September 2021 is "Bewilderment" by Pulitzer Prize winning author of "The Overstory." So while he may not need the boost of Oprah's word, it sure won't hurt his bottom line.
More From GOBankingRates