How Rich Is Meghan McCain?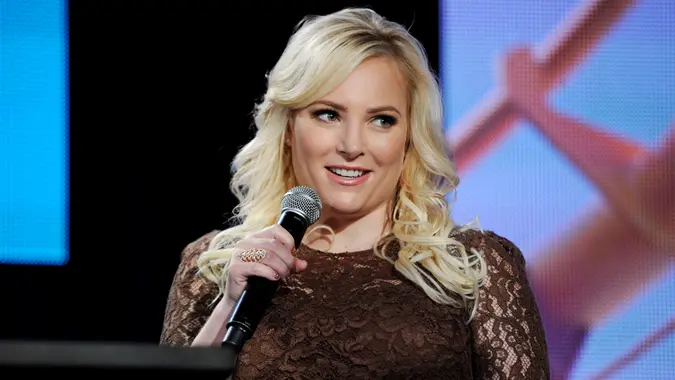 Chris Pizzello/Invision/AP/Shutterstock / Shutterstock.com
Meghan McCain is probably most well-known for her four years as a co-host of ABC's talk show "The View," where the conservative co-host starred alongside Whoopi Goldberg, Sara Haines, Joy Behar and Sunny Hostin until July. She is leaving the show to spend more time with family, as a new mom to 9-month-old daughter Liberty. The daughter of former congressman and presidential hopeful John McCain, who passed away in 2018, McCain has forged her own path as a talk show personality and author for more than a decade.
Follow Along: 31 Days of Living Richer
Find Out: Whoopi Goldberg and 14 More of the Wealthiest People on TV
A Career in Writing and TV
McCain began to make a name for herself as a writer in 2007, when she was just 23, by blogging about her father's presidential campaign, pop culture and fashion on her own "McCain Blogette," according to CBS News. She then went on to publish a children's book in September 2008 titled "My Dad, John McCain," about her father's military service and presidential leanings. Soon after that, in early 2009, she began to write for the online magazine "The Daily Beast" and in 2010 published her memoir, "Dirty Sexy Politics." In August 2019, audiobook platform Audible revealed that McCain would create an Audible Original on conservatism.
Make Your Money Work Better for You
See: Just How Rich Are Elon Musk, Donald Trump and These Other Big Names?
In 2011, McCain, a Republican, teamed up with an unlikely source, liberal comedian Michael Ian Black, to write a book, "America, You Sexy Bitch: A Love Letter to Freedom" for which they spent a month in an RV traveling the country.
By 2013 she had achieved her own talk show, "Raising McCain," on the Pivot channel. In 2015, she became a Fox News contributor, and by 2016 was a regular co-host of "Outnumbered."  After occasional guest co-hosting on "The View," she became a permanent co-host in September 2017, where she remained until announcing her resignation in July 2021.
Meghan McCain Net Worth: $10 Million
Today, Celebrity Net Worth estimates McCain's wealth at $10 million, a cumulation of money earned for her various writing and TV gigs, as well as book royalties. According to Showbiz Cheat Sheet, she was reported to earn about $1 million per season of "The View."
Check Out: Judge Judy and 9 of the Richest TV Hosts of All Time
Personal Life
McCain married writer Ben Domenech on Nov. 21, 2017, and the couple had their daughter, Liberty, on Sept. 28, 2020. Before her daughter was born, McCain wrote about having a miscarriage for a piece published in The New York Times titled "What I Learned From My Miscarriage." Though McCain is a proud Republican, she does hold somewhat more liberal views than her father's generation of Republicans, according to The New York Daily News. McCain has been a strong advocate for the LGBTQ community and received a GLAAD Media Award for Outstanding Talk Show Episode for "Raising McCain," and a Harvey Milk Foundation Lilla Watson Medal.
Make Your Money Work Better for You
More From GOBankingRates
Last updated: July 26, 2021
Make Your Money Work Better for You