How Rich Is Melania Trump?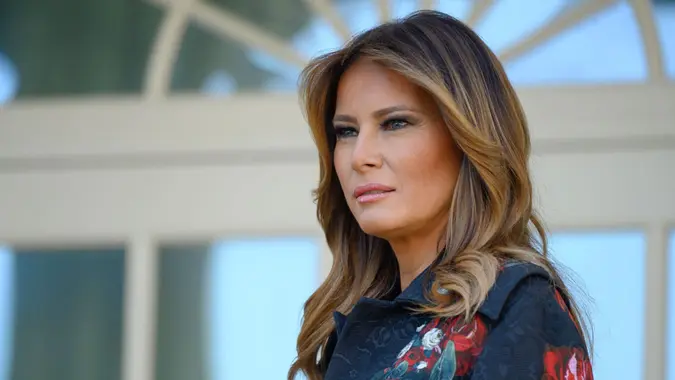 Shutterstock / Shutterstock
Former First Lady Melania Trump, 52, has been in the spotlight since she began dating her now husband, former President Donald Trump in 1998. Since her husband left office she has been relatively quiet other than recently joining forces with the other living former First Ladies to get a monument to women's suffrage installed in Washington, D.C.
Despite work like this, her name is still tossed around by the media and it is ever-questioned if she has intentions to divorce her husband. 
Trump has a personal net worth of $50 million that partially comes from her years as a model plus her jewelry design and skincare lines. But that is just a smidgen of her husband's estimated two to eight billion, according to Celebrity Net Worth. 
Being married to a billionaire for 17 years has its perks and she can access the best things in life that money can buy.
She's Still Working
For the 2022 holiday season, Trump is selling a limited edition brass Christmas star ornament on her personal website for $45. The ornament is handcrafted in the U.S. and is engraved with the former first lady's signature. It also comes with a corresponding animated NFT that will be "minted in limited quantities on the Solana blockchain."
Also available on her website is a Women's History Month NFT available for $150. The NFTs are three different images of Trump — Strong, Confident and Inspirational. One of the three will randomly be chosen for you, so repeat purchases are needed to obtain the whole collection.
Make Your Money Work Better for You
There is also a MetaRose NFT which depicts a 3D-animated blue rose on a yellow background. The piece, which was inspired by photos Trump herself took, sells for $150. Proceeds for this NFT will go to Fostering the Future initiatives.
Before Becoming Melania Trump
A native of Slovenia, Trump is just the second first lady in American history to be born outside the U.S. Raised in humble beginnings, Melanija Knavs who was born on April 26, 1970, came a long way from the Sevnica, Slovenia apartment she once shared with her parents and sister.
In January 2005, she and Trump were married and a year later, their son Barron was born. 
Melania Trump's Homes
Even before Trump was out of office, the family changed their primary residence to the Mar-a-Lago estate in Palm Beach, Florida. This lavish property with 126 rooms is rumored to be valued at $350 million.
Anything but the average cramped city home, the Trump family residence in Manhattan is a 30,000-square-foot three-story penthouse at the top of Trump Tower. The swanky 721 Fifth Avenue address gives Trump equally swanky neighbors, including Tiffany & Co., Armani and The Polo Bar, Ralph Lauren's chic eatery.
Worth an estimated $100 million, no expense was spared to decorate the lavish home, which is covered in 24-karat gold, marble and diamonds. The home is also filled with art, including a statue of Eros and Psyche. Trump's birds-eye view offers stunning scenes of Central Park and the Manhattan skyline.
Featuring a private elevator to shuttle her husband to his 26th-floor office, the home is decorated with large chandeliers, ornate furnishings and even a $15,000 coffee table book. One of the three floors of the penthouse apartment is entirely reserved for Barron, who has his own living room and playroom.
Make Your Money Work Better for You
Michelle Tompkins contributed to this article.
More From GOBankingRates