How Rich Is Melania Trump?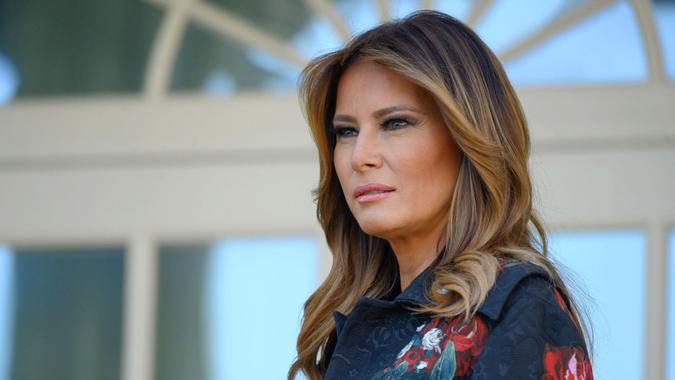 Shutterstock / Shutterstock
Former first lady Melania Trump has kept a low profile since she and her husband, former President Donald Trump, left the White House in January. She is rarely seen coming and going from the Mar-a-Lago estate in Palm Beach, Fla. where the Trumps are making their home or while also staying at Trump National Golf Club in Bedminster, N.J.
It was recently revealed by People, from an expert in Stephanie Grisham's tell-all book, "I'll Take Your Questions Now," that Secret Service nicknamed her Rapunzel because she so rarely left the White House. Melania's willingness to reenter the public eye could be key as to whether or not her husband runs for office again. While people close to the family say she'll support another run, her lack of interest is so strong she fell asleep on election night before the results were in.
See: All the Ways the Trumps Have Made Money Over the Past 20 Years
Find Out: Just How Rich Are Oprah, Bill Gates and Other Big Names?
So what do we know about the semi-reclusive 51-year-old, her fortune and her glamorous lifestyle?
Melania Trump Net Worth: $50 Million
Before she was Donald Trump's wife, Melania Knauss Trump was a successful model. Discovered at the age of 16, the Slovenian-born beauty worked in Milan and Paris before moving to New York City in 1996. As a model, she worked with many famous photographers, including Mario Testino, Arthur Elgort and Peter Arnell. She has appeared on the covers of many major publications, including Vogue, Harper's Bazaar, British GQ and InStyle.
Make Your Money Work Better for You
Following in her husband's footsteps, Trump shifted her focus to entrepreneurial efforts. In 2010, she launched her "Melania Timepieces & Jewelry" collection on QVC. She also had a caviar skincare line, "Melania," which never got off the ground due to backend business troubles reportedly beyond her control, according to Racked.
Even while living in the White House, she left the door open to bringing in some money, according to a report. In February 2017, an Associated Press investigation found she was listed in New York Filings as the CEO of Melania Marks Accessories Member Corp., which is the holding company of Melania Marks Accessories LLC. Both companies bring in between $15,000 to $50,000 in royalties a year, according to the Trumps' May 2016 financial disclosure filing. An additional company, Melania LLC, is also active, but it was reported as producing less than $200 and having a total value less than $1,000.
Discover: Just How Rich Are President Joe Biden and These Other Big Names?
In September 2016, Trump filed a libel lawsuit against the Daily Mail after the newspaper published an article claiming she previously worked as an escort. It was dismissed in February 2017 by a Maryland judge over venue issues, but she refiled the $150 million lawsuit in New York, claiming the article ruined her "unique, once-in-a-lifetime opportunity, as an extremely famous and well-known person," to launch multiple product lines, including apparel, accessories, jewelry, cosmetics, hair care and fragrances. In April 2017, the two sides agreed to a $2.9 million settlement and the Daily Mail apologized, saying, in part:
Make Your Money Work Better for You
"We accept that these allegations about Mrs. Trump are not true and we retract and withdraw them. We apologize to Mrs. Trump for any distress that our publication caused her."
Celebrity Net Worth puts her net worth at $50 million.
Related: A Look at the Finances of Ivanka Trump and Jared Kushner
Melania Trump's Wedding
Donald and Melania Trump's Jan. 22, 2005, wedding set the tone for a life of extravagance. The opulent affair had an estimated price tag of $1 million and was held at Mar-a-Lago. Embroidered with 1,500 crystal rhinestones, the future first lady's custom Christian Dior wedding dress at the time was thought to be one of the most expensive ever made, at an approximate cost of around $100,000.
The couple's 400 guests feasted on fare catered by celebrity chef Jean-Georges Vongerichten, for a dinner bill totaling around $110,000. The elegant affair paired perfectly with her 12-carat, emerald-cut Graff engagement ring. Her future husband reportedly scored the sparkler for $1.5 million — half its retail price — in exchange for a promotion on his then-reality series "The Apprentice." For their 10th anniversary in 2015, Donald Trump presented her with an upgrade in the form of a 25-carat diamond ring.
Make Your Money Work Better for You
The A-listers in attendance included people from every corner of the Trumps' world, from politics to business to fashion to television. Former President Bill Clinton was there along with former Secretary of State Hillary Rodham Clinton, whom Donald Trump would defeat in the 2016 presidential election.
Up Next: 15 Crazy Perks of Being President
More From GOBankingRates
Last updated: October 1, 2021
Make Your Money Work Better for You