How Rich Is Billie Eilish?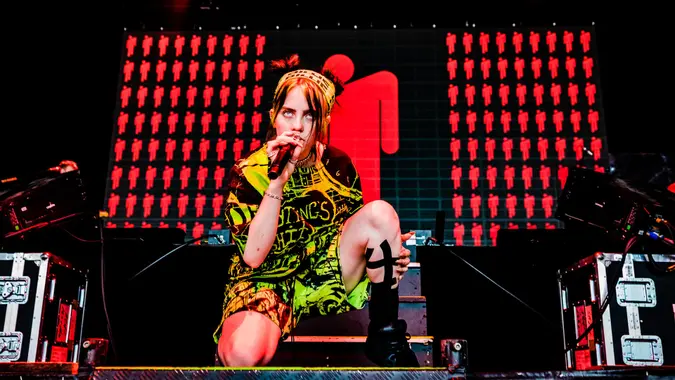 Ben Houdijk / Shutterstock.com
Billie Eilish was no stranger to music even before she was a star. She was born into a musical family — her mother wrote songs and her father played several instruments. She grew up listening to The Beatles and Avril Lavigne, and her father loved to make mixtapes of bands and singers he liked. Billie joined a choir at age 8, and by 11 she was already writing her own songs. Today, the singer-songwriter has a net worth of $30 million, according to Celebrity Net Worth.
Still a teenager, her rise has been meteoric. And she'll take center stage Sept. 12 at the MTV Video Music Awards. She'll be a presenter at the show and also is nominated for five awards.
Find Out: The Richest Celebrity From Every State
Better Together: 24 Celebrity Couples Worth Hundreds of Millions
A Star Is Born
Billie Eilish Pirate Baird O'Connell was born in Los Angeles in 2001. Being homeschooled gave her time to develop her singing and songwriting skills, and she loved to dance and took lessons in her teens. When she was 13, she recorded a song written by her brother called "Ocean Eyes." She meant for the song to be the music for her next dance routine, but the brother and sister decided to upload it to SoundCloud. It got millions of hits and quickly went viral on both YouTube and Spotify. The song was certified platinum and made it to No. 84 on the Billboard Top 100 chart. Billie had arrived.
Make Your Money Work Better for You
Check Out: Businesses You Didn't Know Your Favorite Celebrity Owns
Debut Album
Following the success of "Ocean Eyes," Eilish recorded her next single, "Six Feet Under." She made four remixes, and each one was a hit. More singles followed. Finally, her highly anticipated debut EP entitled "Don't Smile at Me" was released in 2017. It climbed all the way to No. 3 on the U.S. Alternative Chart and reached No. 24 on the Billboard 200.
The singer's first studio album, "When We Fall Asleep, Where Do We Go?" was released in 2019. It went to No. 1 in several countries, including the U.K., U.S., Canada and Australia. The album set a record for the most songs on the Billboard 100 at the same time, and it went platinum in more than 10 countries.
Whoa: These Stars Get Paid Obscene Amounts of Money To Post One Picture
Further Successes
At the 2020 Billboard Music Awards, Eilish won for Top New Artist, Top Female Artist, Top Billboard 200 Album, and in 2021, she was nominated for Top Female Artist.
At the 2020 Grammys, in addition to her four major awards, she won for Best Pop Vocal Album. Earlier this year, she won in the Record of the Year and the Best Song Written for Visual Media categories, giving her seven career Grammys.
Make Your Money Work Better for You
On July 30, 2021, Eilish released her newest album, "Happier Than Ever." The week of Aug. 16, Eilish had a whopping 14 of the 25 songs on Billboard's Hot Alternative Songs chart. For her career, as of mid-August, she had 30 songs on Billboard's Hot 100 weekly chart, more than superstars such as Celine Dion and Bruno Mars and the same amount as Christina Aguilera.
Eilish feels particularly close to her new album, saying on Instagram before its release, "I've never felt so much love for a project than I do for this one."
Remember Them? 8 Rich Child Stars Who Stepped Away From Fame
Other Endeavors
In addition to her singing career, Billie has her own clothing line, appeared in advertisements for Adobe Creative Cloud and Calvin Klein, and partnered with clothing brand Freak City as well as Apple for ad campaigns. She also received $25 million from Apple for the rights to make a documentary about her life.
Eilish has been public about the fact that she suffers from depression, synesthesia and Tourette's syndrome. She is an advocate for vegetarianism and veganism. In response to criticism for not smiling in photographs, she says that smiling makes her feel weak and powerless.
Make Your Money Work Better for You
In March of this year, Eilish changed her trademark appearance, going from jet black hair and green roots to platinum blonde.
In June, Eilish apologized after an old clip of her lip-syncing an anti-Asian slur showed up on TikTok. Eilish posted on Instagram that she was "appalled and embarrassed" by the video, adding that she was 13 or 14 when it was shot.
More From GOBankingRates
Jami Farkas contributed to the reporting for this article.
Last updated: Sep. 10, 2021
Make Your Money Work Better for You