How Much Is Jennifer Lopez Worth?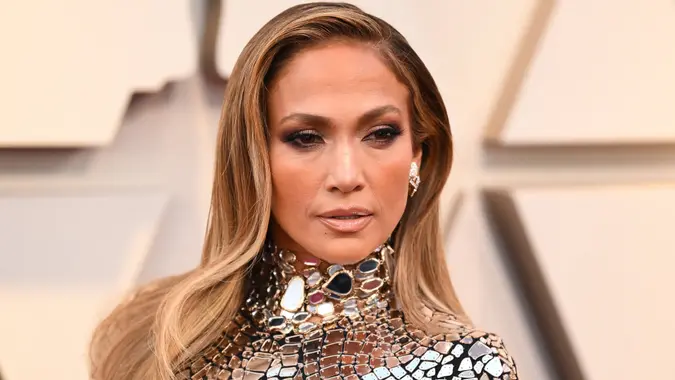 Andrew H. Walker/BEI/REX / Shutterstock.com
Jennifer Lopez has another reason to celebrate as she turns 53 on July 24: a new marriage.
On July 16, Lopez tied the knot with Ben Affleck, her leading man for the past year. The two took the long route to the altar. Twenty years ago, they were dating, got engaged in November 2002, delayed their September 2003 wedding and finally broke up the following January. And they went on to marry and start families with other people. Lopez and singer Marc Anthony have 14-year-old twins, and Affleck and actress Jennifer Garner had three children during their 10-year union.
Read More: How Rich Is Former President Donald Trump?
See Our List: 100 Most Influential Money Experts
A modern-day Renaissance woman, Lopez is best known for her music career, but she's also graced the big screen in iconic acting roles, was a judge on "American Idol" and even created her own fashion and lifestyle brand. All of these endeavors have helped her achieve a net worth of $400 million, according to Celebrity Net Worth.
Make Your Money Work Better for You
Jennifer Lopez's Net Worth: $400 million
J. Lo is one of the world's most powerful female celebrities, and her wealth is a testament to her success. Forbes ranked her as one of America's top Self-Made Women in 2020, and she landed at No. 56 on the publication's list of 100 top-earning celebrities the same year.
Net worth: $400 million
Date of birth: July 24, 1969
Primary sources of wealth: Singing, acting, dancing
Career highlights: Played lead characters in popular movies "Selena" and "Hustlers," released the Billboard-leading album "J.Lo" and served as a judge on "American Idol" and "World of Dance."
Take Our Poll: Do You Tip for Service?
Jennifer Lopez's Music Career
Lopez's music career is her biggest breadwinner. Forbes reported she earned $55 million during her 2019 world tour. Her over-two-decade career began its iconic rise in 1999 with the release of her debut album, "On the 6," which sold 400,000 copies in the first four weeks. After that, she produced seven more studio albums that have sold over 40 million copies worldwide.
After proving herself as a staple in the music industry, she earned a residency at the Las Vegas Planet Hollywood Resort and Casino from 2016 to 2018. The show brought in more than $100 million in gross ticket sales, People reported.
Make Your Money Work Better for You
Jennifer Lopez's Acting Career
Lopez first graced the screen when she got a job as a dancer on "In Living Color." She continued her success by nabbing the titular role in "Selena" in 1995 and is said to have earned $1 million for it.
Today, Lopez is famous for starring in a host of popular films, including "Hustlers," "Second Act" and "The Back-up Plan." She earned nominations for the Golden Globes, SAG Awards and Independent Spirit Awards for 2019's "Hustlers," but her 2022 release, "Marry Me," hasn't been as much of a success. It has brought in only $22.4 million in the U.S., according to Box Office Mojo.
Her life and career are the subject of "Halftime," a documentary that debuted in June on Netflix. And a recent project – "Shotgun Wedding," co-starring Josh Duhamel – will be released on Amazon Prime Video. A release date has not been set.
Jennifer Lopez's Real Estate
Jennifer Lopez has accumulated an impressive portfolio of real estate, buying and selling numerous properties through the years. Her current holdings include real estate in Bel Air, California, the Hamptons in New York and in Miami, Florida, Architectural Digest reported.
Make Your Money Work Better for You
Per the magazine, Lopez bought the $10 million estate in the Hamptons in 2013. The home on the private property contains 8,660 square feet with eight bedrooms, a steam room and home theater. It also has a pool, sauna and kids' play area her twins likely enjoyed when they were younger.
She owns a second property in New York – a penthouse in Manhattan's Flatiron District – that overlooks Madison Square Park. The New York Post reports she paid $20.2 million for the 6,500-square-foot property in 2014 but listed it for sale in 2017 out of concerns over privacy. The Post said that despite dropping the initial asking price of $26.5 million by $2 million, she took it off the market in October 2021 when it didn't sell.
In 2016, she shelled out $28 million to buy a compound in Bel Air from actress Seal Ward. It's a French country-style estate built in 1940, and she's done extensive renovations to the exterior, Architectural Digest reported. The site now includes a mini-golf course and a man-made pond for swimming. It's one of two properties she owns in the Los Angeles area after she bought a much more modest three-bedroom home in Encino for $1.4 million in 2020. Architectural Digest speculated the home was either going to be lived in by a relative or used as an investment property.
Also in 2020, Lopez and former fiancé Alex Rodriguez bought a $32.5 million mansion on the water on Star Island in Miami. The 10-bedroom, nearly 15,000-square-foot property with private boat access to the Atlantic Ocean is apparently still owned by J. Lo and A-Rod, who confirmed the end of their two-year engagement in April 2021.
More From GOBankingRates
Gabrielle Olya contributed to the reporting for this article.
Make Your Money Work Better for You