How Much Is Leonardo DiCaprio Worth?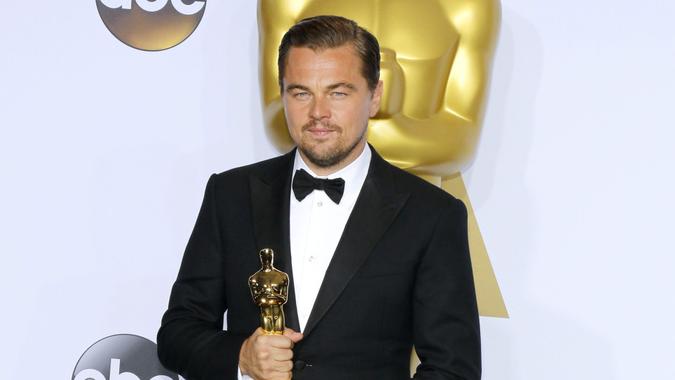 Tinseltown / Shutterstock.com
A child star who became an A-list celebrity, Leonardo DiCaprio is worth $260 million, according to Celebrity Net Worth. In addition to his film income, he has made millions from endorsements, real estate investments and venture capital stakes.
Net Worth: $260 million
Date of Birth: Nov. 11, 1974
Primary Source of Wealth: Acting
Career Highlights: Best known for playing Jack Dawson opposite Kate Winslet's Rose in "Titanic"
Learn More: Celebrity Salaries vs. the Salaries of the Characters They Play on TV
Pursuing a Dream
Born in Los Angeles, Leonardo DiCaprio's performance skills were evident from his youth. His parents found a talent agent for him, but in the beginning, he was turned down repeatedly at auditions. Eventually, he found work in commercials and several television shows, including "Roseanne" and "The New Lassie."
Film work came gradually too, but DiCaprio's talent was starting to get noticed. He snagged movie roles alongside such giants as Robert De Niro in "This Boy's Life" and Johnny Depp in "What's Eating Gilbert Grape." The latter was a critical success and garnered DiCaprio his first Academy Award and Golden Globe Award nominations. He starred in a few other films in the early- to mid-'90s. Some were well received, others not, but DiCaprio's performances usually earned positive reviews. He won a Silver Bear for Best Actor Award for his portrayal of Romeo in the 1996 Shakespeare adaptation "Romeo + Juliet."
Super Stardom
The role that catapulted DiCaprio into mega-stardom was Jack Dawson in James Cameron's "Titanic." It was the most expensive film made up to that point, and it secured him a $2.5 million base salary. Although he wasn't nominated for an Academy Award, DiCaprio became one of the most recognized celebrities around the world and won the hearts of millions of fans. His level of popularity was even compared to that of the Beatles in the 1960s.
Over the next two decades, DiCaprio starred in many more films, including "Gangs of New York," "The Aviator" and "Inception." His only Academy Award came for the 2015's "The Revenant." He has also produced over 20 films and made several post-"Titanic" television appearances.
Other Sources of Wealth
Along with acting and producing, DiCaprio has made millions from product endorsements, investments and real estate. He is currently developing an eco-friendly resort on a private island in Belize. All of the homes will be sold to private owners and will be completely powered by renewable energy.
More From GOBankingRates