Lady Gaga, Katy Perry and More: The Net Worths of Super Bowl's Richest Halftime Performers
Huntley Paton / Flickr.com
In 2016, more than 114 million pairs of eyes were glued to the television screen watching the world's most famous, talented and wealthy performers belt out approximately 12.5 minutes of songs at the Super Bowl, according to The New York Times.
While performers like 2017's headliner, Lady Gaga, rake in more than a million dollars per concert when they're on tour, they don't get paid a penny for their Super Bowl appearances. Instead, Super Bowl halftime performers make money from increased music sales and concert tickets after the game. While everyone waits in anticipation for the over-the-top Super Bowl LI Halftime Show production that Lady Gaga's team is sure to roll out, here's a look at the richest halftime performers' net worths.
1/16
lev radin / Shutterstock.com
Lenny Kravitz Net Worth: $40 Million
Katy Perry's girl-on-fire dress and grand entrance on the back of a 28-foot-long, metallic lion wowed during the 2015 Pepsi Super Bowl XLIX Halftime Show.
Lenny Kravitz looked right at home next to Perry in her $15,000 patent leather 3D flame dress. But Katy Perry's Swarovski crystal-studded shoes weren't the only bling on stage.
Kravitz strutted to the mic to belt out the opening lyrics of "I Kissed a Girl" dressed in shredded Hedi Slimane jeans and a black Saint Laurent motorcycle jacket. Beneath it all, he wore at gold mesh tank top designed by Natalia Fedner. Pyrotechnics provided an apt backdrop to the flame-clad Perry as she danced her way up Kravitz's legs, packing plenty of spice into their duet.
See: Here's What You Can Buy With the Price of a Super Bowl Halftime Ad
2/16
Nikola Spasenoski / Shutterstock.com
Missy Elliot Net Worth: $50 Million
If you thought the dancing sharks, beach balls and palm trees were the pinnacle of the 2015 Pepsi Super Bowl XLIX Halftime Show you hadn't seen anything yet. As the lights went down on bikini-clad frolickers on Katy Perry's island, blue mist surrounded a mysterious silhouette that left some viewers perplexed.
Social media blew up with inquiries from the younger generation asking who it was. Grammy Award-winning artist Missy Elliott hadn't released an album in 10 years while she worked on writing and producing. In the nearly three minutes it took Missy Elliot to work through a medley of "Get Ur Freak On," "Work It" and "Lose Control," she made a new generation of fans. Elliott's music downloads and sales exploded nearly 1,000 percent in the days following the show.
3/16
Daniel Gregory / Flickr.com
Bruno Mars Net Worth: $90 Million
Bruno Mars was the first performer to appear on a halftime show twice in just two years. His performance at the 2014 Super Bowl XLVIII Halftime Show was such a hit that he reappeared as a guest act with Coldplay and Beyonce in the 2016 Super Bowl 50 Halftime Show.
His performance at the 2014 Halftime Show started off innocently enough with children holding hands singing an excerpt from "Billionaire." Mars made his grand entrance on a moving drum stage, beating the skins as an intro to "Locked Out of Heaven."
Decked in matching gold blazers, white shirts, and black ties and pants, Mars and his band performed tightly choreographed moves that included some classic James Brown footwork. With Mars' segue into Red Hot Chili Peppers' "Give It Away", the Peppers' lead singer Flea entered the stage half-clad, where he and guitarist Josh Klinghoffer transformed the audience with their high energy.
Mars showmanship did not disappoint the audience in the 2016 Super Bowl 50 Halftime Show. After he performed "Uptown Funk" he danced with Beyonce before he ended his set with Coldplay lead singer Chris Martin joining him for a rendition of the song.
4/16
Sterling Munksgard / Shutterstock.com
Tom Petty: Net Worth $95 Million
The lights went down in the stadium at the beginning of the 2008 Super Bowl XLII Halftime Show, revealing the outline of a heart-shaped stage. A large, lighted arrow rolled across the field to signal the start of Tom Petty & The Heartbreakers' opening number, "American Girl."
A mob swarmed toward the stage from the sidelines — people had been waiting outside University of Phoenix Stadium in Glendale, Arizona, since the game's start. As Petty performed his songs, the crowd sang along and whipped out tiny flashlights to wave to the music.
Blowing through a medley of his greatest hits paid off for Tom Petty & The Heartbreakers. Reeling in a new generation of fans, digital downloads of songs he performed rose more than 150 percent. Petty's albums "Greatest Hits" and "Through the Years" increased sales by 196 percent and 240 percent, respectively.
Don't Miss: Celebrities With the Highest Net Worths
5/16
Everett Collection / Shutterstock.com
Janet Jackson Net Worth: $175 Million
It's not often a performer makes a major ripple in the world within minutes. But that's just what Janet Jackson did in her 2004 performance with Justin Timberlake at the Super Bowl XXXVII Halftime Show.
Known ever after as Nipplegate, Jackson's bare breast emerged as Timberlake pulled at the front of her bustier during the last lines of "Rock Your Body." The move was supposed to reveal a red lace bra, but the garment failed, which brought the term "wardrobe malfunction" into common use.
Although Jackson's music sales rocketed in the weeks following her performance, the move negatively impacted her career. She was banned from that year's Grammy Awards and blacklisted from music video and radio channels for several years.
6/16
Everett Collection / Shutterstock.com
Britney Spears Net Worth: $200 Million
Spears has always been famous for dancing to the beat of her own drum, even back to her days as a child actor. And during the 2001 "The Kings of Rock and Pop" extravaganza at the E-Trade Super Bowl XXXV Halftime Show, Britney Spears showed her own style when she joined Aerosmith, NSYNC, Nelly and Mary J. Blige onstage.
The show opened with a prerecorded intro that featured Ben Stiller, Adam Sandler and Chris Rock, then cut away to NSYNC running onstage. The band took tune turns with Aerosmith before it geared up for the show's main event, a rousing version of "Walk This Way" sung by all the celebrities.
The character Spears portrayed, Missy Who Was Ready to Play, was wearing that famous arm sock that caused a fashion commotion. Countless Spears wannabes chopped the toes off tube socks the next day and donned them on their arms, and it wasn't long before Urban Outfitters and other fashion houses picked up the trend. The fad died out, but you can still buy arm warmers online today.
7/16
Andre Luiz Moreira / Shutterstock.com
Justin Timberlake Net Worth: $230 Million
At the 2004 AOL Top Speed Super Bowl XXXVIII Halftime Show, Justin Timberlake became momentarily infamous for having a hand — quite literally — in Janet Jackson's wardrobe malfunction.
Timberlake ascended the stage as Janet Jackson completed "Rhythm Nation" to perform a duet of his hit "Rock Your Body," the show's finale. At the song's concluding lyric, "I bet I'll have you naked by the end of this song," the history-making wardrobe malfunction happened.
The fabric faux pas didn't affect Timberlake's album sales, however. Sales increased 160 percent in the week after the show and he went on to win two Grammy Awards later in the year for Best Pop Solo Album and Best Male Pop Vocal Performance.
The incident was the third during the nearly 13-minute show: The other two included Kid Rock wearing an American Flag poncho and rapper Nelly grabbing his crotch. The NFL took measures to prevent further assaults on innocent Americans, including instituting a five-second broadcast delay and levying fines for offensive displays.
8/16
Everett Collection / Shutterstock.com
Lady Gaga Net Worth: $275 Million
As the headlining act for the 2017 Super Bowl LII Halftime Show, Lady Gaga is no stranger to the Super Bowl. You might remember her singing the national anthem at the 2016 Super Bowl LI.
Although singing the "Star Spangled Banner" minimized the singer's opportunity for her well-known theatrics, there's no doubt she'll go all out on the 2017 stage. Songs for the show might include singles from her most recently released album, "Joanne," which marks her fourth to top record on the Billboard 200 charts.
Gaga's 2016 anthem performance was anything but vanilla, though; she appeared bedecked in a glittering red Gucci pantsuit with matching eye shadow. Towering Gucci platform shoes completed her patriotic look — one in red and white stripes, the other in a sparkly blue color.
This year's Pepsi Zero Sugar Super Bowl LI Halftime Show set list will be secret until the very end. It's safe to say with Lady Gaga on stage, you won't be disappointed.
9/16
A.RICARDO / Shutterstock.com
Katy Perry Net Worth: $280 Million
Perry made her grand entrance at the 2015 Pepsi Super Bowl XLIX Halftime Show singing her hit "Roar" on a 16-foot-high lion puppet that weighed nearly 1,600 pounds. But it was a shark that stole the show. "Left Shark's" free-frolicking moves seemed random and out of sync with "Right Shark's" tight moves, which made the clip go viral.
Katy Perry thanked Left Shark when she talked about an Emmy Award nomination for Outstanding Short-Format Live-Action Entertainment Program. Although it didn't take home the prize, the performance won two other Emmy Awards for Outstanding Costumes for a Variety Program Or A Special and Outstanding Lighting Design Lighting Direction for a Variety Special.
Perry's 12.5-minute performance included four wardrobe changes, more than any other performer in the Super Bowl's history. From 20-carat diamond earrings to more than 22,000 Swarovski crystals bedecking her dresses, microphones and shoes, Perry's designer Jeremy Scott delivered the fashion bling for which she's known.
10/16
Anthony Correia / Shutterstock.com
Prince Net Worth: $300 Million
The 2007 Pepsi Super Bowl XLI Halftime Show featuring headliner Prince began with pyrotechnic flames shooting into the sky. Queen's "We Will Rock You" got the hearts and feet of viewers pounding in rhythm. After another burst of pyrotechnics around the stage, the lights dimmed to Prince's voice intoning, "Dearly beloved, we are gathered here today to get through this thing called life."
Dressed in a teal suit and coral shirt, Prince captivated the audience with a medley of three of his hits, "Let's Go Crazy", "1999," and "Baby I'm a Star." The real surprise came when he switched from his own songs to pay homage to other artists' classics.
Prince transformed "Proud Mary" by Creedence Clearwater Revival, "All Along the Watchtower" by Bob Dylan and "Best of You" by Foo Fighters with a style distinctly his own. He changed guitars four times along the way and a marching band accompanied him for several songs.
11/16
A.RICARDO / Shutterstock.com
Beyonce: Net Worth $450 Million
Posing before a pyrotechnic display of herself, Beyonce opened the 2013 Pepsi Super Bowl XLVII Halftime Show by belting out a snippet of "Love on Top." She packed nine of her hit songs into the 14-minute show, surrounded by dramatic special effects and tightly choreographed backup dancers.
Beyonce's former from Destiny's Child bandmates joined her onstage for three songs. The reunited trio rolled through fan favorites including "Independent Women Part 1" and "Bootylicious" before finishing with Beyonce's own "Single Ladies."
The show's special effects won an Emmy Award for Outstanding Lighting Design. Shortly after the halftime show, a power outage in the stadium stopped the game for an additional 34 minutes before electricity was restored. Fans wondered at the time if Beyonce's high-powered spectacular caused the outage, which was eventually traced to an overloaded relay device.
Beyonce returned to the Super Bowl stage in 2016 for a guest appearance. She performed her newly released single "Formation," danced with Bruno Mars to "Crazy in Love" and joined Mars and Coldplay's Chris Martin for a rendition of "Uptown Funk."
Don't Miss: Beyoncé Tops Grammy Nominations: See How Much This Diva Is Worth
12/16
Antonio Scorza / Shutterstock.com
Bruce Springsteen Net Worth: $460 Million
Bruce Springsteen opened the Bridgestone Super Bowl XLIII Halftime Show by addressing the viewers at home, not in the stadium. "Ladies and gentlemen, for the next 12 minutes, we're going to bring the righteous and mighty power of The E Street Band into your beautiful home!" He advised viewers to step back from the guacamole dip, put the chicken fingers down and turn the volume up.
The Boss broke into "Tenth Avenue Freeze Out," and about two minutes into it took a running slide toward the camera and crashed into it. Springsteen used a runway to get up close with the crowd while fireworks shot off in time to the music. He playfully bantered with bandmate Steve Van Zandt about running into overtime: "That means delay of game! Delay of Game!", said Springsteen.
Springsteen's Super Bowl appearance coincided with the release of "Working on a Dream" earlier that week. The album landed in the top spot on the Billboard 200 chart for the week ending February 1, with a total of 224,000 albums sold.
13/16
andreynikolaev.com / Shutterstock.com
Madonna Net Worth: $800 Million
Madonna entered the 2012 Bridgestone Super Bowl XLVI Halftime Show on an elaborate chariot borne by a parade of marching Roman warriors. Twelve minutes later, she disappeared in a dramatic plume of smoke. Between the two events, she held millions of viewers spellbound.
Viewers saw Madonna transform from exotic princess to cheerleader to choirmaster and more as she danced and sang with guests Nicki Minaj, M.I.A. and Redfoo. She rode a bejeweled human serpent, danced with a tightrope trickster and vogued with a contortionist and break dancing lyre player.
She also debuted a song from her then upcoming album "MDNA" — "Give Me All Your Luvin'" — with Minaj and M.I.A. The album received 50,000 preorders by the end of Super Bowl Sunday. Her appearance boosted her other music sales, too. Her older albums saw a rise of 410 percent and fans downloaded 115,000 copies of her new single by week's end.
Check Out: 20 Celebrities Who Chose to Adopt
14/16
Francois / Flickr.com
The Rolling Stones Net Worth: $960 Million
No special effects were necessary at the 2006 Sprint Super Bowl XL Halftime Show. The Rolling Stones did what they do best — played its own, special brand of rock and roll.
All eyes were on Mick Jagger as he shook and wiggled down the giant, tongue-shaped stage "licking" into the audience. The band played just three songs during its 12-minute set. The Stones kicked things off with "Start Me Up" and then rolled into "Rough Justice" during the first half of their performance. They devoted the second half entirely to the crowd-pleasing song "Satisfaction," which lasted more than six minutes.
The Rolling Stones saw only a minimal increase in music sales — around 9 percent — immediately following their performance. However, the performance coincided with their "A Bigger Bang" tour, which became the highest-grossing tour of all time in 2007.
15/16
Alexander Mazurkevich / Shutterstock.com
Paul McCartney Net Worth: $1.2 billion
The 2005 Ameriquest Mortgage Company Super Bowl XXXIX Halftime Show opened with a decidedly retro feel as Paul McCartney launched into "Drive My Car" from his days with The Beatles. Other oldies but goodies included "Get Back" and the set's finale "Hey Jude." In between, McCartney sandwiched a favorite from his Wings days, "Live and Let Die."
McCartney was no stranger to the Super Bowl. Although 2005 was his first time headlining the event, he sang "Freedom" at the 2002 Super Bowl XXXVI Pregame Show. At halftime, he harmonized with Fox Sports broadcaster Terry Bradshaw — the duo belted out a short rendition of "A Hard Day's Night."
16/16
SteBo / Wikimedia Commons CC-BY-SA-3.0
U2 Net Worth: $1.34 Billion
Had Janet Jackson only said yes to her invitation to sing at the 2002 Super Bowl XXXVI, Nipplegate might never have happened. However, she didn't feel comfortable headlining the halftime show after the 9/11 attacks happened just a few months before.
U2 was a natural choice for the NFL's top marketing executive, John Collins. Shortly after Jackson declined, he watched U2 play at Madison Square Garden. As the band performed one of many encores that night, the names of those killed in the terror attacks just weeks before scrolled across the arena's domed ceiling. It was riveting as people started recognizing victims' names.
U2 brought the concept with them to the E-Trade Financial Super Bowl XXXVI Halftime Show. After they opened with "Beautiful Day," a towering screen behind the stage scrolled the names of those killed while the band rolled through "MLK" and "Where the Streets Have No Name."
The scrolling came to an end when the screen suddenly dropped down, mirroring the World Trade Center's collapse. The emotional set concluded with Bono opening his jacket to reveal the American flag on its inside lining.
About the Author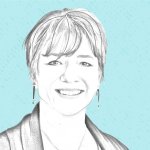 Jodi O'Connell is a freelance wordsmith based in Sedona, Arizona, who writes about everything from vacation vagary and adventure sports to real estate and pets. She spent more than a decade in Arizona's real estate industry advising first-time homebuyers and commercial investors before indulging her passion for the written word on a full-time basis. Her articles appear on websites as diverse as U.S. News and World Report, USA Today, Hipmunk, Roots Rated, and Travelocity.