Addison Rae, Baby Ariel and More of the Richest TikTok Stars of 2021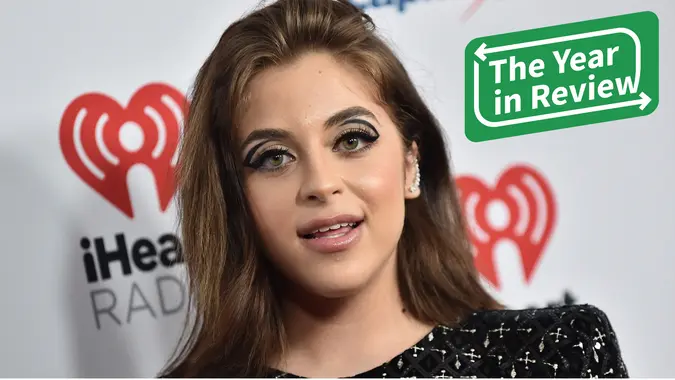 TikTok has gone from a fun place to watch videos to a powerful marketing tool for big companies who see the power of its young influencers to draw audiences and rake in the big bucks. And many young people have learned to harness that power to earn themselves a significant share of that pie. Here we look back at some of the biggest stars on TikTok in 2021, many of whom have increased their wealth by several million since 2020.
Baby Ariel: $6 Million
Ariel Martin, the 21-year-old TikTok star more commonly known as Baby Ariel, was one of the first stars to rise on TikTok, when it was still called Musical.ly, through her singing and acting videos. Though she's still not quite as high earning as the top competition, a $6 million net worth and more than 35 million followers on TikTok are nothing to scoff at. Time and Forbes referred to her in years past as one of the most influential people on the internet and a top influencer. In addition to making music, she spearheaded an anti-bullying campaign called #ArielMovement in 2015. She's released several popular music singles and been nominated for awards from such places as People's Choice and iHeartRadio Music awards.
Brent Rivera: $6.5 Million
Perhaps just being cute and goofy on TikTok is all it takes to make millions if Brent Rivera's channel is any indication. The 23-year-old started out making comedy and prank videos on Vine and YouTube. His writing, producing, directing and starring in the TV series MrBrent98 led to a more serious acting gig, starring as Isaac Salcedo in the TV series "Light as a Feather" in 2018, according to GQ. He then parlayed his TikTok success into creating a production studio, Amp Studios. This is where a lot of his money comes from, as he promotes brands such as Coca-Cola, Chipotle and Disney, creating exclusive content and teaching other content creators how to do the same. He's worth $6.5 million and has 40.6 million TikTok followers.
Make Your Money Work Better for You
Addison Rae: $8 Million
Addison Rae Easterling, 21 years old, made a huge splash with her dancing videos when she first appeared on TikTok in 2019, becoming the highest paid TikTok star in the world by 2020, according to Celebrity Net Worth, and earning more than 80 million followers to this date. Today she's worth $8 million.
She has an eye for smart collaborations as well. She joined Hype House, a group of content creators who make videos together, in 2019. This was so successful that she left college to focus on her TikTok career.
Endorsements began rolling in by 2020 and she was featured in an American Eagle "Back to School" campaign. She and her mother have also launched a podcast and a cosmetics line called Item Beauty, where Rae serves as chief innovation officer.
She branched into acting and singing as her fame rose, releasing her debut single, "Obsessed," in 2021, and starring in the 2021 Netflix movie "He's All That."
Rae's popularity isn't limited to TikTok; she has significant followings on Instagram, Facebook and YouTube.
4. Burak Ozdemir: $11 Million
One of the wealthiest TikTok stars of 2021 is perhaps the least expected. Though many TikTok millionaires are American teens or young adults, who parlay their dancing, singing or fashion skills into big bucks, Burak Ozdemir is a Turkish chef who has made his mark by creating memorable foods, such as enormous burgers and fried cheese balls, according to The Independent.
Make Your Money Work Better for You
His previous experience owning clubs and restaurants may have played into his ability to garner views. According to GQ, he's turned his restaurant chain, Hatay Civilizations Table, into a thriving business that often boasts celebrities. Speaking of celebrities, he's done several collaborations with celebrities, such as actor Will Smith. Whatever is bringing people to his channel, it's working — he's got a net worth of $11 million and 47.6 million TikTok followers.
Charli D'Amelio: $12 Million
In just a little more than two years, 17-year-old Charli D'Amelio has become one of the most famous, and richest, TikTok creators, with a net worth of $12 million, according to Celebrity Net Worth. She appeared on the platform with her snappy dance videos and grew her audience to an astonishing 124.1 million followers in a brief period. Her sudden fame has branched out into a variety of lucrative sponsorships, including Procter & Gamble, Hollister, Yoplait, Dunkin Donuts, Morphe cosmetics, Invisalign, Step, Dunkin Donuts and a licensing deal with Just Mobile Direct. She also stars in a Hulu series and a series on Snap. She's appeared on stage at a Jonas Brothers concert, and even published a book, "Essentially Charli: The Ultimate Guide to Keeping It Real." Charli knows how to value herself: She allegedly charges $100,000 at minimum for sponsored posts and earned $1 million for a 2020 Super Bowl ad.
More From GOBankingRates