Shailene Woodley's Net Worth Vs. Kate Winslet's Net Worth: Which Insurgent Movie Star Made More?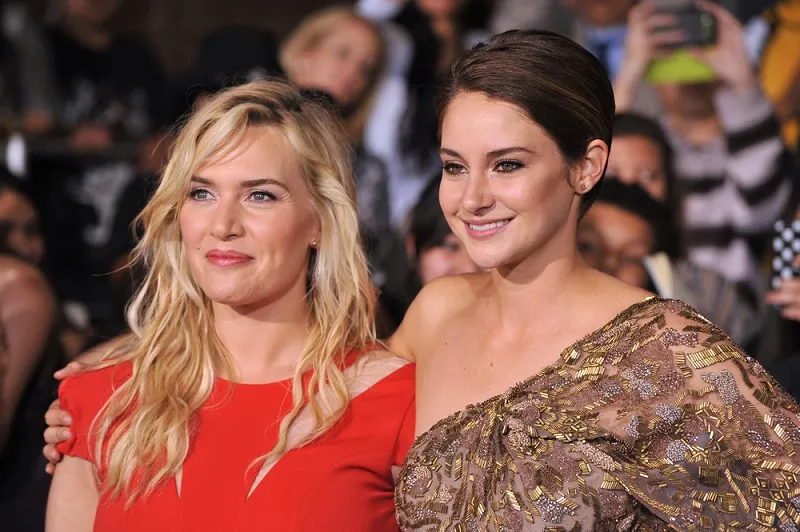 The second installment of the "Divergent" series hits theaters Friday, March 20, and it's sure to be a big performer at the box office. Variety reports Lionsgate CEO Jon Feltheimer predicted "Insurgent" will gross between $350 million to $400 million worldwide when millions of fans hit the theaters to see Beatrice "Tris" Prior face her inner demons and continue to battle the alliance that's trying to ruin society.
"Insurgent" has some pretty big shoes to fill, however. "Divergent" topped box office charts in 2014, bringing in more than $288 million worldwide, $150 million domestically and $54 million during its opening weekend. But it looks like "Insurgent" is ready for the challenge — the film took in $4.1 million at the North American box office Thursday night and is on track to rake in $55 million to $60 million this weekend, reports The Hollywood Reporter.
The franchise has generated a ton of revenue, but what about its stars — how much money did they take home at the end of the day?
Make Your Money Work Better for You
Learn 13 ways to make more money from experts like Clark Howard >>>
Net Worths of Shailene Woodley, Kate Winslet and Insurgent Cast
The actual size of the "Insurgent" cast paychecks has been kept under wraps, but the incredible success of the first film in the series has probably earned them a pretty significant raise. The total net worth of these major cast members is an estimated $127 million.
Shailene Woodley Net Worth
The 23-year-old actress stars as Tris in the film, serving double duty as the main protagonist and the narrator.
Woodley's "Insurgent" salary is currently unknown, but sources told The Hollywood Reporter she earned a $250,000 to $500,000 paycheck for her work on "Divergent." Similarly, Jennifer Lawrence reportedly earned $500,000 for the first "Hunger Games" movie but received $10 million for the second film in the series, "Catching Fire." So, Woodley could be in for a substantial raise.
In total, her net worth is currently estimated at $9 million.
Make Your Money Work Better for You
Kate Winslet Net Worth
Starring as Jeanine, the leader of Erudite, Winslet has been a box office mainstay for nearly two decades. Some of her most well-known films include "Sense and Sensibility," "Titanic" and "The Holiday." In addition to "Insurgent," she also stars in three other films scheduled for a 2015 release, including "Triple 9," "The Dressmaker" and "Steve Jobs."
The mother of three is estimated to have a net worth of $45 million.
Theo James Net Worth
The British actor plays the role of Four in "Insurgent," serving as Tris' love interest. James made his acting debut in 2010 and has since gone on to appear in a number of other roles on both the big and small screens, including "The Inbetweeners Movie," "Underworld: Awakening" and the CBS show "Golden Boy."
His net worth is estimated at $15 million.
Naomi Watts Net Worth
She didn't appear in "Divergent," but the British actress will play the role of Evelyn for the second film in the series. In addition to the Academy Award-winning film "Birdman," Watts has starred in dozens of films such as "Mulholland Drive," "King Kong" and "St. Vincent."
Make Your Money Work Better for You
Her net worth is estimated at $16 million.
Related: 5 Ways You're Sabotaging Your Future Net Worth
Miles Teller Net Worth
Starring as Peter in "Insurgent," the Pennsylvania-born actor has risen to fame over the past few years, starring in a variety of films such as "That Awkward Moment," Oscar winner "Whiplash" and "The Spectacular Now" (the latter of which he coincidentally starred alongside Woodley). In addition to "Insurgent," he'll appear this year on the big screen again for the highly anticipated "Fantastic Four."
Teller's net worth is currently estimated at $2 million.
Ashley Judd Net Worth
Resuming her role as Natalie Prior, Tris' mother, Judd brings more than two decades of acting experience to the film. In addition to "Divergent," she starred in 1995's "Heat," 1999's "Double Jeopardy" and 2002's "High Crimes."
Judd's net worth is estimated at $22 million.
Ansel Elgort Net Worth
Perhaps best known for playing Woodley's love interest in 2014's "The Fault in Our Stars," Elgort returns to the series to reprise his role as Tris' brother Caleb. The 20-year-old actor made his debut as Tommy Ross in 2013's "Carrie" and also played the role of Tim Mooney in 2014's "Men, Women and Children."
His net worth is currently estimated at $6 million.
Read: How You Can Save Money on Movie Tickets Through Costco
Octavia Spencer Net Worth
The Academy Award-winning actress plays the role of Johanna in "Insurgent." While Spencer is best known for her role as Minny Jackson in 2011's "The Help," she has appeared in more than 100 films and television shows since her debut in 1996. In addition to "Insurgent," she starred in Fox's "Red Band Society," which was cancelled earlier this year.
Spencer's net worth is estimated at $6 million.
Maggie Q Net Worth
Playing the role of Tori, the tattoo artist tasked with conducting the faction aptitude test on Tris, Maggie Q (whose last name is Quigley) returns for the second installment. Since her acting debut in 2000, she has worked on a number of film and television projects, including holding the title role in the CW's action series "Nikita" from 2010 to 2013.
Her net worth is estimated at $6 million.
Photo credit: Jaguar PS / Shutterstock.com