78% of Americans Would Go Into 'Pet Debt' If They Had To — Here's How To Avoid It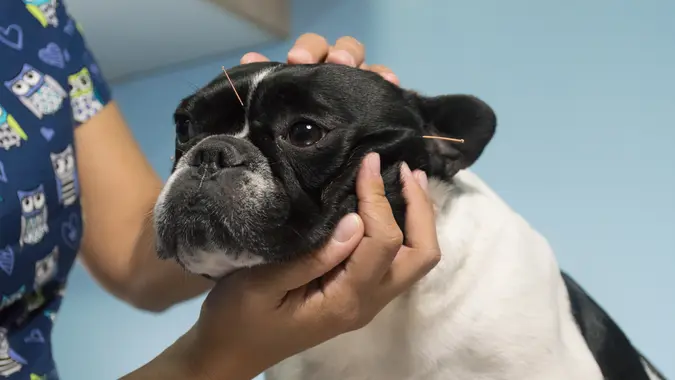 ©Shutterstock.com
Millions of Americans own at least one pet, be it a cat, dog, bird, fish, reptile or otherwise. Many people consider their pets to be like family, so it's no surprise that so many people want to provide the best possible care for their pets.
In fact, a Consumer Affairs study found that 78% of pet owners said they'd consider taking on debt if they had to for their pets. Around 43% of respondents said they would definitely go into debt if it meant taking care of their pets in an emergency situation. And while millennials (those ages 26-41) are the most likely individuals to take on pet debt, younger and older generations are also willing to do this.
While taking care of your pets and ensuring they live their best lives is commendable, you don't necessarily need to go into debt to do it. Here are some of the top strategies to avoid pet debt while ensuring your pets get the proper care they need.
Understanding Why People Go Into Pet Debt
There are many reasons why people are willing to go into debt for their pets, but one of the biggest ones is that the connection between owners and pets has changed.
"Pets are becoming more humanized in recent years. With this humanization, the emotional attachment people feel toward their pets often equates them with family members, taking them to great lengths to ensure their well-being, even at a high financial cost. The line between another human family member and a dog or cat, for example, is thinner than ever before," said Nicholas Dragolea, founder of dog health and wellness blog Fetched.
Make Your Money Work for You
"This attachment and humanization trend, combined with a sense of responsibility, commitment and a lack of insurance or savings, can easily drive some to spend beyond their means for their pets' care," added Dragolea.
Raymond Quisumbing, MBA, registered financial planner affiliated with Biz Report, said, "People are often willing to go into debt for their pets due to the strong emotional bond they have built with their animals. As a pet owner myself, I treat my pets as family members, and I would be deeply hurt if I did not go the extra mile for their sake. If I am able to provide them with the best in food, shelter and nutrition, surely I could also extend to them the best medical care money could provide."
Take Some Preventative Measures
To prevent taking on pet debt, the first step is to implement some preventative measures that keep your pets from needing expensive or emergency care in the first place.
"Just like with humans, keeping your pet healthy can serve as a preventive measure for medical costs. Make sure your pet gets the appropriate amount of exercise, feed them a nutritious diet and keep them at a healthy weight," said Sean Prichard, the president and head canine fitness coach of Pant & Wag (PAW). "Nearly 60% of dogs in the U.S. are overweight. This extra weight can worsen osteoarthritis and dysplasia, cause respiratory problems, lead to diabetes and increase the risk of cancer — all very expensive problems to treat."
Make Your Money Work for You
Quisumbing added that early prevention goes a long way in keeping your pet and wallet healthy. "As they say, early prevention is better than a cure. Keep up with pet vaccinations, dental care and routine checkups so that otherwise deadly diseases can be detected early on, thus preventing major expenses. For instance, I regularly purchase tablets for my pet dog in order to prevent heartworm."
Preventative care isn't only limited to health-related care, as there are other things you can do to cut down on costs. For example, Dragolea said, "Learning to perform your own dog grooming at home can save you hundreds, or even $1,000-plus a year, depending on where you live."
Budget and Create an Emergency Pet Fund
Financial experts often advise people to have an emergency savings fund in case something unexpected comes up. But you might also want to consider setting up an emergency fund for your pets, as this can help keep you from taking on debt. This fund can cover anything from medicine to grooming to veterinary care.
Jonathan Wainberg, senior vice president and general manager for CareCredit at Synchrony, noted that the cost of veterinary care is increasing and that it's important to plan ahead.
"These cost increases can also be challenging for pet owners, as our Lifetime of Care survey showed nearly half of pet owners underestimate the cost of caring for their pets, and 30 million U.S. households will face an unexpected pet expense that will cause them financial worry," said Wainberg. "Better understanding [of] the full list of costs can help pet parents be more proactive in their financial planning for a pet, as they would be for any new family member."
Once you have a better idea of how much your pet will actually cost, the next step is to establish a solid budget to cover these expenses.
Make Your Money Work for You
"For many of us, pets are our lives. My wife and I have a cat and an English mastiff. When you have a pet who weighs over 150 pounds, everything gets more expensive. We have an emergency fund (of about $3,000) set aside for our pets. We ended up at a $3,000 emergency fund due to a series of emergencies over the years. It seems like every emergency vet visit ends up around $3,000," said Jay Zigmont, PhD, CFP®, founder of Childfree Wealth.
"The key with pets is to have a plan for the expenses and a maximum spend. When a crisis hits, it is very hard to put a limit to the spending," noted Zigmont. "For example, when our pug ate raisins, he ended up in the ICU (raisins can be deadly to dogs). We had no idea how long he would be in there, but we had our emergency fund ready to help. He ended up doing fine, but it spent our entire $3,000 emergency fund."
The process of setting up an emergency pet fund is similar to saving for a normal one, though you'll typically need a smaller amount. Anthony De Filippis, director at Amplify 11, a Penrith-chartered tax accountant firm, suggested "allocating a portion of your savings for pet-related emergencies" to prevent pet debt.
Get Pet Insurance
Pet insurance works similarly to health insurance for humans in that you pay a premium that covers up to the entire cost of the medical bill. Many types of pet insurance policies are out there, but finding the right one for your pet can help prevent pet debt and give you peace of mind.
Make Your Money Work for You
"Invest in quality pet insurance," said Kimberly Gauthier, certified professional canine nutritionist at KeeptheTailWagging.com. "Some pet parents believe a savings account for their pets would be easier to maintain; however, those savings accounts may not cover cancer treatment. Plus, what if you open the savings account today and your dog is injured three days later — have you saved up enough money to cover the vet bills in that short period?"
Lindsey A. Wolko, founder of the Center for Pet Safety, added, "Some pet owners obtain pet insurance to help remediate some of the expenses regarding veterinary care, but the monthly premiums can also sometimes be beyond their means. Center for Pet Safety recommends that pet owners find an FDIC-insured high-yield savings account and have a set amount direct deposited every pay period. It's amazing how fast the balance builds up, and then pet owners can use the funds for discretionary spending (food/supplies) or veterinary bills without going into debt."
Shop Around for Different Veterinarians
Not every vet specialist is the same. Some offer different — or even better quality — services or treatment options. Others might be more affordable. That's why it's important to look around and compare your options.
"Shop around for veterinary services," said De Filippis. "Comparing prices and services among different veterinary clinics can help you find the most cost-effective care for your pet."
Consider Alternative Funding Solutions
Pet debt isn't always unavoidable, but there are ways to mitigate costs.
Dr. Paola Cuevas, veterinary consultant at Hepper, suggested "getting in touch with humane societies or volunteer organizations. They can sometimes help to get sponsored or very discounted medical procedures that would otherwise be very expensive in private practice. They might be able to provide medical treatment sponsorships."
Make Your Money Work for You
Another option is to organize a raffle or crowdfunding event.
"Organiz[e] raffles or sell cookies or cakes with a cause at farmer's markets or similar local trade shows. Most people are happy to contribute to helping an animal in need as long as they get something in return, even if it is only the possibility [of winning] something," added Cuevas.
Cuevas also suggested other ways to get the money needed to take care of your pet. One such option is to set up a crowdfunding event at Co Fund My Pet or GoFundMe. Another is to sell stuff at a garage sale. You can also seek charitable donations through the Emergency Animal Relief Foundation.
And if none of these work, ask your veterinarian if they offer alternative payment options. "In case of emergencies, explore personal loans or payment plans offered by veterinary clinics instead of relying solely on credit cards," said De Filippis.
More From GOBankingRates