Drowning in Debt? Your State Might Be to Blame
New study finds time it takes to get out of debt in every state.
If you want to pay off debt quickly, you might need more than just better saving and spending habits. In fact, you might want to reconsider your location.
A new study by GOBankingRates found that you can get out of debt quicker in some states compared to others.
The study took the median income for each state and then deducted income taxes and the median rent in each state. From what was left, the study assumed half could be spent on other basic necessities (food, clothing, i.e.). Meanwhile, the remainder could be used for debt repayment, assuming every resident had credit card debt that totals $6,879.99 — the average amount determined by a 2017 GOBankingRates survey.
Clearly, a high rent can make it harder to pay off debt faster. California had the highest rent of any state in the study as well as the longest amount of time needed to get out of debt (9.6 months).
But a high rent alone doesn't guarantee a long debt repayment period, as some states with high rents had equally high incomes. For example, New Jersey's rent was over $2,000 per month, but because the state's income is high, it had one of the shortest repayment periods at 5.6 months. Alaska, which had the ninth-highest rent, had the shortest amount of time to get out of debt because of its top ranking in after-tax income.
Make Your Money Work for You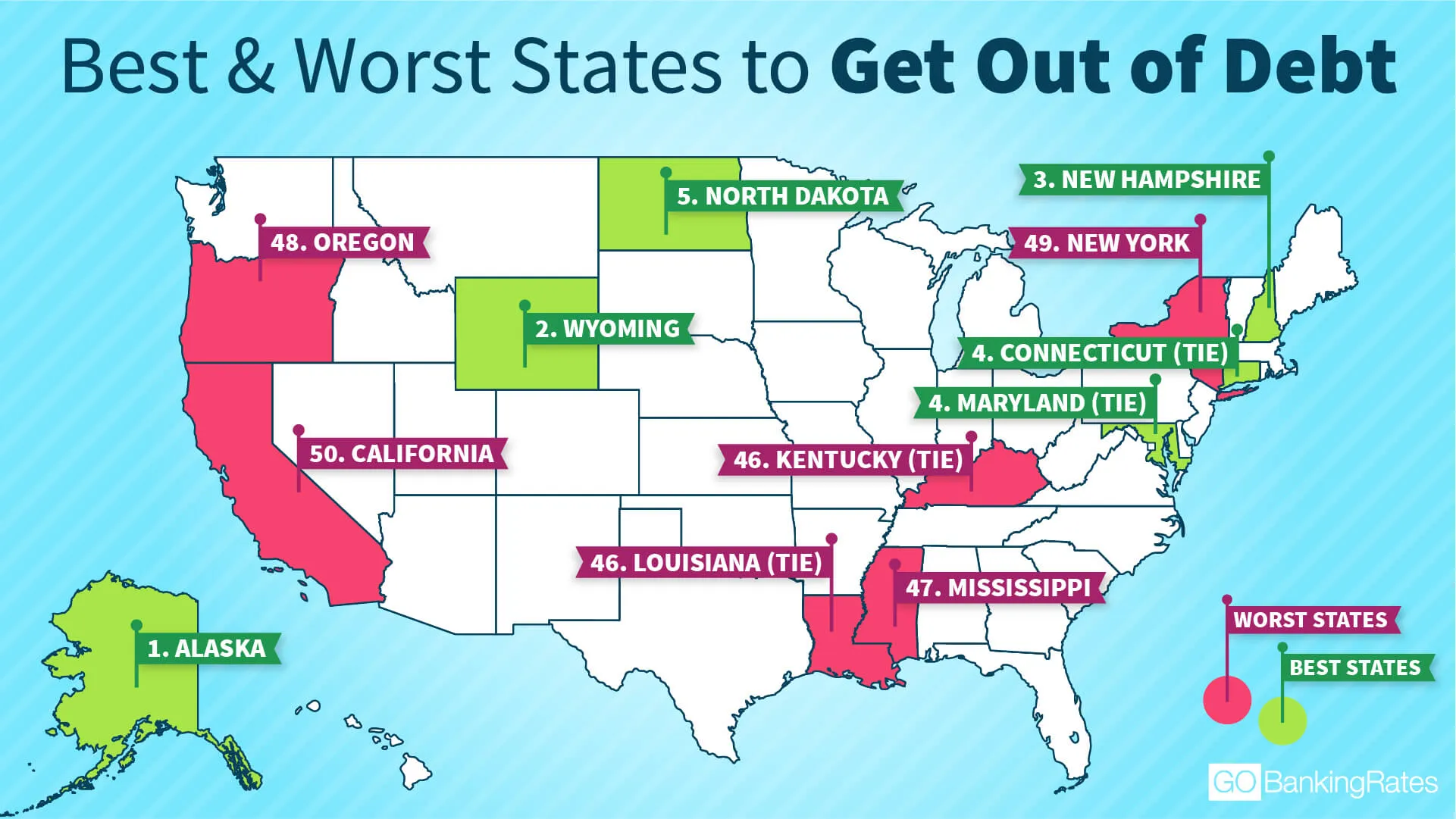 It's important to keep in mind that your actual take-home pay — not your gross pay — is what really matters when figuring out how long it will take to pay off debt. While the two are usually similar, the states with the highest "gross" median income didn't always have the shortest debt repayment times. Take California and Wyoming, for example.
Find Out: These Are the Best Ways to Pay Off Every Kind of Debt
Wyoming's $59,143 median income is much lower than California's $63,783 median income. But after you account for taxes (Wyoming doesn't have a state income tax), rent and other necessities, you'll have more left over to pay off debt in Wyoming than in California. As a result, you can get out of debt 4.7 months quicker in Wyoming.
Here are the states where it takes the least (and most) amount of time to get out of debt:
Alaska, 4.5 months
Wyoming, 4.9 months
New Hampshire, 5 months
Maryland, 5.3 months
Connecticut, 5.3 months
North Dakota, 5.4 months
Virginia, 5.5 months
New Jersey, 5.6 months
Minnesota, 5.7 months
Iowa, 5.7 months
Kansas, 5.8 months
Delaware, 5.8 months
Utah, 5.9 months
South Dakota, 6 months
Washington, 6 months
Wisconsin, 6.1 months
Pennsylvania, 6.2 months
Nevada, 6.2 months
Texas, 6.2 months
Ohio, 6.2 months
Illinois, 6.3 months
Nebraska, 6.3 months
Missouri, 6.3 months
Oklahoma, 6.4 months
Michigan, 6.4 months
Rhode Island, 6.5 months
Indiana, 6.5 months
Massachusetts, 6.6 months
Arizona, 6.7 months
Tennessee, 6.8 months
Colorado, 6.9 months
Vermont, 7 months
Georgia, 7 months
Maine, 7 months
West Virginia, 7.1 months
North Carolina, 7.2 months
Alabama, 7.3 months
Idaho, 7.3 months
Montana, 7.3 months
Hawaii, 7.4 months
South Carolina, 7.5 months
Arkansas, 7.6 months
New Mexico, 7.6 months
Florida, 7.7 months
Kentucky, 7.8 months
Louisiana, 7.8 months
Mississippi, 8.5 months
Oregon, 8.7 months
New York, 8.9 months
California, 9.6 months
Up Next: Make This the Year for Paying Off Your Debt — Here's How
Methodology: To calculate how long it takes to get out of debt in every state, GOBankingRates assumed the following: 1) The average credit card debt of $6,879.99, sourced from a 2017 GOBankingRates' survey; 2) 50 percent of the median income in each state (after taxes and the median rent were deducted) would be reserved for necessities, such as food and clothing; and 3) The remaining 50 percent would be used for credit card debt repayments. The following sources were used for the factors analyzed: Census Bureau, Zillow, SmartAsset and GOBankingRates data.