Dave Ramsey: 'Definitely Don't Go Into Debt To Get a Degree'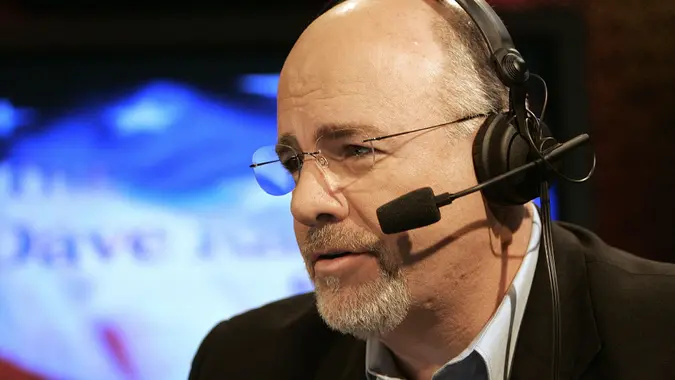 Is getting a college degree worth it if it means going into debt? Not according to personal finance expert Dave Ramsey. On June 16, 2023, Ramsey tweeted from his Twitter account, "Going to college is not necessary to exist on this planet."
"Education is absolutely wonderful and vital, and I think everyone who wants to go to college should. Just don't go thinking that a diploma will be your ticket to a successful life. And definitely don't go into debt to get a degree," Ramsey tweeted. 
Is Ramsey right? Should you avoid going into student debt to obtain a college degree?
Does Going To College Equate a Successful Life?
The answer to this question will differ for everyone. Justin Albertynas, CEO of Ratepunk, has never thought it was necessary to go to college or obtain a formal education to have a successful life. 
"College can make it easier to acquire practical knowledge, connections and information you would miss by researching something on your own, but it's by no means necessary if you are motivated enough to go out into the world and acquire the necessary knowledge and skills by yourself through various internships, apprenticeships and research," Albertynas said.
Payments: Student Loan Pause Officially Ends in October — Are You Ready To Start Making Average $503 Payments Again?
Make Your Money Work for You
A college education is also not the primary focus of a resume for employment at Albertynas' company Ratepunk, which searches for the best hotel rates. Instead, the focus is on the practical skills and character of a potential new hire. Emphasizing these skill sets, Albertynas said, has made it possible to hire and build an amazing team. 
"What it comes down to is your own personal drive and motivation. If you're learning on your own, you're not subjected to any grading and assessment system, so you have to find ways to assess yourself. College can make it easier to learn a craft and most of the time is an obvious choice, but we live in an age where it's by no means necessary," Albertynas said.
The 'Good Debt' Side of Student Debt
Despite Ramsey's warning that it isn't worth it to go into debt for a college degree, it's important to recognize that student loans occupy the category of good debt.
There are two forms of debt: good and bad debt. Bad debt is made up of debt that can drag on your finances and make you financially vulnerable, like credit cards, medical loans and payday loans. Good debt, such as mortgages and student loans, is the kind of debt where there are reasonable monthly payments. Those who use their debt responsibly can often leverage it toward their own financial growth and stability. 
Robert R. Johnson — CFA and professor of finance at Heider College of Business, Creighton University — said he categorizes modest student loan debt as being good debt. 
Make Your Money Work for You
"In my opinion, student loans get a bad rap," Johnson said. "Used judiciously — and to earn degrees which truly build a person's human capital and earning power — student loans can be an essential bridge to both personal growth and career success."
This being said, however, it's important to recall the adjective Johnson puts in front of student loan debt: modest. Before taking out excessive loans or incurring six figures worth of debt, Johnson recommends performing a cost/benefit analysis for financing a college degree.
More From GOBankingRates