Debt Relief: Understand Your Options To Get Out of Debt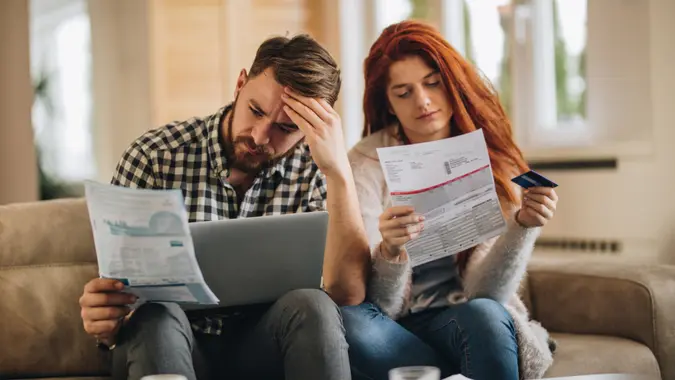 skynesher / Getty Images
Once you are in debt, your only goal then becomes to get out of debt. Whether it is student loans, credit card debt or just merely the fact that your monthly payments have gotten unmanageable, getting a handle on your personal finances and working on repayment plans are the next best steps to take.
Unsecured debts or personal loans can snowball on you, and in order to stop paying high interest rates and improve your credit score, you are going to need a debt relief game plan.
Debt Relief: Quick Take

Debt relief comes in many forms and describes many ways you can start to rid yourself of debt, often through the help of a third party. It can range from seeking help from credit counselors from the National Foundation for Credit Counseling or even building a budget and repayment plan yourself. Here are some key takeaways about debt relief:

Certain debt relief companies or programs are not right for everyone, so make sure to research which plan is best for your situation.
Know what fees you'll need to pay and what you need to qualify for specific debt relief plans.
Understand who your debt is owed to, as in which debt collectors or creditors are being paid.
Key debt relief goals include wiping out debt altogether, lowering your interest rates or monthly payments, or negotiating with creditors to accept partial payments.
Make Your Money Work for You
3 Debt Relief Options
Here are a few debt relief options you can consider to help you start digging your way to level ground once again.
Debt management plans
Filing for bankruptcy
Debt settlement companies
Even little steps in the right direction go a long way. Instead of focusing on your debt as a whole overwhelming lump sum, break it down into manageable pieces.
1. Debt Management Plans
When seeking a debt management plan, make sure to choose one that is accredited by the National Foundation for Credit Counseling or the Financial Counseling Association of America. The plans are generally designed to help with unsecured debts, such as credit cards.
Pros of Debt Relief Through Debt Management Plans
Get free or low-cost services that advise you on how to budget and live within your means.
Get an organized plan that maps out your debt, finances and repayment options.
Cons of Debt Relief Through Debt Management Plans
You'll have to close your credit cards and have to live without cards until the completion of the plan.
Closing credit accounts can hurt your credit score.
2. Filing for Bankruptcy
Bankruptcy, as a term, can sound terrifying. However, if you can't see your way through repayments, consulting with a bankruptcy attorney can be a beneficial strategy. For example, filing for Chapter 7 can alleviate unsecured personal loans, credit cards or even medical debts.
Make Your Money Work for You
Pros of Debt Relief Through Bankruptcy
A good option for large or overwhelming amounts of debt where repayments seem less likely, yet it's still possible to keep your home.
It stops creditor harassment and collection calls from hounding you.
Cons of Debt Relief Through Bankruptcy
Causes severe damage to your credit score and stays on your credit report for 10 years.
It can be expensive to file for bankruptcy, as it goes through the court system and comes with legal fees.
3. Debt Settlement Companies
Debt settlement tends to be a last stop for debt relief if you don't qualify for bankruptcy. Essentially, a debt settlement company has you put money into an escrow account after you stop paying accounts you've enrolled in the plan. This often motivates collectors to accept a smaller amount than you owe as opposed to nothing. 
Pros of Debt Relief Through Debt Settlement Companies
You can end up owing less than you originally owed.
It's an option to pay off debts at a faster rate than you would have previously.
Make Your Money Work for You
Cons of Debt Relief Through Debt Settlement Companies
Though they can opt for it in settlement cases, creditors aren't legally required to accept less than you owe on your bill.
Most companies charge fees, and stopping payment on your bills can harm your credit score.
Final Take To GO: Should You Seek Debt Relief?
If you have no idea how you'll repay such unsecured debts as credit cards, medical bills or personal loans, debt relief can be a floatation device during certain financial storms. If the total of your unpaid debt equals more than half of your gross income, you may want to consider debt relief in the form of debt management, debt settlement or filing for bankruptcy.
Debt consolidation of any kind can help streamline your repayment process and help you start getting you back on your feet.
FAQ
Here are some answers to frequently asked questions about debt relief.
Does debt relief destroy credit?

Some debt relief strategies can hurt your consumer credit score and record. Here are some examples of debt relief features to be aware of where your credit is concerned:

- Filing for bankruptcy significantly hurts your credit history and stays on your credit report for 10 years.
- Stopping bill payments during debt settlement can lower your credit score.
- Closing your credit cards when adhering to a debt management plan can harm your credit score.

How do I qualify for debt relief?

Requirements differ depending on your plan and from one debt relief company to another. For example, at National Debt Relief, you must have at least $7,500 and be able to make monthly payments into your settlement fund to qualify for a debt relief program.
If debt relief or forgiveness is for your student loans, you must have federal student loans and earn less than $125,000 annually. If you meet that criteria, you can get up to $10,000 in debt cancellation, depending on which company you go through or what national relief organization you enlist for help.

What does debt relief do?

Debt relief comes in different forms or plans and is designed to help you get rid of your debt. Here are some popular ways to relieve your debt:

- Debt management plans
- Filing for bankruptcy
- Consolidation loans
- Debt settlement companies
Make Your Money Work for You
Our in-house research team and on-site financial experts work together to create content that's accurate, impartial, and up to date. We fact-check every single statistic, quote and fact using trusted primary resources to make sure the information we provide is correct. You can learn more about GOBankingRates' processes and standards in our editorial policy.