Gen Z Has Increased Debt Burden by Nearly 100% Since 2021 — 4 Non-Mortgage Ways They're Racking It Up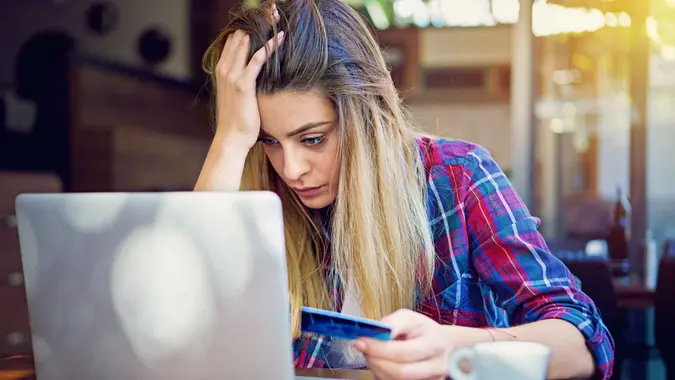 praetorianphoto / Getty Images
Every generation struggles with debt — with Gen X carrying the most — but it's the youngest adults who appear to be amassing debt at the most alarming rate. According to a new study by LendingTree, Gen Zers increased their non-mortgage debt by 99.3% between 2021 and 2023, adding an average debt burden of $10,797 to their plates.
What is causing Gen Z to rack up such costs? Let's explore the leading causes of debt (other than mortgages) among this young cohort.
Auto Loans
LendingTree found that on average, Gen Zers owe roughly $3,673 more in auto loan debt now than they did in 2021. That's a leap of 59% between then and now.
Gen Z certainly isn't alone in their debt crisis surrounding auto loans, though — it's a nationwide problem largely due to the dramatic increase in car prices.
Student Loans
According to LendingTree's findings, Gen Zers owe an average of $4,061 more in student loan debt now than two years ago. That's a 135.1% spike from 2021 to 2023.
This debt burden surely won't be helped by the Supreme Court's recent decision to strike down President Biden's student loan forgiveness plan, which would have saved more than 40 million borrowers up to $20,000 in federal student loan debt.
Credit Cards 
The LendingTree study found that Gen Zers owe an average of $1,771 more in credit card debt now than they did in 2021. That represents a 174% increase.
Make Your Money Work for You
Some research has found that Gen Zers are going so far as to cover their rent with credit cards. Of course, this is generally a poor financial move, because of the high interest rates credit cards typically impose.
Personal Loans 
Gen Z appears to lean heavily into personal loans, perhaps even to cover everyday expenses. Some recent research has shown this is increasingly the case with many other Americans, as well.
On average, Gen Zers owe $1,292 more in personal loan debt in 2023 than they did two years ago. That's an increase of 207.4%, according to LendingTree's findings.
More From GOBankingRates