Nearly Half of Those Using Personal Loans for Everyday Bills Are Millennials — 4 Reasons It's a Terrible Option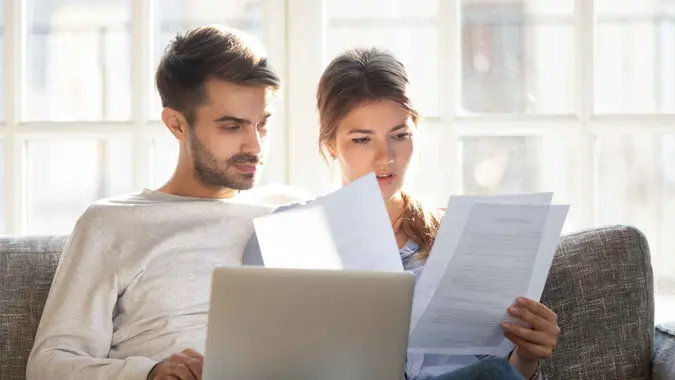 fizkes / Getty Images/iStockphoto
Personal loans provide lines of credit that can be used for just about anything: medical bills, home renovations — even weddings. But they aren't without a list of potentially worrisome caveats, which is why they should really only be used for extreme and unusual expenses. But research finds personal loans are being sought out by consumers to cover everyday bills. Of all generations, millennials are by far the most likely to ask for a personal loan for this reason.
A new survey by LendingTree found that millennials account for close to half (47.7%) of inquiries for personal loans to cover everyday bills. Many of this cohort asking for personal loans to get by are dealing with low credit scores. The survey found that 43.3% of consumers seeking personal loans have credit scores below 560, while 11.6% have credit scores between 560 and 579. In all, 54.9% of these inquirers have credit scores below 580.
Additionally, those inquiring tend to make very modest salaries. According to the survey, 1 in 5 consumers who ask for personal loans for everyday bills earn $24,000 a year or less.
When you're bringing in a fairly low salary (the national average salary for full-time workers is $55,640, according to Indeed) it's tough to make ends meet. It makes sense that you'd seek a personal loan to help keep afloat.
Unfortunately, a personal loan to cover everyday bills could actually be the worst idea. Here's why.
Potentially Sky-High Interest Rates
Personal loans come with interest rates attached, but exactly how high depends on your credit score. Typically, the lower your credit score, the higher your interest rate on a personal loan. This is concerning, as most of those seeking personal loans have relatively low credit scores.
Prepayment Penalties
Not every personal loan has prepayment penalties, but many do. These are fees that are imposed when you pay off a loan before it is due. To many, this seems strange. However, some lenders impose said fees to compensate for the money they expected to earn from the steep interest attached to personal loans.
More Harm to Your Credit Score 
Most people looking into personal loans to cover their bills already have weak credit scores. A personal loan could only worsen that situation. Prequalifying for a loan often requires a hard inquiry, which can temporarily — and negatively — impact your credit score. This happens regardless of whether you get approved for the loan.
Adding More Debt
The inescapable reality of personal loans is that, though they provide reprieve from expenses in the moment, they are not handouts. They will become but another bill to pay off.
Ultimately, those considering personal loans need to realize that it's a costly ordeal.
"Using a personal loan to pay for everyday costs is an expensive proposition," Matt Schulz, LendingTree chief credit analyst, stated in a press release announcing the survey's findings.
"It may be the best of the limited options out there for folks with low incomes and imperfect credit, but it doesn't mean it isn't pricey. While these personal loans can help people extend their budget in the short term, the interest rates and other costs associated with them can keep people stuck in the cycle of debt. It's a tough situation, but it's one in which many Americans currently find themselves."
More From GOBankingRates