Millennials Think Boomers Destroyed the US Economy — 3 Reasons Why They're Right (and Wrong)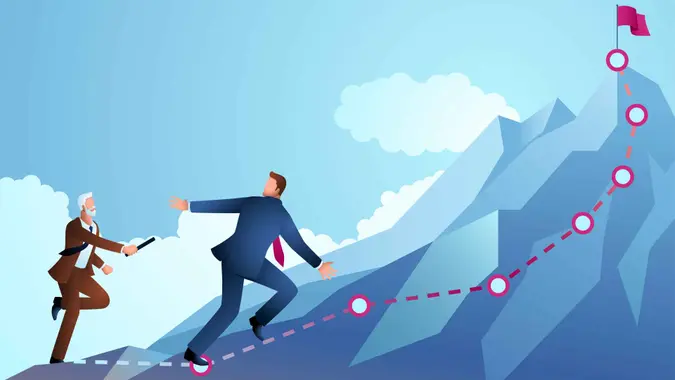 rudall30 / Getty Images/iStockphoto
In the latest battle between the generations, younger Americans are allegedly blaming baby boomers for a faltering U.S. economy — including concerns surrounding high interest rates, unaffordable housing, and even Social Security going bankrupt. A recession could also be incoming, and blame is not in short supply.
But is it fair to blame the baby boomer generation for today's fiscal situation? Let's look at three ways boomers may have played a hand in America's current financial state — and why it really isn't their fault, after all.
The Social Security Trust Fund is on Target To Run Out of Money by 2035
The Social Security Old Age and Survivors benefit was introduced in 1935, six years prior to the post-war "Baby Boom" for which boomers are named. At the time, benefits were very low. By 1950, however, changes to the program introduced cost of living allowances to incrementally increase benefits in line with inflation.
It wasn't until 1977 that Social Security began facing a funding shortfall. It's worth noting that this is long before Boomers began collecting Social Security. Granted, once the 78.3 million Americans born between 1946 and 1964 started collecting Social Security, it accelerated the funding shortfall.
But you might say it wasn't any given boomer's fault they were born when they were, and that the burden is on the U.S. government to find a solution. Considering the average age of U.S. Congress members in 2022 was 58.4 and the average age of senators 64.3, you could argue, on the other hand, that politicians belonging to this age demographic are to blame for failing to manage the current Social Security crisis.
Make Your Money Work for You
Boomers Didn't Teach Their Kids About Money Management
It's perhaps true that boomers and Gen Xers alike failed to teach their children financial literacy. One study from Intuit showed that members of Gen Z would rather talk about sex than money with their parents. These hush-hush attitudes and lack of personal finance classes in schools has — some argue — led to millennials shouldering deep student loan debt and high-interest credit card debt.
The older generations could take the blame for this one, but it's not too late for millennials and zoomers to take their financial education into their own hands.
Boomers Took on Too Much Debt Themselves and Didn't Save for Retirement
It is possible boomers didn't teach their kids about money because they lacked financial education themselves. One study from Credit Karma indicated that 27% of people aged 59-plus have no retirement savings. This tracks with the rest of the population, but zoomers and millennials still have time to prepare. Boomers, however, may find themselves relying on a fragile Social Security system.
Some critics argue that boomers not saving for retirement could be a coming crisis, and the responsibility of caring for the elder generation may fall to Gen Xers and millennials.
Overall, data from the Employee Benefit Research Institute suggested that younger generations are financially worse off than their parents, with net worth falling with each generation. A combination of student loan debt, high housing costs, and today's inflation rates have contributed to the struggles of Gen Xers, millennials, and zoomers — the latter being the most recent group to enter the workforce. That's not to say that many boomers are not facing the same struggles, however.
However, it might be time for members of all generations to stop pointing fingers and, instead, take control of their own financial futures in whatever way they can.
Make Your Money Work for You
More From GOBankingRates