I Owed More Than $20K in Debt — Here's How Debt Snowball Paid It Off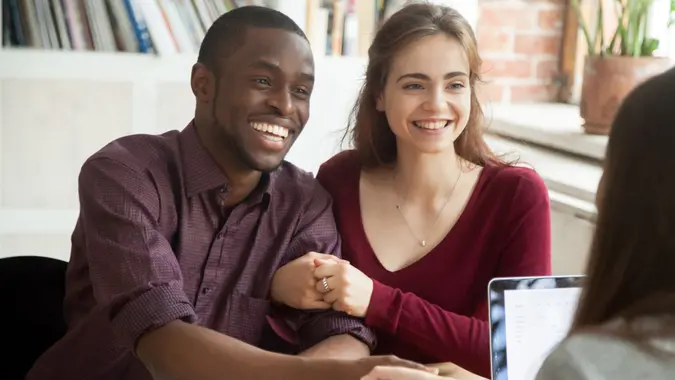 fizkes / Shutterstock.com
Two of the most popular approaches for paying off large amounts of debt are the debt avalanche and debt snowball methods. The latter, debt snowball, focuses on paying off debt with the smallest balances in full while contributing minimum payments toward any other debts. Once the debt with the smallest balance is paid in full, the person who owes moves on to the debt with the next highest balance. Gradually, they keep going, or "snowballing," until all of the smallest debts are paid off and they only need to pay off the debt with the highest balance.
GOBankingRates spoke with two professionals who owed more than $20,000 in debt about how they were able to pay it off. Here's how the debt snowball method helped them pay off their debt.
'I Paid Off $21K of Debt in Six Months'
Derek Sall, a former finance manager turned founder of Life And My Finances, got married in 2009 and divorced in 2012. Sall's debt from the divorce was one lump sum of $21,000. He realized he knew he needed to pay off the debt "when the gavel hit in the courtroom on my divorce date." 
Make Your Money Work for You
Sall said he had always been a fan of the debt snowball. Previously, he had used this method to pay off $18,000 in student loans. He applied the same principles to pay off his divorce debt. 
Budgeting strategies also helped Sall get out of divorce debt. He sold everything that had value, including his PlayStation, living room furniture and his bedroom suite. He worked hard at his full-time job and took on several side hustles to make as much money as possible. Sall also wrote down every single expense he had and figured out ways to reduce these expenses or get rid of them entirely. 
"I cut out subscriptions, stopped eating out and negotiated with my phone and insurance provider," Sall said. "I even sold my truck and bought a gas-sipping Honda Civic to cut back on gas and insurance costs, while still riding my bicycle whenever I could."
All of these combined strategies worked. In six months, Sall paid his $21,000 divorce debt in full.
Take Our Poll: What Do You Plan To Use Your Tax Refund For?
Since then, Sall has remarried ("to a saver, just like me," he said), paid off his home in 2014, and continues to diligently contribute to his 401(k). He even developed a debt snowball spreadsheet available on his website for those interested in using debt snowball to pay off their debt.  
Make Your Money Work for You
Sall's advice for anyone who wants to pay off their credit card debt is rooted in debt snowball principles. Start by paying off your smallest debt and keep snowballing to pay off the next one until all the debt is paid off. 
"It actually gets fun once things start rolling!" Sall said. "After a few months you stop wondering if you can do it, and instead, you start planning how fast you can do it."
'We Paid Off $27K in Credit Card Debt in Two Months — But Do Not Recommend Following All of Our Approach'
Justin Brown-Woods and his wife Haley run Price of Avocado Toast, a podcast and financial coaching service. 
The total credit card debt for the couple was $27,000. Justin said they had every credit card under the sun including cards with Barclays, Wells Fargo and Bank of America. They also had store credit cards with Kohl's, Dick's Sporting Goods, Ashley Furniture and Macy's.
"We were seven months pregnant with our first daughter and realized we were drowning in debt," Justin said. 
In addition to $27,000 in credit cards, they had over $100,000 in student loans and a timeshare. The couple was worried they weren't going to help their family grow in a high-cost-of-living area because their debt would hold them back. 
Make Your Money Work for You
Justin said the couple started with the debt snowball method to pay off their credit cards. Debt snowball was also used to help pay off their student loans. "We both were teachers who were former service workers, so we knew we had the 'hustle bone' and could work as hard as we could to pay it off," Justin said.
Like Sall's story, the couple utilized additional strategies to get out of debt. They sold one of their cars. Justin said they also cashed out a small Roth IRA to tackle their credit card debt. 
Because of the way they did it, they were able to pay off their credit card debt in two months. However, Justin does not recommend entirely following their lead when it comes to paying off debt. 
Using the debt snowball to do it? Yes. Withdrawing money from retirement accounts to pay off debt? No. 
"The biggest thing we coach clients on is to not try the quick fix. It won't be sustainable in the long term. This is what we did with pulling from retirement," Justin said. "You have to fix the mindset and behaviors with debt first and address where that spending trigger and trauma might come from. Then, you can start in any method which feels aligned, be it snowball or avalanche."
Make Your Money Work for You
More From GOBankingRates
Make Your Money Work for You