This Woman Paid Off $70,000 by Cash Stuffing — See How You Can Eliminate Big Debt This Way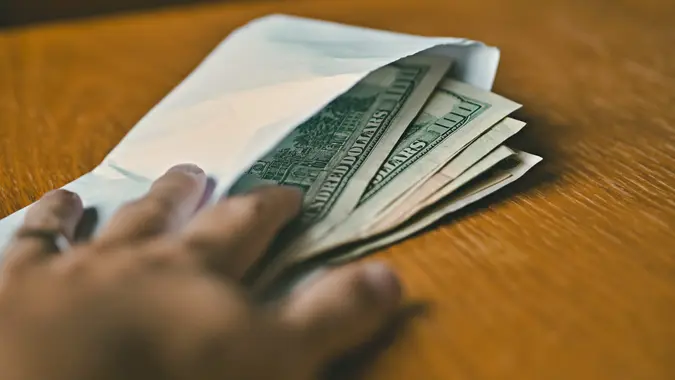 MartinPrague / Getty Images/iStockphoto
Getting back to the basics can prove useful when it comes to personal finance. And the cash stuffing method is one way to go about it, enabling some Americans to even get out of debt fairly quickly.
Cash stuffing — which is just that — stuffing cash in different envelopes or binders allocated to different financial necessities, including rent or mortgage, gas, groceries and vacation is helping many people to better budget.
The method has gone viral and videos on Tik Tok with the #cashstuffing hashtag have garnered 1 billion views as of May 1. 
Here's more about how cash stuffing worked for one woman and how it can work for you.
A Smarter Way To Budget?
For Jasmine Taylor of Amarillo, Texas, the method also enabled her to become debt-free. Taylor told Fox that she paid off $70,000 in debt in just two years by using cash stuffing.
"I was honestly willing to try anything to start digging myself out of the hole," she told Fox.
Make Your Money Work for You
While she used envelopes for everyday items such as groceries, shopping and gas, she noted that cash envelopes for special saving needs such as Christmas presents, birthday presents and car maintenance expenses are also important to have.
"When they come up, you typically have to dig into your savings … So you save in the short term for those big expenses," she added. "We tend to overspend, to impulse spend — and cash stuffing really gives you a stopping point."
When Taylor started cash stuffing, she used the zero-based budget, which is the most common option among cash stuffers, she told CNBC. "That means you start your budget with whatever your paycheck number is, and you give every dollar a place to go, down to zero."
How Cash Stuffing Can Work For You
The cash-stuffing method has been around for a while, but the power of social media as well as shifting priorities during the pandemic have likely increased its popularity, said Kendall Meade, certified financial planner at SoFi. According to Meade, there are several reasons why this method works well for some people.
First, breaking down a larger saving goal that may take years to achieve down into smaller, monthly goals allows you to stay focused and get those "wins" sooner, keeping you motivated. In addition, it is harder to spend cash than swipe a credit card. Numerous studies have shown that when people purchase the exact same item with a credit card and with cash, subconsciously, they're willing to pay more for the item when they use a card than they will with cash.
Make Your Money Work for You
"You are setting aside time every month to review your finances, create a budget, and set specific goals for the month," Meade said, adding that you are no longer using credit cards.
"You can now only spend money you have available currently preventing you from accumulating any more debt. I've seen this work especially well for people who currently have credit card debt. You can't see the effects of paying down this debt as quickly or clearly if you are continuing to spend there," Meade said.
Meade added, however, that ultimately, she recommends people use a bank for their savings, as you lose out on the benefit of earning interest on your money, but you can find ways to mimic the envelopes digitally.
The cash stuffing method requires a lot of discipline and "portion control," but pays off in the end if you stick to it.
While this requires sacrifices in the short-term, it can also lead to long-term financial security and stability, said Matt Manella, CFP and financial planner at eMoney Advisor.
Make Your Money Work for You
"By sticking to a budget, you can avoid overspending, build savings, and invest for the future," he added.
More From GOBankingRates