Ryan Seacrest's Millions Keep Mounting With 'Live' Co-Host Spot
Find out how Ryan Seacrest's new "Live" co-hosting gig will boost his already impressive fortune.
Already considered one of the hardest-working stars in Hollywood, Ryan Seacrest just landed a big new job. On Monday, he was revealed as the new co-host of ABC's "Live" alongside Kelly Ripa.
Now officially "Live With Kelly and Ryan," the announcement follows the popular morning show's highly publicized year-long search for a new co-host, following Michael Strahan's dramatic exit in 2016. In the interim, Seacrest filled the empty seat several times, but likely due to his busy schedule, wasn't considered a top contender.
A seasoned host with a dedicated fan base, Seacrest seems poised to shine at his new job. Take a look at his ascent to the top of the career ladder and what another gig might mean for his already flush bank account.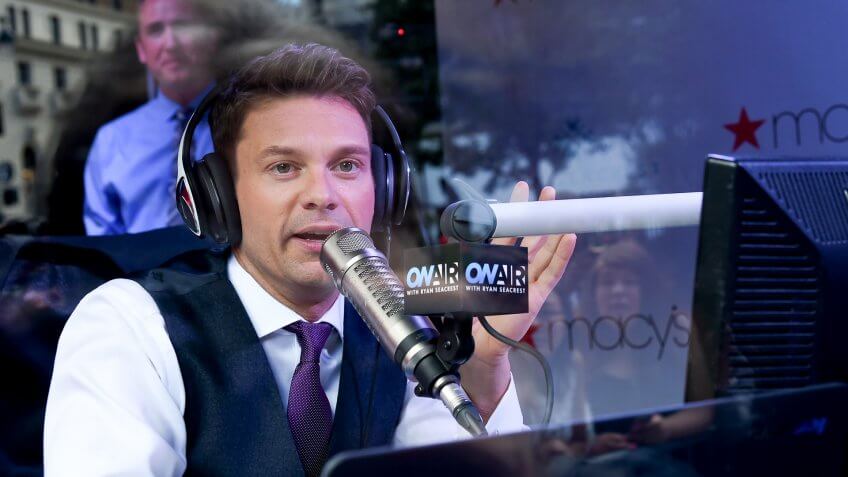 ©Getty Images for Macy's
The Rise of Ryan Seacrest
Ryan Seacrest's net worth is $350 million, according to CelebrityNetWorth, and he's earned every cent of it. Focused on success since high school, he perfected his hustle as a teenager when he served as both the voice behind Dunwoody High School's morning announcements and the weekend overnight host at WSTR (FM) in Atlanta.
After graduating, Seacrest enrolled at the University of Georgia to study journalism, but dropped out at age 19 to move to Hollywood. He quickly landed a job hosting the ESPN sports game show "Radical Outdoor Challenge" and scored his eponymous weekday radio show "On Air With Ryan Seacrest" two years later.
From the mid-1990s to early 2000s, Seacrest scored a variety of television hosting gigs, ranging from "Gladiators 2000" to the Grammy Awards. His big break came in 2002 when "American Idol" made its debut, which turned him into a megawatt celebrity.
Don't Miss: How Much Simon Cowell and Other 'America's Got Talent' Judges Make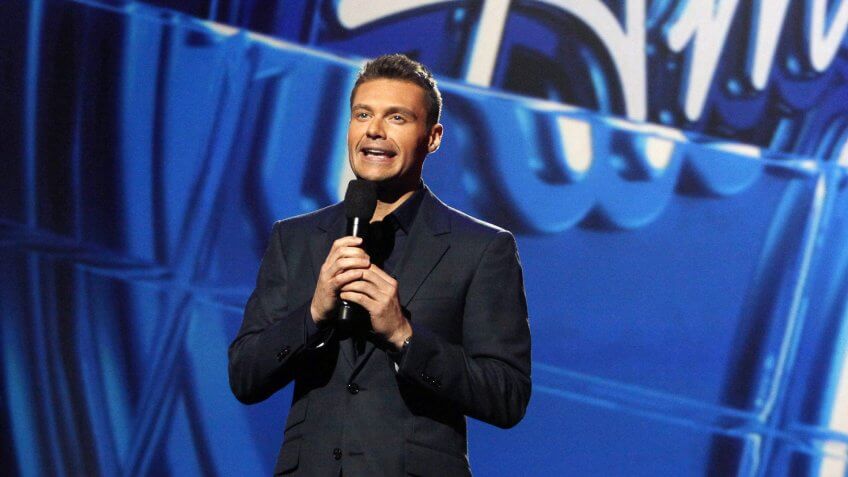 Joe Seer / Shutterstock.com
Ryan Seacrest's Greatest Accomplishments
Created in 1995, "On Air With Ryan Seacrest" has been nationally syndicated since 2008. Also the host of "American Top 40," Seacrest took the reins in 2004 when Casey Kasem retired.
Likely his most high-profile gig yet, Seacrest hosted "American Idol" for the reality show's entire 15-season run, appearing in a whopping 521 episodes. He was reportedly earning $15 million per season by the time the show ended in 2016, according to Forbes.
In 2005, Seacrest scored a gig co-hosting "Dick Clark's New Year's Rockin' Eve" alongside the iconic host. When Clark passed away in 2012, Seacrest stepped up as the main host.
Also a success behind the camera, he founded Ryan Seacrest Productions in 2006 and is credited with launching "Keeping Up With the Kardashians." An executive producer of the show since its 2007 launch, his 40-person production company is also responsible for several of the family's spin offs, including "Rob & Chyna," "Revenge Body With Khloe Kardashian," "Khloe & Lamar" and "Kourtney & Kim Take New York." Beyond Kardashians, the production company also has New York Police Department drama "Shades of Blue," starring Jennifer Lopez and Ray Liotta, in its lineup.
A breakdown of Seacrest's earnings from the Kardashians and his many other gigs hasn't been publicly revealed, but factoring out his $15 million from "Idol," he earned approximately $40 million from the rest of his jobs.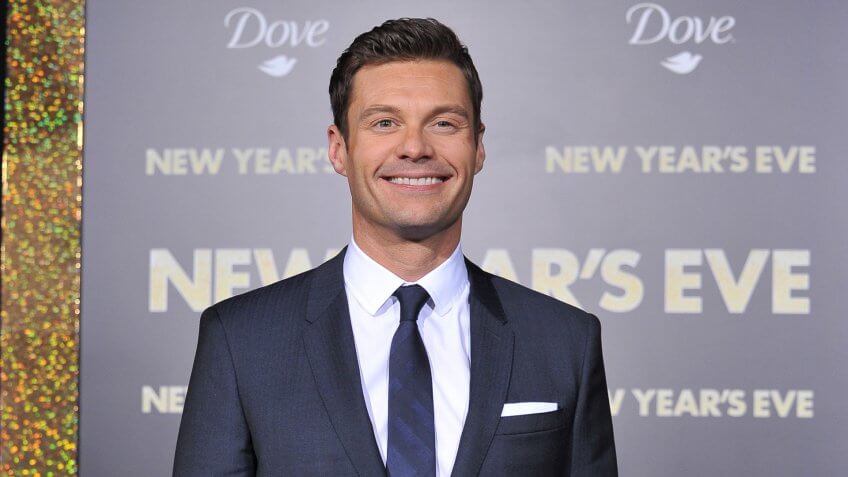 Featureflash Photo Agency / Shutterstock.com
Ryan Seacrest's New Gig
Despite accepting a new job across the country from his Los Angeles-based life, Seacrest doesn't appear to be letting any of his commitments slide. The new "Live With Kelly and Ryan" co-host revealed he'll live in New York City during the week — where the show is taped — and commute back to his $36.5 million Beverly Hills, Calif. estate on weekends.
To help make his transition possible, Deadline reports that a new iHeartRadio studio has been set up inside New York's ABC7, where "Live" is filmed. The first hour of "On Air With Ryan Seacrest" overlaps with the television show, so some segments will be taped, according to the New York Times.
Details of Seacrest's salary for "Live With Kelly and Ryan" haven't been revealed but could likely align with his "American Idol" payday. Ripa recently signed a new multiyear contract with the show, but prior to Strahan's departure, Forbes estimated her annual salary at $15 million.