How Much Is Paul McCartney Worth?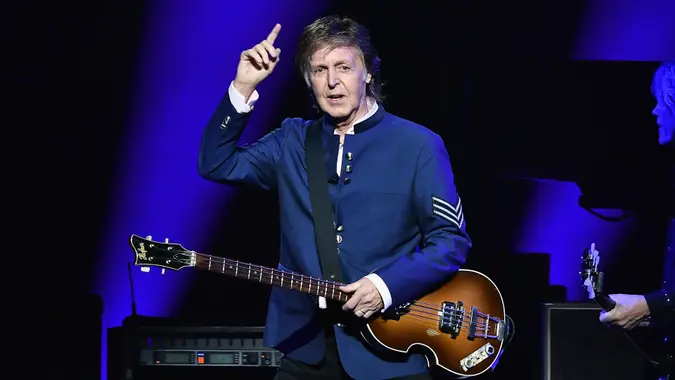 Gustavo Caballero / Getty Images
With a career that's lasted for more than 50 years, it's not hard to believe that Paul McCartney is one of the wealthiest musicians in the world. The former Beatle wrote and performed some of the most memorable music ever. Paul McCartney's net worth is $1.2 billion, according to Celebrity Net Worth.
See: 25 Singers Who Left Their Bands and Still Rake in Cash 
Paul McCartney's Net Worth: $1.2 Billion
The former Beatle earns as much as $70 million per year. In addition to his own portfolio of songs, McCartney owns publishing copyrights of artists like Buddy Holly and Carl Perkins. Song royalties alone contribute tens of millions to his wealth. He continues to draw crowds, earning millions through public appearances and concerts.
Net Worth: $1.2 billion
Date of Birth: June 18, 1942
Primary Sources of Wealth: Songwriting, singing and performing
Career Highlights: Founding member of performing groups The Beatles and Wings, 18 Grammy Awards and 79 nominations
Struggles: Justin Bieber, Billie Eilish and Other Musicians Set To Lose Millions to COVID-19
Paul McCartney's Career Timeline
The foundation of Paul McCartney's legendary career was laid when he was 14 years old and wrote his first song. He joined John Lennon's band, The Quarrymen, the following year. By 1960, they changed the band's name to the Beatles and were performing with George Harrison. Ringo Starr joined the group in 1962, two years before Beatlemania struck the world.
See the List: Taylor Swift and 24 More of the Richest Musicians
McCartney wrote or co-wrote many of the band's most popular songs, contributing to its reputation as the bestselling music act of all time. After formally leaving the Beatles in 1970, McCartney went on to create the band Wings with his then-wife, Linda, and released more than 20 studio albums as a solo artist.
Make Your Money Work Better for You
Paul McCartney's Philanthropy
Paul McCartney has used his celebrity to support a variety of causes. Over the course of his career, he has donated billions of dollars to charities. Charities he supports include the Liverpool Institute for the Performing Arts, the OneVoice Movement, PETA, the Vegetarian Society and Nordorff-Robbins Music Therapy.
Check Out: 8 of the Most Notorious Music Rights Battles of All Time
Paul McCartney's Real Estate
McCartney owns a collection of real estate in the United Kingdom and the United States. He owns two properties in New York City: a townhouse he purchased in 1984 for $1.88 million and a penthouse he bought in 2015 for $15.5 million. Other U.S. properties include a home in East Hampton, a mansion in Beverly Hills and a ranch in Tucson. He also has a 1,500-acre estate in East Sussex as well as property in London and Scotland.
More From GOBankingRates