Yogi Berra Net Worth: A New York Yankees Baseball Hall of Fame Legend
Yogi Berra quotes live on in his memory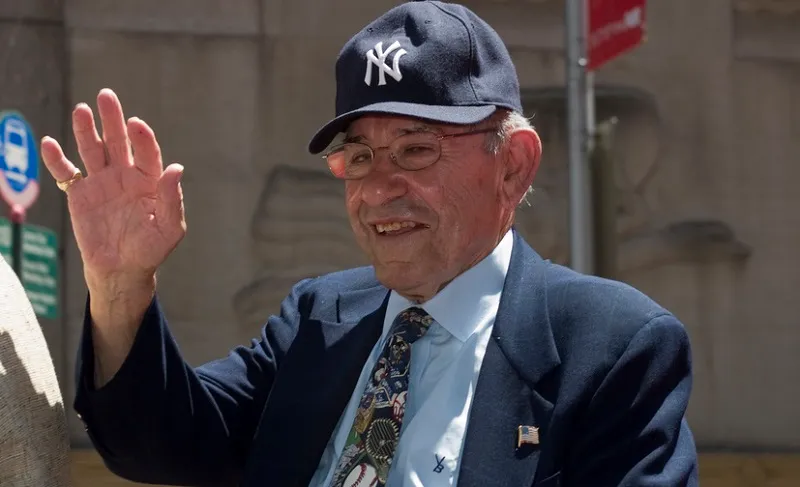 Yogi Berra, a baseball Hall of Fame catcher for the New York Yankees and a baseball legend, died Tuesday night at the age of 90. The Yogi Berra Museum broke the news with a Tweet late Tuesday:
It is with heavy hearts that we share the news that Yogi Berra passed away Tuesday night at the age of 90. #YogiBerra pic.twitter.com/0BSctBzhTb

— Yogi Berra Museum (@Yogi_Museum) September 23, 2015
Yogi Berra's Net Worth, Salary and Endorsements
Unlike other baseball Hall of Famers who were bad with money, Yogi Berra appeared to be smart with his.  As a star player of the Yankees, Berra commanded some of the highest salaries of his time and proved to be a tough negotiator of his contracts, reports The New York Times. This helped him secure a sizable salary of $65,000 in 1961, equal to almost $520,000 in today's dollars — a substantial sum for that era.
Berra's popularity off the field also made him a popular figure for endorsements, and he secured advertising deals for products like Puss 'n Boots cat food, Yoo-Hoo and Miller Lite beer.
The years of success as a player, manager and money-maker outside of the baseball stadium helped grow Yogi Berra's net worth to around $5 million at the time of his death, reports CelebrityNetWorth.
Make Your Money Work for You
The Baseball Hall of Famer as a New York Yankee and Manager
On the baseball diamond, Berra's skill was apparent. He won the American League MVP three times during his baseball career, and to this day he is considered to be one of the best catchers of all time next to Johnny Bench.
Berra was also a hard-hitting batter, who often batted above a .300 and racked up 358 career runs, reports ESPN. Berra played 19 seasons in the major leagues, 18 of which were for the New York Yankees. During his time with the Yankees, he helped the team make it to the World Series 14 times.
Even after he ended his run as a player, Yogi Berra continued to leave his mark on the game as a baseball manager and coach. In 1972, he was inducted into baseball's Hall of Fame.
Related: 5 Famous MLB Players Who Went Broke
Famous Yogi Berra Quotes
Yogi Berra was as well-known for his cultural clout off the field as he was for his play on the field. Yogi Berra quotes are unintentionally clever, and he often delivered pithy sound bites like, "It ain't over till it's over" and "You can observe a lot just by watching."
His persona was so infectious that it's believed that he even inspired the Yogi Bear cartoon character that joined the cast of "The Huckleberry Hound Show" in 1958.
Thanks to his witty and wise "Yogi-isms" and incredible accomplishments in professional baseball, Yogi Berra's legacy will live on for years to come.
Photo credit: © Rubenstein | Flickr