One of the World's Top Soccer Players Turned Down $2B — Only To Make More Money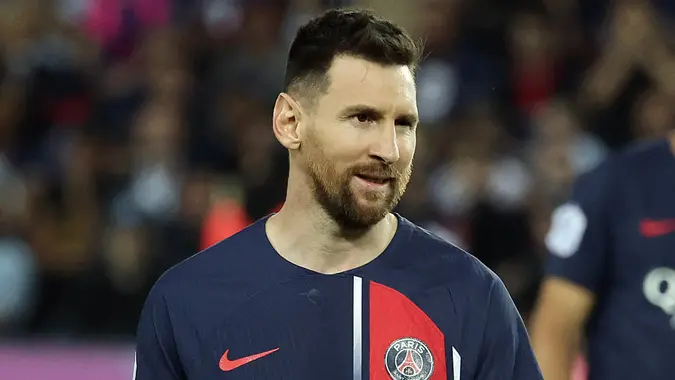 JP PARIENTE / SIPA / Shutterstock.com
The pay for pro athletes ranges widely, but the cream of the crop can pull in absurd amounts of money. Just look at the NBA, the most affluent U.S. sports league, where top players easily reel in over $100 million a year. If that sounds like an awful lot, consider that this is practically pocket change compared to what a certain soccer player in another country was just offered.
We're talking about Argentina's Lionel Messi, who was recently offered a reported $400 million a year (totaling $2 billion over the span of his career) to join Al-Halil in Saudi Arabia. It's more money that most can really conceive of earning, and it seems like a no-brainer to jump on this deal, but Messi turned it down. Instead, he intends to join Major League Soccer club Inter Miami.
The specifics of Messi's Inter Miami contract haven't been publicly disclosed, but it's safe to say that he won't make nearly as much upfront as he would by onboarding with Al-Halil.
Sounds like a bad financial move, right? Not when you look at the potential big picture.
Aakash Gupta, VP of Product at Apollo, took to LinkedIn to share why Messi's decision is actually a "genius financial move" — and one that will, in the long run, make him more money than what he stood to earn with Al-Halil.
To justify their rationale, Gupta dove into the history of David Beckham, the world-famous soccer player who left Real Madrid for the MLS, and took a salary drop of 70% — "from $20M to $6.5M," Gupta said. The decision was mocked by some media, who deemed him a fool when it comes to finances.
Make Your Money Work for You
Those who mocked Beckham weren't thinking big enough. As Gupta explained, between Beckham's revenue share, new U.S. endorsements and salary, he pulled in upwards of $50 million a year.
"Of course, that's still peanuts compared to $1.9B," Gupta wrote. "Where Beckham really made his money was in the long-term, from a relatively underreported clause in his contract: he had the option to purchase an MLS expansion team."
The MLS exploded in growth in the wake of Beckham's deal.
"When he made the deal, the MLS was on a $8M TV deal," Gupta wrote. "But in 2014 it signed a $90M deal. And in 2022, it signed a $250M deal with Apple TV. These deals skyrocketed the value of MLS teams.The growth of MLS and the appreciation of sports franchises have led to Beckham's team, Inter Miami, to be valued at $585M in 2022."
We've already seen Inter Miami ticket prices soar since Messi announced his decision to join the team — "more than 5x," Gupta wrote. "The team is gaining over 100K social media followers per hour."
By radically enhancing the value of Inter Miami as an organization, Messi is effectively driving up the entire worth of a U.S. team. That opens up tremendously lucrative doors for him.
?
"In his contract with the MLS, he has an option to buy a team," Gupta wrote. "That's why he's headed to the U.S. over Saudi Arabia or Spain. He's set to make much more than $1.9B from his new MLS franchise."
Make Your Money Work for You
More From GOBankingRates