The Average American's Retirement Fund Has Dropped 33K in the Past Year — Here's How To Recoup Losses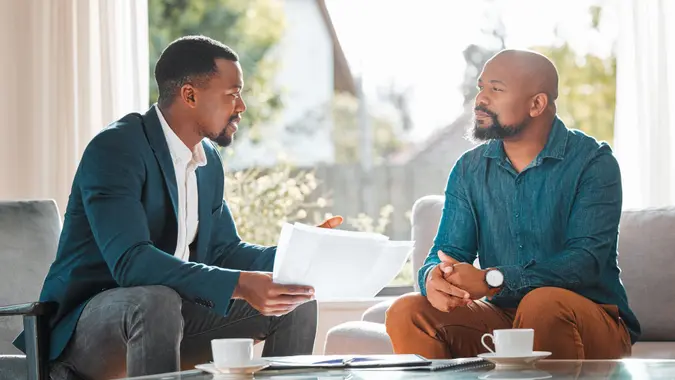 PeopleImages / Getty Images/iStockphoto
Investing your retirement savings is a smart way to build your nest egg — but many Americans lost money in the stock market last year because of poor performance. The average 401(k) account had a balance of $144,280 at the start of 2022. By the end of that year, it had dropped to $111,210, according to The Motley Fool. That's a $33,070 loss (and a nearly 23% decrease).
The S&P 500 index, a financial index comprised of a weighted average of the 500 largest U.S. companies, also dropped nearly 20%, The Motley Fool noted. The median plan balance also fell to $23,818 in 2022 — the lowest in a decade — and the annual median return last year was 14.7% for defined contribution plans.
Americans are also stressing more about their ability to retire. 
In a July poll conducted by Axios and Ipsos, 29% of workers under 55 said they don't think they will ever retire. When asked why not, three-quarters said they could not afford to stop working. A smaller share of the group said they didn't want to.
Another survey from the Employee Benefit Research Institute (EBRI) found that one-third of workers expect to retire at age 70 or later — or never at all. And 36% of respondents said they have little or no confidence in financial security after they retire.
Younger workers lack retirement confidence, but there are still ways to recoup losses.
Are You Retirement Ready?
You need to look at the bigger picture. It doesn't really matter if your investment account had a bad year, The Motley Fool said, because you're investing for retirement over many decades and leaving it to grow over the long term. The stock market goes up and down all the time, and when there's a downturn, there will eventually be a recovery.
Don't panic and sell out of fear. "It's important to remember that as long as you haven't sold those investments, you haven't realized the loss, either, and there is a potential for a comeback," Winnie Sun, co-founder and managing director of Sun Group Wealth Partners, explained to CNBC.
Sun advised that every investor should review their investment allocation at the start of the year and check if it still meets your needs. If you aren't sure, consult with a financial advisor to help calculate your risk tolerance and investment time horizon.
More From GOBankingRates