7 Common 401(k) Fees That Are Chipping Away at Your Retirement Savings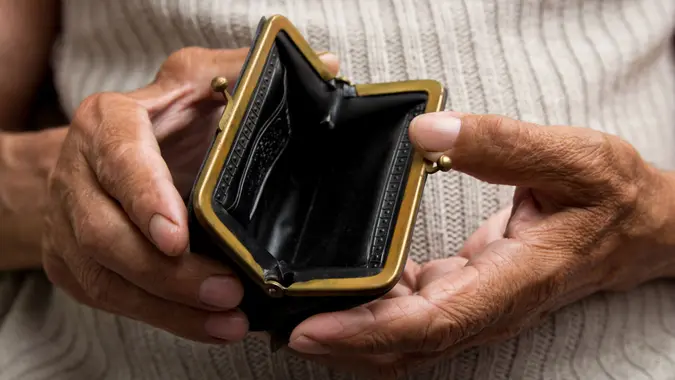 StanislauV / Shutterstock.com
Americans are in a retirement crisis. According to The Pew Charitable Trusts, about 56 million workers in the private sector do not have any kind of retirement savings plan in action. Lack of a plan is a sure way to end up with not enough money to comfortably live on in your golden years. 
This is why having a 401(k) plan, if eligible by your employer, is so important. But consumer beware: there is quite a lot of fine print attached to even the most generous 401(k) plan. Consider these 7 common 401(k) fees that could be eating away at your precious savings — and how to potentially minimize them. 
Administrative Fees
Your 401(k) plan requires several administrative services to be kept in working order. 
"These include costs to run the plan, like record-keeping, legal services, and customer service," said R.J. Weiss, CFP, founder of The Ways To Wealth. "The fee can be paid either by the employer or passed on to the employees. They're often a flat fee, which disproportionately impacts small investors. For example, a $25 flat fee on a $2,500 investment equates to a 1% fee, a significant cut for a small balance." 
Beating administrative fees can be tough, if not impossible. "However, if you have subscribed for additional services, you can reevaluate your need for this service and cut them out where necessary," said Mark Stewart, a CPA for Step By Step Business. "This should help you reduce your account administrative fees."
Are You Retirement Ready?
Investment Management Fees
There are also charges by mutual funds within your 401(k) for managing and operating the funds. Those are called investment management fees.  
"To many's surprise, they're one of the largest expenses someone might pay not just in their 401(k) but in their lifetime," Weiss said. "Consider a 40-year investment horizon, assuming a 7% market return and 3% inflation; a 1% fee can consume about a quarter of the potential returns. That's significant and can easily add to tens of thousands of dollars."
As investment management fees are built into the funds, you can't ditch them without ditching your funds. "They are compulsory fees for all retirement accounts except self-directed IRAs that are controlled by the account owner," Stewart said. 
Individual Service Fees 
Individual service fees don't always pop up, but when they do, they can be vicious. 
"Individual service fees are charges for individual services or specific services, such as splitting the account in a divorce or making inquiries," Steward said. "These fees are often one-time fees and are inevitable if you need to use these kinds of services."
Sales Load Fees
Sales loads are fees charged when buying or selling certain mutual funds within your 401(k) plan. 
"To avoid or minimize these fees, look for funds that have no-load or low-load options," said Alex King, founder at Generation Money. "These funds typically do not charge sales loads, allowing you to invest more of your money. Some mutual funds or investment providers may engage in revenue sharing, where they share a portion of their fees with the plan provider. Although these fees may not be directly charged to you, they can indirectly impact your savings. Understanding the details of any revenue sharing arrangements can help you make informed investment decisions." 
Are You Retirement Ready?
Termination Distribution Fees 
Should your employer terminate your 401(k) plan, there may be fees associated with distributing the assets. 
"Familiarize yourself with the potential termination fees and consider your options, such as rolling over your funds into an Individual Retirement Account (IRA) or another employer's plan," said King.
Advisory fees
Advisory fees aren't always an issue; they only pertain to those who heed the recommendation to hire a financial advisor to manage their retirement accounts. But they can be costly. 
"To curb this fee, you can reduce the areas in your finances where the services are rendered," Stewart said. "However, if you already pay investment fees, you can eliminate this cost as they are very similar services."
Inactivity Fees
Lastly, you should be aware of potential inactivity fees associated with your 401(k) plan. 
"Certain plans may charge fees if your account remains inactive or falls below a minimum balance threshold," King said. "Stay informed about any inactivity fees and take steps to avoid them."
How To Avoid — or Minimize Fees — In General
Some fees associated with 401(k)s can't be vanquished, but others can be minimized. Pay attention to what you're signing up for and how it will be managed. 
"To minimize the impact of these fees on your retirement savings, consider reviewing your plan's fee disclosure documents and statements to understand the fees you are currently paying," King said. "Compare the fees charged by your plan to other available options, such as IRAs or other employer-sponsored plans. You can also discuss the possibility of lower fees with your employer or plan administrator. Diversify your investments by selecting low-cost index funds or passively managed funds with low expense ratios. Regularly monitor your account and consider rebalancing your investments if necessary. Continuously educating yourself about retirement planning and investment options will empower you to make informed decisions."
Are You Retirement Ready?
More From GOBankingRates