6 Affordable Places To Retire Abroad Without a Car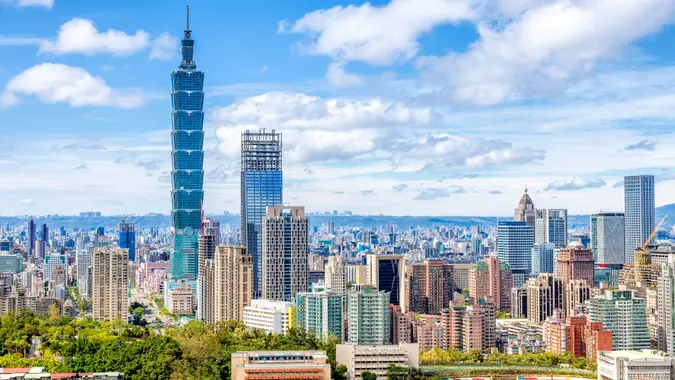 FenlioQ / Shutterstock.com
In today's world of rising living expenses, nobody wants to spend more than necessary on city living and transportation. If you're considering retiring abroad and aiming to reduce extraneous costs, fret not, because retiring without a car is not only achievable but also highly affordable. Thanks to well-developed public transportation systems, retiring abroad can allow you to maintain an active lifestyle, explore your city and enjoy the many benefits of a lower cost of living.
Here's a list of six affordable places to retire outside the U.S. where you won't need a car and can fully enjoy your golden years.
Lisbon, Portugal
Cost of living for expats: $2,552 per month
Nestled on the western Iberian Peninsula and along the River Tagus, Lisbon offers retirees a charming culture and warm climate to settle down comfortably. This inviting city allows retirees to explore historic sites and indulge in delicious cuisine. 
"Lisbon boasts an extensive and efficient public transit network, including buses, trams, trains and the famous Lisbon metro," said Nicholas Mundell, travel blogger and founder of Expatrist.com. "Seniors over 65 can enjoy discounted fares, making it even more affordable. The city's transportation options are not only cost-effective but also comfortable and reliable, making it easy for retirees to navigate the city's vibrant neighborhoods."
Are You Retirement Ready?
Valencia, Spain
Cost of living for expats: $2,110 per month
A charming coastal city, Valencia offers numerous advantages to retirees, from its efficient and well-connected public transportation to its pedestrian-friendly, conveniently flat streets. Additionally, the city's extensive network of bike paths makes navigating a breeze. 
"Valencia's public transportation is a real boon for retirees," said Anna Hamilton, an expat who lives in Valencia and the founder of Spain Inspired, a website dedicated to all things Spanish travel. "Buses, trams and metros crisscross the city, providing a reliable and efficient means of getting around. The cost of public transit is budget-friendly, with a trip within the city only costing me around €0.40 (U.S. $0.45) at the moment, making it an attractive option for retirees looking to explore without the hassles of owning a car."
Helsinki, Finland
Cost of living for expats: $2,328 per month
Helsinki's unique location by the sea allows residents to enjoy a picturesque lush landscape. Known for its walkability and well-planned infrastructure, retirees can easily navigate the city on foot, enjoying parks, waterfront views and cultural sites without the need for a car. For those who prefer not to walk, Helsinki's top-tier public transportation system has got you covered. 
"There are buses, trains, trams and underground transport networks, and the trains are comfortable, modern and always on time," said Alexandra Dubakova, travel expert and chief marketing officer at Free Tour. "The public transport system is organized, and there are well-regulated taxis readily and widely available. The transport is also affordable and comfortable for everyone, including retirees."
Are You Retirement Ready?
Cebu City, Philippines
Cost of living for expats: $853 per month
Retirees will find navigating transportation in Cebu City comfortable and easy. The city's locals offer affordable taxi trips and exciting jeepney rides. The opportunity to immerse yourself in the city's culture through transportation without incurring high costs or sacrificing an active lifestyle makes Cebu City an ideal place to spend your golden years.
"The iconic jeepneys, with their vibrant colors and bustling atmosphere, serve as the heart and soul of Cebu's public transit," said David Bering, senior travel editor at PhilippinesUnleashed.com. "These unique vehicles offer not only a budget-friendly mode of transportation, with fares averaging between $0.14 to $0.20 USD per ride, but also an authentic cultural experience. Riding a jeepney through the city's bustling streets allows retirees to immerse themselves in the local way of life and adds a touch of flair to their retirement adventure."
In addition to taxis and jeepneys, Cebu City offers another hassle-free option for carless residents.
"Additionally, the presence of Grab, the local equivalent of Uber, further enhances transportation accessibility," Bering said. "Offering competitive pricing akin to regular taxis, Grab allows retirees to conveniently hail a ride through a smartphone app, ensuring seamless travel within the city."
Taipei, Taiwan
Cost of living for expats: $853 per month
Taipei not only offers the lowest cost of living for expats on this list but also boasts public transportation that outshines many American cities. For retirees aiming to live car-free, Taipei's accessible and extensive public transportation system is hard to beat.
"Taipei makes getting around without a car super simple for foreigners too," said Alison Meacham, founder and editor-in-chief of the online travel publication EverythingMouse. "All the signs are in English, and the metro announcements are as well. You can get a monthly pass for only $46. The metro system is so thorough, plus they have tons of bus routes everywhere. And cabs are dirt cheap if you need one."
Are You Retirement Ready?
Alicante, Spain
Cost of living for expats: $1,854 per month
Spain makes a second appearance on this list with Alicante, offering undeniable appeal for retirees seeking car-free retirement. Just two hours from Valencia, Alicante boasts a vibrant social city life, making it perfect for enjoying leisure time. Additionally, the city's proximity to the beach allows for refreshing dips whenever needed.
"Living in Alicante without a car is perfectly possible," said Iñigo Navarro, founder of Sensational Spain, a website for retirees living in Spain. "The city offers buses, a tram, taxis, a train station and a [nearby] airport. The tram in this coastal city offers six lines and covers up to six city areas. The 20 available bus lines cover the whole city, and line C6 takes you to Elche Miguel Hernández Alicante Airport. So, no need for a car, even with a longer ride in mind, like the airport." 
More From GOBankingRates
Disclaimer: The monthly cost of living for expats in each city was compiled from Nomad List.