How Much Should You Have Saved by Age 60 in Your Retirement Fund?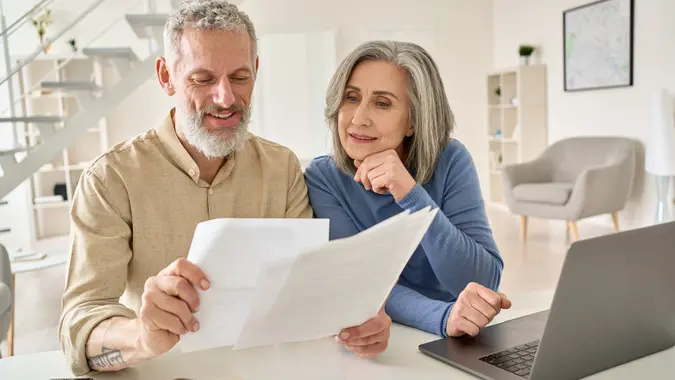 insta_photos / Getty Images/iStockphoto
Having money or assets saved by the time you are 60 is a crucial part of retirement planning. While there is no set number for how much to have saved by age 60, experts recommend having at least eight times your annual income set aside for a comfortable retirement. But not all Americans are at that goal, mainly due to chronic inflation and economic volatility. If you are nearing 60, proper planning increases the likelihood of a more comfortable and secure retirement.
Read: With a Recession Looming, Make These 3 Retirement Moves To Stay on Track
How Much Should a 60-Year-Old Have in Savings?
According to the most recent findings from Northwestern Mutual, U.S. adults now claim that they need at least $1.25 million to maintain a comfortable retirement. While this figure may seem daunting, there are ways to start working on your savings before you reach 60 to reduce the likelihood of not having enough saved before retirement.
How Much Money Should You Have Saved by Age 62?
There is no set number for how much you should have saved by age 62 or above 60 in general. While recommendations exist, it ultimately depends on your lifestyle, health and how much you are comfortable making and living with after you no longer have income.
Of course, where you live makes a significant difference in your spending as well. That's why many people seek areas with a lower cost of living to decrease their spending.
How Much Does the Average 60-Year-Old Couple Have Saved for Retirement?
To retire comfortably around 60, you would need approximately $540,000 saved according to Western-Southern. Reaching that number may be difficult for many, so investing may generate a higher income before the couple retires or becomes eligible for social security at age 65 and above.
You can reach this amount without difficulty by taking heed of your expenses, making investments and placing money aside regularly.
How Can You Comfortably Start The Savings Process?
Comfortably starting the process begins with early saving. And saving, like most things that pay off in the long run, starts with developing a regular habit. Financial experts recommend saving at least 15% of every paystub. But if that's not feasible, beginning with any amount helps build the routine.
Establishing a savings habit is the best way to increase your funds before retirement, which pays off later. Some days, you need every penny you make. Other times, you have enough left to set aside money for future planning.
If you don't have a 401(k), you still have other options, such as investing in stocks. Investing can lead to lucrative gains, but always ensure it is a sound and secure option. Doing the research or speaking to a professional to ensure you understand where your money is going is crucial for long-term growth and success.
Suppose you own a large home, and your children no longer live with you. In that case, downsizing is another option that decreases maintenance bills and keeps the money in your pocket. Bear in mind, however, that renting is not a good option if you already own a home. With a solid financial planning process, you can make intelligent choices that considerably reduce expenses on taxes, insurance, utilities and maintenance.
How Long Does $1 Million Last After 60?
If you have $1 million by 60, how you spend that money makes a significant difference in your quality of life. If you spend 4% of the million every year, that's $40,000. At that rate, your million lasts for 25 years. With investments, a 401(k), social security and living in an affordable area, $40,000 would allow you to have a solid quality of life.
Final Take
Reaching financial stability by age 60 is crucial for retirement planning and living comfortably in your golden years. The recommended number for how much to have saved by age 60 is at least eight times your annual income. To start the savings process, try to save at least 15% of every paystub and consider investment options, downsizing and a cost-efficient lifestyle.
Information is accurate as of Feb. 13, 2023. 
Our in-house research team and on-site financial experts work together to create content that's accurate, impartial, and up to date. We fact-check every single statistic, quote and fact using trusted primary resources to make sure the information we provide is correct. You can learn more about GOBankingRates' processes and standards in our editorial policy.