How To Get Healthcare Coverage If You Retire Before 65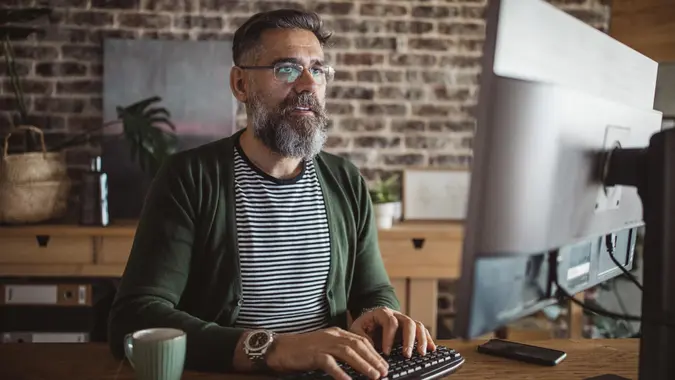 svetikd / Getty Images
If your goal is to retire before 65, you might worry that health insurance will be a problem. The U.S. spends a lot on healthcare, and without the help of an employer, you might think you won't be able to afford it.
Important: You May Be Spending Too Much on Medicare if You're Not Using These Programs
Find Out: How Much Do At-Home COVID-19 Tests Cost From These Top Retailers?
Even without insurance through a full-time job, though, you may still have options. Some of those options are the result of the past few administrations, and others have been around much longer. We'll take a look at some of those options so you continue to have coverage — with or without the help of an employer.
Health Insurance Marketplace
Since the passing of the Affordable Care Act (ACA), the health insurance marketplace is one of the best ways for early retirees to obtain coverage. Also known as Obamacare, these plans allow anyone who is not covered by an employer-sponsored plan or spousal plan to get coverage.
You can't be denied coverage from the marketplace on the basis of a preexisting condition, and you can apply at any time during open enrollment. For the 2022 coverage year, open enrollment was from Nov. 1, 2021, to Jan. 15, 2022, in most states.
There are several other benefits of marketplace plans, such as the potential to qualify for a premium discount (also known as a subsidy). Subsidies are available for those making up to 400% of the federal poverty line (and potentially more due to ARPA). In addition, marketplace plans cover many types of care, including hospital stays, ER visits and prescription drugs.
The Other Form of Self-Care: 4 Steps to Improve Your Financial Wellness
Medicaid and Medicare
In some cases, you might be able to obtain coverage through Medicaid or Medicare. Usually, Medicare is only available to those over 65. However, you may be eligible if you have a disability or end-stage renal disease (ESRD).
Medicaid, on the other hand, is reserved for those with very low income, which might include you if you are retired. The ACA extended eligibility to most low-income Americans under 65; you may be eligible if you are at or below 133% of the federal poverty level.
COBRA
The Consolidated Omnibus Budget Reconciliation Act (COBRA) allows you to keep your existing health insurance coverage in the event of a job loss. Even if you leave voluntarily, you can still qualify for COBRA benefits. The biggest downside is that in most cases, your previous employer won't contribute to your health insurance any longer, meaning you will have to pay for it entirely out of pocket. That can raise premiums substantially.
COBRA isn't an ideal long-term solution for health insurance. That being said, your dependents can continue receiving COBRA benefits for up to three years. The best way to think about COBRA is a way to avoid interruption in care. If you or one of your dependents is receiving ongoing care, you don't want it to stop due to insurance issues.
Private Insurance
Another option for continuing your health insurance after retirement is to buy private health insurance. One of the benefits of this approach is that private health plans are sold year-round, so you don't have to wait for a certain enrollment period. However, some private health insurance plans may not meet the requirements of the ACA. As a result, certain things you expected to be covered may not be. That includes preexisting conditions; you can be denied coverage by a private insurer.
You can buy a private health plan through a broker or directly through the insurance company. These plans are best for those who want low-premium coverage or only coverage for emergencies, or if you want coverage outside of open enrollment for marketplace plans.
Short-Term Health Insurance
Short-term health insurance is another option to consider if you retire before 65. For instance, if you retire voluntarily and want to sign up for marketplace coverage, but enrollment isn't currently open, short-term health insurance can help you bridge that gap in coverage.
One thing to know about short-term health insurance is that the scope of the coverage may be quite limited. These plans tend to focus on emergency and preventative care, and there may be dollar limits on the amount of coverage you can receive. However, premiums can be low, making this an affordable option for helping you avoid a lapse in coverage.
Your Spouse's Health Plan
If you have a spouse who is still working after you retire, you might have the option of being added to their health plan as a dependent. While employers are not required to offer it, it's worth asking as it may be more affordable than other options. You may not be eligible if you are covered by another plan. Also, you will have to act fast; you only have 30 days after losing your previous health insurance to be added to your spouse's plan.
Work Part Time
While in the past it may not have been common to be insured while working part time, many major employers have part-time jobs with benefits these days. As an added bonus, some employers offer additional benefits, such as 401(k) plans and dental and vision insurance. This option may seem counter-productive if your goal is to retire completely, but working 20 hours per week might be enough to maintain coverage.
More From GOBankingRates