Nearly Half of Women Don't Think They'll Be Able To Retire When They Want To — How To Get on Track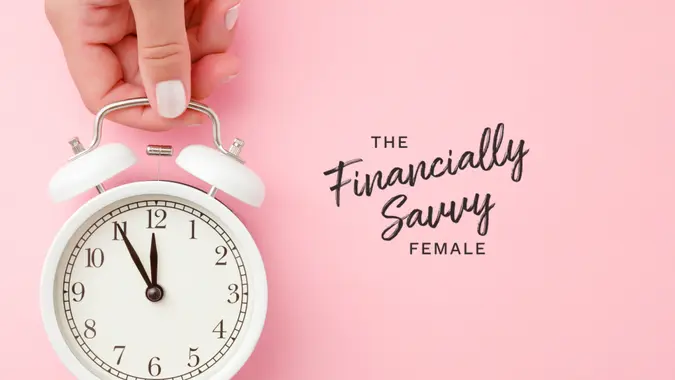 FotoDuets / iStock.com
Many women fear they will have to delay their retirement longer than they want to. A recent BMO survey found that only 53% of women report feeling confident to retire at their target age, compared to 66% of men.
In this "Financially Savvy Female" column, we're chatting with Amy Ouellette, CFP, VP of product at Vestwell, about why women feel less confident than men about being able to retire when they want to, and what women can do to get on track to retire at their target age.
What are some possible reasons that women feel less confident about reaching retirement goals than men?
There are a number of factors that can contribute to women feeling less confident in their ability to retire when desired compared to men. One key contributing factor may be the lack of a plan of action, or even a known target. According to the BMO study, women were less likely to have a set strategy to reach their financial goals — I posit that it's hard to feel confident when you don't know the path you're walking. Going beyond confidence, 59% of women report anxiety when thinking about their personal finances more broadly.
Are You Retirement Ready?
In addition to needing a clear plan, we recognize that it's harder to feel confident in the ability to save for women facing lower income over their working life than their male counterparts. Women are more likely to work part-time or spend time out of the workforce while trying to handle responsibilities for their families, which may include child rearing and caring for aging parents. As such, according to a 2022 report, women [who worked] both full- and part-time only earned 82% of what their male counterparts earned — which may certainly make it harder to save a significant enough portion toward future goals.
Take Our Poll: Would You Put All of Your Savings in an Apple Savings Account?
What can a woman do to ensure she will be able to retire at her target age?
The two most important actions she can take: start saving and make a plan. A plan can boost confidence and likelihood of success, but don't let solidifying a plan stop you from just getting started. If you have access to a workplace savings plan like a 401(k), start or increase your current rate of savings by updating your plan election — typically an online form; check with your HR team if you don't know where to find this.
Are You Retirement Ready?
Within a few paychecks, you can get a sense of whether you "missed" this from your take-home pay — often, kicking off or boosting savings doesn't hurt as much as we think it might, but the confidence from seeing an account balance grow over time and knowing you're securing your own future can reduce anxiety. Note that if you don't have access to a workplace retirement plan, it becomes even more important to consider your other options, like funding an IRA.
Once you've gotten started, it's important to determine what it looks like to be on track for your target retirement age. You might start with a simple retirement calculator to see if, with your current age, savings and how much you save per month today, you'll be able to retire when you desire. If not, you can make adjustments to consider saving more, spending less in retirement than the initial tool assumptions, or make other tweaks.
From these starting points, you can start to explore materials to expand your understanding and confidence in financial topics and how to make and check in on your plan. If you feel you need added support, consider a fee-only planner or an advisor if your company uses one to support your workplace retirement plan. The goal is to get education and to feel more knowledgeable in the decisions you make — not to hand over the reins. Long term, it's most important to learn to trust yourself!
Are You Retirement Ready?
What should she do to catch up if her savings are not currently on track to retire at her target age?
Many women approaching retirement age feel unprepared. In fact, about 50% of women ages 55 to 66 have no personal retirement savings. If you find yourself in this category, it does not mean you are unable to retire: start by looking at your full financial picture, including estimating future Social Security income, current spending, and current assets (money, property) and debts (personal, mortgages).
If you're not on track when you consider each of these pieces, first of all, take a breath. No matter your age, you have the ability to do something differently today and tomorrow than you've done so far. Depending on your health, living situation and other factors, you can look at how to work longer, increase income, decrease expenses and save more. This might even be the push you need to advocate for the raise you've been working toward.
Are You Retirement Ready?
Those are simple answers, and I recognize they are not necessarily easy. That said, there is not a magic investment to fix a saving and spending problem: I say this because it's easy to get swept up in what-ifs and silver-bullet solutions. Depending on your age and time left to be able to work and save, you may need to take more or less drastic actions.
If you find that you're a little off track or have a longer timeframe, you can try smaller tweaks to saving like bumping up your saving percentage in a workplace retirement plan or funding an IRA, or cutting back on spending on lifestyle. The further off track you are, or the closer to your goal retirement date, more drastic actions may include getting a second job or re-entering the workforce, downsizing your home or considering roommates, relocating, and aggressively cutting spending to drive up your ability to ramp up retirement savings and repaying debts. Remember that if you are age 50 or older, you have even higher limits to save in workplace retirement plans and IRAs.
Regardless of where you find yourself, there is no one-size-fits-all solution, and you are your best advocate and educator. Ask your HR team what wellness tools are available to you, and how a retirement plan can help you automatically save more today and tomorrow. Don't stop here: listen to podcasts and read blogs about personal finance, and ask questions. The more you build on a plan and see your savings build, the more your confidence will grow.
Are You Retirement Ready?
More From GOBankingRates
Are You Retirement Ready?