I Retired Before 30: Here's What I Learned and How You Can Retire Early Too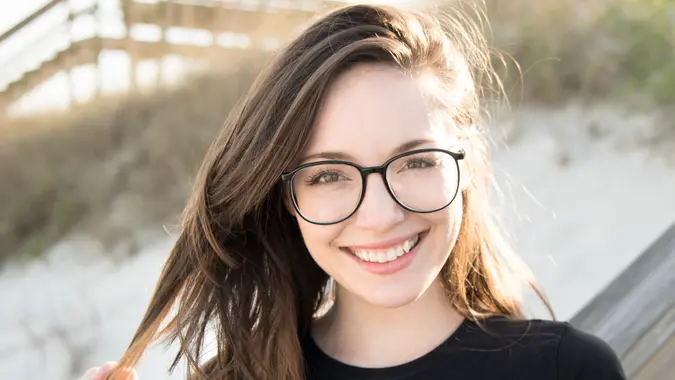 Steven H. Keys / Lauren Keys
Lauren Keys and her husband both left their full-time jobs at age 29, and they have since used their newfound freedom to go on extended travel adventures.
GOBankingRates spoke with Keys, who is the founder of the personal finance and travel blog Trip of a Lifestyle, about the biggest lessons she learned from retiring early and her tips for anyone who wants to retire decades before the traditional retirement age.
The Key To Retiring Early Is Living Below Your Means
Keys said she was able to retire early because she was disciplined about spending less than she made and didn't fall victim to the "lifestyle creep" many experience when getting a pay bump.
"The biggest lesson we learned along the way to early retirement was figuring out how to happily live on less than we earned," Keys said. "Just think, if every time you got a raise you just saved that much more, you'd soon be sitting on such a large savings buffer that no unexpected expense could derail your financial goals."
By keeping expenses low, Keys and her husband — who made teacher-level salaries — were able to save $100,000 in two years.
"That buffer let us feel comfortable quitting our jobs, taking a six-month honeymoon in Hawaii, moving to a new city (twice), taking the time to find new jobs that better suited our goals and buying our first home," she said. "The key is to find a way to be happy with a simpler life and lower living expenses — not just hoping to land a $250,000 a year job right away or win the lottery one day."
Are You Retirement Ready?
Crunching the Numbers
To ensure they were saving enough to leave their jobs, Keys made some savvy calculations.
"If you save and invest half of your income starting from zero and earn a 6% real return, you can retire in just under 16 years," she said. "If you invest 65% instead of half, you can retire in 10 years. And by investing 80% of your income, you can retire forever in just five to six years."
During their working years, Keys and her husband saved 60% to 85% of their incomes.
"Neither of us ever had a six-figure salary," she said. "We just found ways to be happy consuming less along the way and investing all the money we were saving into low-cost index funds."
Set a Goal for Yourself and Then Gamify It
Keys and her husband had to be extremely disciplined to reach their early retirement goal, so to stay on track, they gamified the saving process.
"While our society encourages living large, we found that gamifying our goals helped us refocus on what we wanted more than the stuff other people were buying to keep up with each other," she said. "Once you decide to cut back on your spending and live below your means, you realize that you don't really need all that stuff in the first place."
For anyone else hoping to retire early, Keys said to focus on your end goal rather than what you are lacking during the saving period.
Are You Retirement Ready?
"Living simply to reach your financial goals automatically teaches you how unnecessary so much stuff is, and you end up mostly unwanting it in the first place," she said. "I know that's easier said than done for some, but the way we gamified encouraged us to save. Every month we checked in on our net worth, watching it tick up with each dollar we saved instead of spent. We knew we were buying something better — our freedom from working forever — as that net worth number grew."
More From GOBankingRates