Is Your Monthly Retirement Income Enough? Here's What Our Latest Poll Says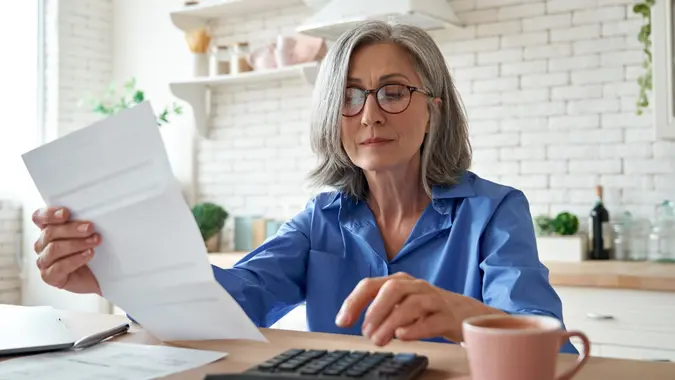 insta_photos / Getty Images/iStockphoto
Millions of retirees are struggling to get by. According to a new poll by GOBankingRates, 41% say they are not comfortable with their monthly income, 26% say they are, and 13% say "sometimes." The remaining 20% of those who answered the poll are not yet retired.
These survey results aren't surprising. Other research uncovers concerning data about where Americans are in their retirement savings journey, and suggests that the problem of not having enough income in retirement stems from not having saved enough leading up to it.
"According to a report from the Economic Policy Institute, nearly half of all working-age families in the United States have zero retirement account savings," said Jim E. Carlson, CDAA, a financial planner and certified digital asset advisor at Carlson Planning Company. "The median for families with retirement savings was around $60,000. However, considering that experts often recommend having at least 10 times your final salary saved by retirement, it's clear that many Americans may be underprepared."
How To Build Up Your Income for Retirement 
Here are a few ideas and ways that Americans looking to build up their retirement savings can get started.
Know How Much You Need To Save
The first step in building up your income is knowing what you need in the first place in order to retire.
"According to Fidelity's savings guidelines, you should save at least 1x of your salary by age 30, 2x by age 40, 6x by age 50, 8x by age 60, and 10x by age 67," said Laura Sterling, VP of Marketing for Georgia's Own Credit Union. "Many factors play a role in retirement savings, including when you want to retire, how you want to live and where you want to live in retirement."
Are You Retirement Ready?
Note that location plays a significant role here. Here's a look at how much you need annually in each state for a comfortable retirement:
Mississippi: $55,074
Oklahoma: $56,508
Alabama: $56,769
Kansas: $56,899
Iowa: $57,485 
Georgia: $57,942 
Ohio: $58,268
West Virginia: $58,528
Missouri: $58,724
Indiana: $58,789 
Tennessee: $58,854
Arkansas: $58,854
Nebraska: $59,376
Wyoming: $59,741 
Michigan: $59,767 
Illinois: $59,897 
Texas: $60,353 
Kentucky: $60,940
Louisiana: $60,940
New Mexico: $61,135
Wisconsin: $61,200
Minnesota: $61,983
South Dakota: $62,634
South Carolina: $62,765
North Carolina: $63,156
North Dakota: $63,482
Pennsylvania: $64,003 
Idaho: $64,459 
Nevada: $66,415
Utah: $66,480 
Virginia: $66,545
Florida: $68,109
Colorado: $68,565 
Montana: $68,631
Delaware: $68,696 
Arizona: $70,390
Rhode Island: $72,476
New Jersey: $74,301
Washington: $74,301 
Maine: $74,627
New Hampshire: $74,757 
Connecticut: $75,213 
Vermont: $75,865 
Oregon: $79,645 
Maryland: $80,884 
Alaska: $81,796
New York: $88,444
California: $90,399
Massachusetts: $97,699 
District of Columbia: $99,980
Hawaii: $121,228
Set Monthly Goals
Budgeting monthly can help you keep your finances organized — but setting monthly goals specifically can help you save more. 
"Monthly goals are important to help you start saving money, and stay on track," said Edwin Cannon, founder of My Retirement Paycheck. "Make the goal reasonable and start with a smaller amount until you can comfortably increase it. The goals should consist of how much to save and a budget. Monthly budgets ensure you stick to your savings goals and reigns in spending to accommodate." 
Take Advantage of Catch-Up Contributions
If you're getting close to retirement — say, in your mid-50s — one way to build your savings is by taking advantage of catch-up contributions.
"The IRS places limits on how much you can contribute each year to your retirement accounts, like 401(k)s and IRAs," said Jenn Schell, a financial researcher and writer for Annuity.org. "If you're 50 or older, your annual contribution limit is greater. For example, the contribution limit for IRAs in 2023 is $6,500, but those aged 50 or older can contribute up to $7,500 in 2023. These extra contribution allowances are referred to as 'catch-up contributions.'"
Are You Retirement Ready?
Purchase an Annuity
By buying an annuity, you can beef up your retirement income. 
"An income annuity is an insurance contract purchased from an insurance company that provides a guaranteed stream of income for life or a set period of time," said Dustin C Newton, CFP, founder of Ascent Financial Group. "An annuity is especially important as companies shift away from providing their workers retirement pensions. We see a lot of clients wanting to turn a portion of their retirement assets into a guaranteed income stream to shift risk away from market volatility in their retirement years. Because an income annuity can provide a guaranteed source of income, you may be able to invest the rest of your portfolio with an eye toward growth."
Consider a Side Gig
Being open to ways of earning extra income each month is helpful. There are plenty of side hustles out there that don't require much, if anything, in terms of skills. 
"Have a second car you seldom use? Platforms like Turo or Getaround let you rent your car to travelers and commuters," said Matt Miczulski, investments expert and editor at Finder. "Walk dogs with Rover, rent your house with Airbnb or Vrbo, resell items online, make deliveries with Shipt, Instacart or Doordash or taxi people around with Uber or Lyft. Try to find ways to bring in extra income that you can dedicate to retirement."
More From GOBankingRates
Are You Retirement Ready?