Just 19% of Women 'Very Confident' They'll Retire Comfortably — Social Security and 4 Other Factors Holding Them Back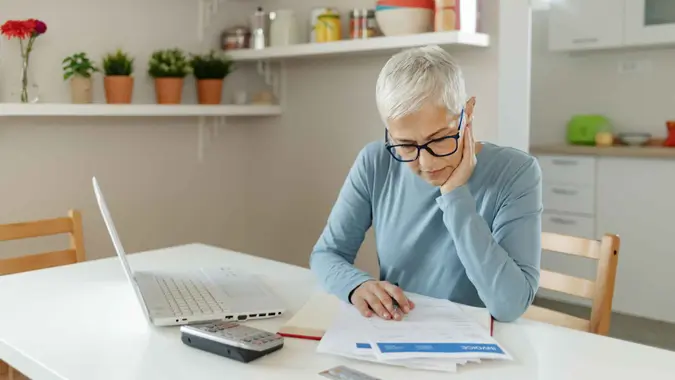 PixelsEffect / iStock.com
Inequities between men and women in the workplace have been well documented, with women on average earning about 82% of what men earn for similar jobs and as much as 21% less over a lifetime. Those inequities don't end at retirement, though. GOBankingRates research found that women are nearly 10% more likely than men to not have any retirement savings. In addition, 56% of women reported having less than $10,000 in retirement savings versus 48% of men.
Now a new survey from the non-profit Transamerica Center for Retirement Studies (TCRS) takes a deep dive into the various hurdles women face when it comes to retiring comfortably. One of its findings was that fewer than one-in-five women (19%) are "very" confident they will be able to fully retire with a comfortable lifestyle. It also found that the median household emergency savings for women is only $2,400.
The survey was conducted late last year by The Harris Poll on behalf of the TCRS and Transamerica Institute. It polled 2,907 women and 2,766 men who are employed by for-profit companies. An accompanying report titled "23 Facts About Women's Retirement Outlook" was released earlier this month.
Reasons Why American Women Are Worried About Retirement
There are a number of reasons so many women are worried about building sufficient savings and retiring comfortably. Many of them have to do with gender differences based on both finances and health, according to Catherine Collinson, CEO and president of the Transamerica Institute and TCRS. She co-authored the report with Heidi Cho, a senior research content analyst for the Transamerica Institute.
Are You Retirement Ready?
"Women continue to experience the gender pay gap and time out of the workforce which hinders their lifetime income and long-term retirement savings," Collinson said in an email statement shared with GOBankingRates. "Statistically, women live longer than men, which means they need to save even more for retirement."
Another key finding from the survey was that women have greater reliance on but less confidence in Social Security when compared to men. More than one-quarter of women (27%) expect Social Security to be their primary source of income in retirement, versus 20% of men. More than three-quarters of women (76%) agree with the statement: "I am concerned that when I am ready to retire, Social Security will not be there for me." That compares to 69% of men.
Meanwhile, Social Security checks are smaller for women than they are for men. As of Dec. 31, 2021, the average Social Security payment for all retirees was $1,658.03 a month, according to the Social Security Administration's Annual Statistical Supplement for 2022. For men, the overall average was $1,838.08. For women, the average was $1,483.75 — a difference of $354.33 per month. Multiplied over the course of a year, that adds up to about $4,252. When you multiply it by a 25-year retirement, the difference is more than $106,000.
Beyond pay gaps and Social Security inequities, here are four other factors holding women back from a comfortable retirement:
Caregiving responsibilities. Forty-one percent of women are currently or have previously served as caregivers during their working careers. Among them, more than eight in 10 (84%) made work adjustments because of caregiving, such as missing days of work (37%).
Failing to take advantage of company-sponsored retirement plans. Among women offered a 401(k) or similar plan, nearly one-quarter (24%) don't participate. Those that do contribute 10% (median) of their salary to the plans.
Not preparing for long careers. Many women could be "more proactive" about ensuring they can work as long as they want and need, according to the survey. Only 59% say they are staying healthy while only half are keeping their job skills up to date. Losing a job late in your career could have a negative impact on your retirement savings and Social Security benefits.
Inadequate retirement planning: Fewer than one in four women (24%) have a financial strategy for retirement in the form of a written plan.
Are You Retirement Ready?
For women who are worried about their retirement preparedness, there are steps they can take now to put themselves in a position of financial strength.
"Many women are not yet engaging in financial planning. By doing so, they can set goals, identify priorities and become even more mindful in their everyday decision making," Collison said. "If offered a retirement plan by their employer, they can take advantage of the planning and investment-related tools and resources that come with the plan."
More From GOBankingRates