Millennials Are Investing in Retirement Like Their Grandparents — 3 Reasons the Strategy Is Not Aggressive Enough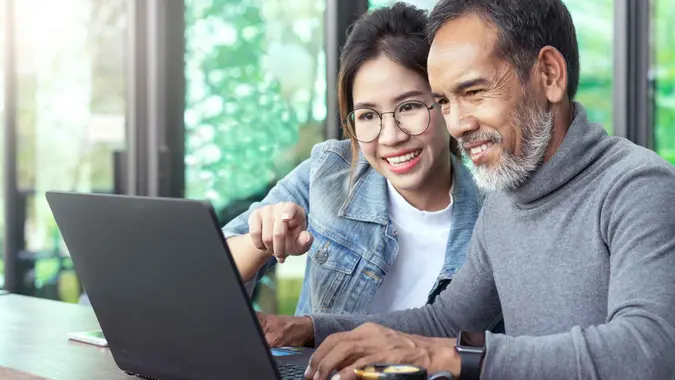 ChayTee / Getty Images/iStockphoto
As a group, millennials have some catching up to do in order to have enough to comfortably retire. According to Goldman Sachs' "Retirement Survey & Insights Report 2022," 34% of millennials feel like they're behind on their retirement savings. That said, there are still plenty of millennials who are trying to stay on track with their retirement goals — and one might say they're taking an old-school approach.
According to findings in Schroders' "US Retirement Survey 2023," millennials are investing strikingly similarly to the way boomers have. The survey found that millennials hold 30% in equity, 16% in fixed income and 35% in cash. Boomers (and Gen Xers) have taken a nearly identical approach to tackling their retirement, holding 29% in equity, 17% in fixed income and 37% in cash. 
It's good that millennials are making a plan, but following in the steps of their elders may not be the right move. As proposed by the American Society of Pension Professionals & Actuaries (ASPPA), millennials should be on a more aggressive path toward saving for retirement.
Social Security Is in Danger
According to the Social Security Administration (SSA), benefits are now expected to be payable in full on a timely basis until 2037, when the Old-Age, Survivors, and Disability Insurance (OASDI) trust fund reserves are projected to become exhausted. By placing so much faith in Social Security, millennials are endangering their retirement.
Cash Weakens Due to Inflation
The survey found that 62% of working millennials and 66% of older workers say they have so much cash (37%) because they are afraid of losing too much money if the stock market recedes. Fear is a terrible motivator in this case, because cash weakens over time due to inflation. Stock market returns, when held for a long position in a balanced portfolio, are generally advised.
Are You Retirement Ready?
Not Enough in the Stock Market
The most sensible way for millennials to hedge against inflation and secure a financial safe haven in retirement is to double down on their investments in the stock market. If you're a millennial who is scared of the turbulence of the market, consider that you have time on your side to ride out the ups and downs. But that time will fly by. Get in now before you're forced (by age) into a conservative approach.
Joel Schiffman, head of strategic partnerships at Schroders, detailed this sentiment via ASPPA:
"It's one thing to be going into retirement and your age 60; the sequence of returns can be much more catastrophic on the impact of what your dollars are… But when you're a millennial or younger, you've got all kinds of time to make up for the shortfall. We've all seen the statistics; it's the time that you're in the market, not timing the market, that bears fruit."
More From GOBankingRates