7 Money Moves Boomers Need To Make Before Retiring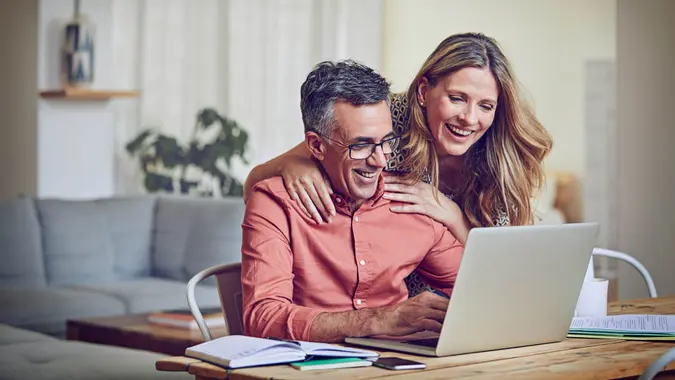 kupicoo / iStock.com
If you're a baby boomer approaching retirement, it's more important than ever to get your finances in order. In fact, the earlier you can start making preparations, the better.
Once you lose your primary source of income, it may be too late to optimize your retirement plan. But prepping the way for a smooth retirement involves more than simply putting money into an IRA. To help make sure you don't overlook anything important, here's a list of some of the most important money moves boomers should consider making before retiring.
Tweak Asset Allocation
By the time you retire, you'll no doubt want to tweak the asset allocation in your retirement accounts. But just because you're retiring doesn't mean you should convert all of your assets to short-term, conservative investments.
If you retire in your early 60s, for example, you may very well live for an additional 30 years or more. Over that long of a time span, you'll want to keep some growth investments in your portfolio to help ward off the effects of inflation. The exact asset allocation that's right for you should be developed in conjunction with a financial advisor who can take into account your investment objectives and risk tolerance.
Are You Retirement Ready?
Review Social Security Plan
Although you can claim Social Security benefits as early as age 62, you can also wait until as late as age 70. While in some cases claiming benefits early is the best move, it's often better to wait as late as you can.
This is because the longer you can wait, the higher that your benefit will permanently increase. For example, if you're entitled to a benefit of $1,200 at age 62, if you can wait until age 70, your payment might jump to $1,900 or more. Since the right filing strategy will vary from person to person, it's important to consult with a financial advisor when making this determination.
Plan Retirement Budget
Your budget will almost certainly change after you retire. While the specifics will vary from person to person, you might expect to spend more on travel and medications but less on clothing and transportation, for example. If you intend to downsize or move to a new city after you retire, your daily expenses will also change, perhaps by a significant amount.
Of course, your income will also change, perhaps by a significant amount. This is why it's important to begin drafting a potential budget as soon as retirement is on the horizon. While you'll never get the numbers exactly right until you actually retire, making a plan early on is a way to prepare for what your post-retirement life might look like.
Are You Retirement Ready?
Maximize Retirement Contributions
As you approach retirement, you're likely at or near your peak earning years. You might also already be an empty nester, having to provide for only yourself and your spouse. This is the best possible time to max out your retirement contributions.
Not only can you use your higher earnings to stuff your retirement accounts, you'll also be able to take care of your full employer match on your contributions. In the last 10 years before you retire, you may be able to put as much into your retirement accounts as you have over the prior 30 or more years combined.
Take Our Poll: Do You Think the US Should Raise the Medicare Tax on High Earners To Help Save the Program?
Eliminate Debt
Debt is a killer to your cash flow, and it tends to get out of hand if it's not dealt with directly. This is especially true in retirement, where your income may be lower and you'll be less able to get out of debt easily.
While you're still drawing an income — perhaps even at the peak of your earning years — it's the perfect time to finally knock down any consumer debt you carry, particularly of the credit card variety. This can help make your retirement worry-free.
Are You Retirement Ready?
Boost Emergency Fund
Retiring with no consumer debt is a great position to be in, but if you want to stay that way, you'll want a sizable emergency fund by the time you stop working. Without an emergency fund, you may end up back in debt if you encounter unexpected — yet predictable — expenses, such as car repairs or medical costs that aren't covered by your insurance.
If you've got excess cash flow as you approach retirement, boosting your emergency fund is a great idea.
Review Medicare Options
You may be entitled to claim Medicare once you reach age 65, but you should research exactly what Medicare is and what it covers. Medicare Part A is the "free" part of Medicare, but it only covers hospital costs. If you want Medicare Part B, which provides medical insurance, you'll have to sign up and pay a monthly premium.
The same is true if you're looking for the prescription medication coverage offered by Medicare Part D. To be sure you get the coverage that you need, you'll want to be well-versed in your options by the time you retire.
Are You Retirement Ready?
More From GOBankingRates
Are You Retirement Ready?