Pandemic Widens Retirement Planning Gender Gap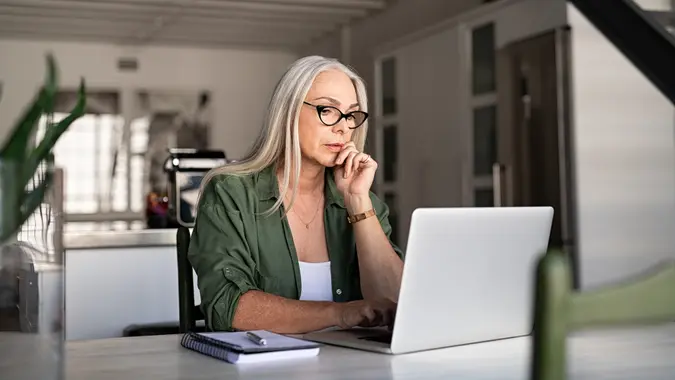 Ridofranz / Getty Images/iStockphoto
The pandemic has widened the gender gap for retirement planning, and women investors are less optimistic, more concerned and less prepared to protect assets than their male counterparts, according to a new survey.
See: States with the Biggest (and Smallest) Gender Pay Gap
Find: Here's How Much Men vs. Women Earn at Every Age
"Women are concerned about the impact of the COVID-19 pandemic on their finances and the resulting uncertainty can make planning for the future — and their retirement — more difficult," Ann Bair, senior vice president of marketing for Nationwide Financial, said in a statement about the Nationwide survey. "For several consecutive years, our Advisor Authority study has revealed the disconnect between women's growing concerns about their ability to retire and their level of preparation — and the pandemic has taken this to new levels," Blair said. "While women are acutely aware of the challenges they face, it's critical that they take steps now to address gaps in their retirement plan, especially as we start a new year."
According to the Nationwide survey, 72% of women with investable assets of $100,000 or more said the pandemic has negatively impacted their ability to retire.
See: A New COVID-19 Fear for Parents: Retiring Broke
Find: How COVID-19 Changed Retirement for Everyone
In 2020, women investors  reported significantly higher levels of concern about a U.S. economic recession in the next 12 months than they did in 2019 — 82% vs. 60% — as well as greater concern about a bear market in the next 12 months than they did the prior year — 74% vs. 57%.
The survey also notes that 69% of women believed that the COVID-19 pandemic would be the most likely cause of market volatility over the next 12 months, and 40% of them cited the COVID-19 pandemic as the number-one macro factor that would most adversely impact their portfolio over the next year.
See: New Survey Finds that COVID-19 has Changed How We Think About Money
Find: 9 COVID-19 Money Habits to Stick with in 2021
Another key finding of the survey is that due to the pandemic, 22% of women investors said it's likely they would need to delay taking retirement income for the next 12 months, and 24% said they would need to reduce the amount of their retirement income withdrawals for the next 12 months.
An earlier study released last June by Transamerica Center for Retirement Studies on the ways women can improve their retirement outlook amid the pandemic offers several actionable steps, including:
Engaging in financial planning — creating a budget, prioritizing expenses, setting short- and long-term goals and developing a retirement strategy — is important to improving fiscal health. Only 19% of women have a written financial strategy for retirement, according to the Transamerica survey.
Be proactive about remaining employable.
Safeguard your health to be able to continue working and to enjoy retirement.
Start the conversation. Only 22% of women frequently discuss saving, investing and planning for retirement with family and close friends, according to the survey.
See: How to Rebound from a Bad Financial Year — 2020 Edition
Find: How to Protect Your Retirement Savings During the Coronavirus Pandemic
"A woman's path to a secure retirement is filled with obstacles, such as lower pay and time out of the workforce for parenting or caregiving, which can negatively impact her long-term financial situation," Catherine Collinson, CEO and president of Transamerica Institute and Transamerica Center for Retirement Studies, said in a statement about the survey. "Amid the pandemic, these challenges have intensified with layoffs, furloughs and extended periods of time working from home."
More From GOBankingRates: