73 Passive Income Streams for Your Retirement Years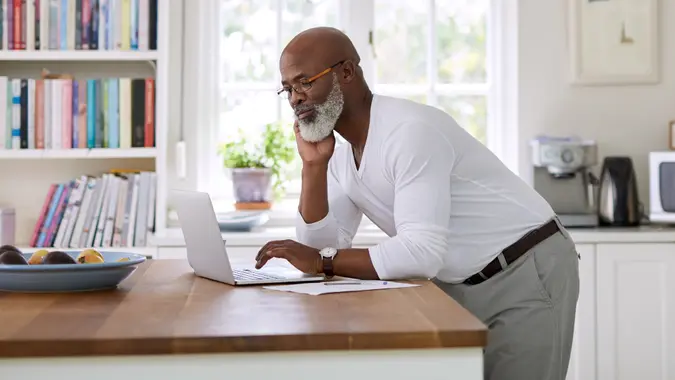 Cecilie_Arcurs / Getty Images
Once you retire, you're likely going to be living on a fixed income. Generally, this amounts to some combination of Social Security payments, pension payouts, retirement account withdrawals and/or investments. You won't be able to rely on earning a salary that would increase every year, nor any year-end bonuses that you might have been used to.
As such, you may have to seek out various forms of passive income in order to keep up with the rate of inflation and ensure that you don't outlive your nest egg. While some types of passive income are well-known, many other, less-common options can still provide you with the extra income that you need.
To show you the vast array of choices that are available, here's a list of 73 ways to generate passive income for your retirement years.
Rental Property
Airbnb Rentals
Treasury Bonds
Corporate Bonds
High-Yield Bonds
Commercial Paper
Income-Paying Mutual Funds
Income-Paying ETFs
Dividend-Paying Stocks
Preferred Stocks
Covered Calls
Passive E-Book Revenue
Amazon Affiliate Income
YouTube Advertiser Income
Vending Machines
Music Royalties
Publishing Royalties
Storage Units
Laundromats
Cash-Back Apps
Shopping Portals
Advertising on Car
Endorsements
Sponsorships
Owning Timberland
Garage Sales
Getting a Roommate
Renting Out Backyard Space
Renting Out Your Car
Renting Out Your Clothes
Creating an App
Peer-to-Peer Lending
Microloans
Commercial Real Estate
House Flipping
Focus Groups
Filling Out Online Surveys
Hand Modeling
Voice-Over Acting
Licensing Photos
Licensing Ideas/Concepts/Presentations
Online Tutoring
Online Webinars/Courses
Travel Itinerary Development
Crowdfunding
Selling Subscription Product
Flipping Products
Real Estate Investment Trusts
Renting Out Parking Space
Writing Sponsored Posts on Social Media
Freelance Writing
Annuity
Investing in a Local Business
Social Security
Pension
Pet Sitting
House Sitting
Renting Your Tools
Renting Your Bike
Dropshipping
Creating Digital Products Like NFTs
Renting Out Driveway
Renting Out Storage Space in Your Garage or Basement
Paying off Debt (will reduce interest, like getting income)
Getting Cash-Back Credit Card
Running an Online Membership Community
Donating Plasma
High-Yield Savings Account
Redeeming Credit Card Points
Getting a Reverse Mortgage
Refinancing Your Mortgage
Signing Up for Bank Account Bonuses
Signing Up for Credit Card Rewards
Are You Retirement Ready?
Please note that a few of the options listed above aren't 100% passive and will require some level of effort or investment on your part, especially to start out. Others may not be replicable from year to year, but can provide you with temporary boosts to your retirement income.
More From GOBankingRates