This State Is Home to the Worst Cities for Retirement, Study Finds
Retiring in the Golden State is expensive.
After a lifetime of hard work, you've built up a large nest egg that you plan to use to keep yourself living in luxury throughout your retirement. But depending on where you decide to spend your golden years, that hefty nest egg could end up lasting far fewer years than you were planning for. If it ends up costing a lot more to live in the town where you've retired, you might not be able to enjoy quite as much of the good life as you've earned.
That's what a new study from GOBankingRates found after it identified the best and worst cities to retire rich. The study looked at the cost to buy a house, pay property taxes, secure health insurance and cover your day-to-day expenses.
Keep reading to see the final ranking of those cities where you have the best — and worst — shot at making your retirement savings last.
Click on the graphic below to learn more about the best and worst cities to retire rich: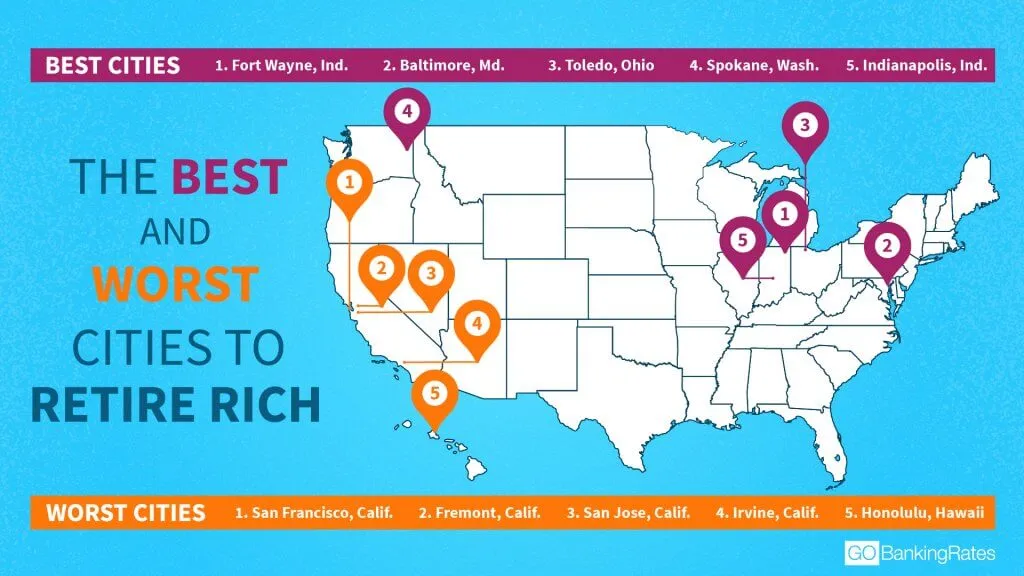 Check Out: Best Cities for Retirement in These Income Tax-Free States
Living in the Golden State Will Mean Spending a Lot of Your 'Gold'
One of the clearest takeaways is that the state of California is home to much of the toughest markets for retirees. All of the top four cities are in the state, with three in the San Francisco Bay Area and Irvine in Southern California.
The primary culprit? High costs of living and even higher costs for buying a home. All three Bay Area cities at the top of this study have median home values over $1 million — with San Francisco coming in at a jaw-dropping $1.34 million — and a cost of living that's more than double the national average. Those figures are the median levels, so about half the houses in each city actually have values well in excess of $1 million.
Related: 13 Ways California Real Estate Differs From Every Other State
Property Tax Rates and Property Tax Payments Are Not Aligned
One of the more interesting things to note is that, despite the fact that the final ranking was at least partially based on property tax rates, the worst cities actually have consistently lower rates. Honolulu — the fifth-worst city to retire rich — has the lowest property tax rate of the 96 cities considered in this study at just 0.291 percent, and San Francisco's 0.683 percent rate is actually the fifth-lowest. One possible explanation for this quirk could lie in the sky-high property values those are taxes on — and a look at the average annual property tax bill would appear to support this.
Even at a much lower rate, the total amount you'll end up paying in property taxes on a typical home is still much higher in these frothy housing markets. San Francisco's low rate still translates to an average property tax bill of just over $9,000 over the course of the year, the fifth-highest of the cities in this study. The same holds true when you look at the other end of the study, where higher property tax rates still don't translate to significantly more money paid in property taxes. Fort Wayne's 0.915 percent rate is over a third higher than San Francisco, but the average property tax paid each year comes to just $947, a little over one-tenth of what you'll pay in San Francisco.
Click to keep reading about how long $1 million in retirement lasts in 50 U.S. cities.
More on Retirement Planning
Methodology: GOBankingRates ranked all 50 states based on four main factors affecting retirees: taxes, living expenses, and healthcare and Social Security. These four factors were broken down into sets of data points.
In the taxes category, we examined: average property tax rates and the amount in dollars, sourced from The Tax Foundation; and state taxes on Social Security benefits, sourced from Kiplinger. The Property Tax dollar amount was weighed half as much as the Property Tax Rate and the Tax on Social Security Benefits.
In the living expenses category, we examined: the mean home listing price and median home value, sourced from Zillow's March 2018 index; each city's cost-of-living index value, where the U.S. average is 100, sourced from the Sperling's Best Places. The Median Home Value was weighed half as much as mean home listing price and Cost of Living was weighed twice as much.
In the health and Social Security category, we examined: Average Health Insurance Premiums, sourced from the Kaiser Family Foundation; average Social Security benefits, sourced from the Social Security Administration. Average Social Security Benefits were weighed twice as much as Average Health Insurance Premiums.