Student Debt: More Than Half of Student Loan Borrowers Will Cut Retirement Contributions Now That Payments Have Resumed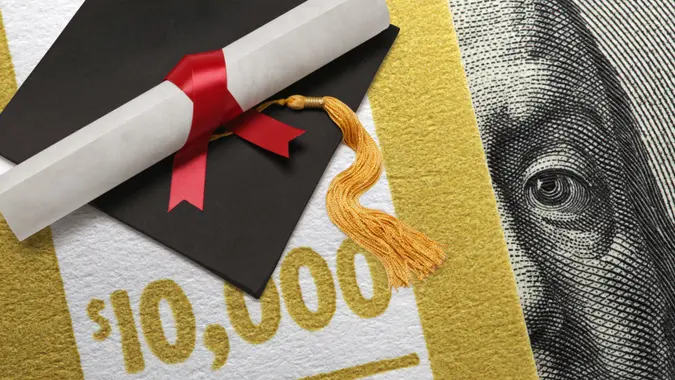 DNY59 / Getty Images/iStockphoto
Federal student loan borrowers had a prime opportunity to build up their retirement savings during the payment pause that began in March 2020. The pause freed up more money for other things (including retirement) and a lot of borrowers took advantage. But the pause ended last month, meaning those same borrowers must now figure out how to deal with the extra expense — and many plan to cut retirement savings.
More than half (54%) of student loan borrowers say they will contribute less to their retirement savings due to the resumption of payments, according to a new survey of 1,000 U.S. adults conducted by FinanceBuzz. About 40 million Americans are impacted by student loans, and the resumption of payments will have a major impact on their monthly budgets.
The average student loan payment is a little more than $500 a month, according to an estimate earlier this year from the Education Data Initiative. The average borrower takes 20 years to repay their student loan debt, and the average student loan accrues $27,000 in interest alone over 20 years.
Although federal student loan borrowers are especially vulnerable to a pullback in retirement savings right now, they're hardly the only Americans having a tough time building their nest eggs. The FinanceBuzz survey found that 53% of respondents feel they're behind their peers when it comes to retirement savings.
Many Americans Afraid They're Not Making Enough To Retire
About four in 10 Americans (41%) said they aren't earning enough to save money for retirement, and a similar percentage cite recent inflation as a "roadblock" to retirement savings.
Are You Retirement Ready?
On average, survey respondents said they hope to retire at age 60, though that number rises to 65 among baby boomers — many of whom have already reached their 65th birthdays. Gen Zers hope to leave the workforce by age 56 on average. Across the board, Americans think they will actually retire between ages 63 and 67.
A little less than one-quarter (23%) of respondents said they started saving for retirement in their 20s, while about the same percentage (22%) started saving in their 30s.
One of the more worrisome findings is that more one-quarter of Americans (28%) haven't started saving at all — including 44% of Gen Z respondents, a large portion of whom are now in their 20s.
Low income was cited as the biggest roadblock to more retirement savings, with 41% of respondents indicating as much. That's well up from a couple of years ago, when a previous FinanceBuzz survey found that 29% of respondents encountered the same roadblock.
After inflation and insufficient income, credit card debt was cited as the third-biggest impediment to maximizing retirement savings.
More From GOBankingRates