Millions of Student Loan Borrowers Could Have Payments Paused by Biden Admin Due to Legal Missteps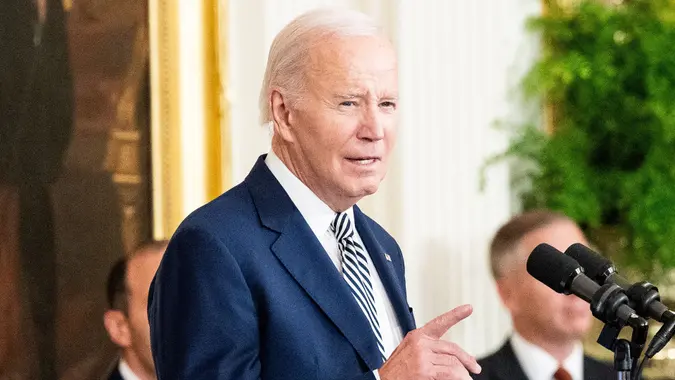 Michael Brochstein/SOPA Images / Shutterstock.com
When the pandemic started in March 2020, all federal student loan borrowers suddenly had their student loans put on pause. Monthly payments were no longer due, interest did not accrue or compound and borrowers were not at risk of becoming delinquent on their loans through non-payment. Borrowers were suddenly able to save more money each month for necessary expenses, for saving toward the purchase of a home or car, or even for increasing their retirement contributions.
But after almost four years of a student loan payment pause, most borrowers' loan payments resumed this October. Although many borrowers have received statements with errors and statements they were never supposed to receive — student loan servicers are making lots of mistakes, and the federal government is stepping in.
Student Loan Servicers Are Being Penalized
USA Today reported that the federal Education Department is penalizing one of the country's largest student loan servicers for failing to send 2.5 million borrowers their billing statements on time.
The government's move against the Missouri Higher Education Loan Authority, or MOHELA, comes amid an unprecedented shift in federal student loans, with tens of millions of borrowers returning to repayment after an almost four-year payments pause which began at the onset of the COVID-19 pandemic. The process has been riddled with errors, with numerous reports of borrowers struggling to reach their servicer. Many borrowers' loan servicers were changed during the payment pause, which has led to mismanagement, errors, and confusion both for borrowers and the loan servicers themselves.
Business Insider explained that strained resources at servicers were leaving borrowers on hold on the phone for hours on end, sometimes to no avail, and the Education Department recently confirmed to Insider that about 305,000 borrowers' billing statements were inaccurate.
MOHELA's error has led to more than 800,000 borrowers becoming delinquent on their loan payments. As a result, President Joe Biden's Education Department is withholding a $7.2 million federal payment to MOHELA. The loan servicer is also being instructed to place all the borrowers affected by the lapses in forbearance pending a solution. It's worth noting that the time those individuals spend in forbearance will count toward any relief they've signed up for through the Public Service Loan Forgiveness (PSLF) program or Income-Driven Repayment plans. Any interest that accrues will be adjusted to zero.
Students Who Received Loan Forgiveness Were Sent Bills
To add insult to injury, many borrowers received loan statements with incorrect amounts — others received student loan forgiveness because they were defrauded by their education institution.
"MOHELA's failure has caused significant stress and financial harm for borrowers," said Eileen Connor, president and director of the Project on Predatory Student Lending.
The Education Department Speaks Out
Besides withholding the $7.6 million payment, the Education Department publicly reacted to the loan servicer's errors, according to Business Insider. 
"Our oversight efforts have uncovered errors from loan servicers that will not be tolerated," Education Secretary Miguel Cardona said in a statement.
"The actions we've taken send a strong message to all student loan servicers that we will not allow borrowers to suffer the consequences of gross servicing failures," he added. "We are committed to fixing our country's broken student loan system, and that includes strengthening oversight and accountability and taking every step possible to improve outcomes for borrowers."
To add, Federal Student Aid Director Richard Cordray also stated in the press release that until MOHELA corrects said issues, borrowers' interest rates will remain at zero.
"In strengthening our efforts to hold servicers accountable for errors that harm borrowers, the Department will begin to withhold some funds under our monthly contracts to encourage stronger and more reliable service to borrowers," Cordray indicated.
More From GOBankingRates