Biden's New Student Loan Plans: 5 Things To Know in October About the Updated Debt Relief Proposals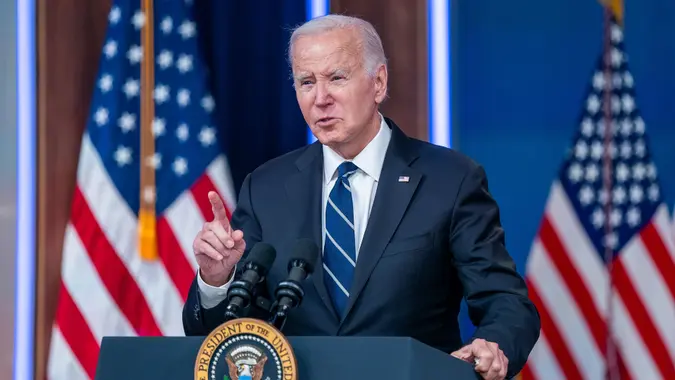 SHAWN THEW / POOL / EPA-EFE / Shutterstock.com
The Biden administration continues to move forward with alternative federal student loan forgiveness plans after an earlier program, which would have cancelled up to $20,000 of debt per borrower, was struck down by the U.S. Supreme Court this past summer.
In late September, the U.S. Department of Education unveiled a proposal to use the 1965 Higher Education Act (HEA) to cancel debt for groups of borrowers who fall into five categories. Less than a week later, President Joe Biden announced that an additional 125,000 Americans have been approved for $9 billion in debt relief.
No official timetables have been given regarding when the new loan forgiveness might be available. It's likely that the HEA proposal will take at least several months to be implemented, according to experts. Here are five things to know in October 2023 about where the plans stand.
Higher Education Act (HEA) Plan
Who Qualifies
This initiative focuses on negotiated rulemaking under the HEA and could potentially provide debt forgiveness to these five groups:
Borrowers whose balances are greater than what they originally borrowed.
Borrowers whose loans first entered repayment decades ago.
Borrowers who attended education programs that didn't provide "sufficient financial value."
Borrowers who are eligible for relief under programs such as income-driven repayment but have not applied.
Borrowers who have experienced financial hardship and need support but whom the current student loan system "does not adequately address."
What It Involves
In a Sept. 29 press release, the Education Department indicated a debt relief issue paper will lay out an initial set of policy considerations to "create a path to debt relief for student loan borrowers in need." The issue paper was scheduled to be discussed this week at the first meeting of the Student Loan Relief Committee.
The issue paper also addressed federal regulations that might allow an agency to "compromise a debt" if the government can't collect the full amount. Reasons include the following:
The debtor is unable to pay the full amount in a reasonable time, based on financial information.
The government is unable to collect the debt in full within a reasonable time by enforced collection proceedings.
The cost of collecting the debt doesn't justify the enforced collection of the full amount.
There is "significant doubt" concerning the government's ability to prove its case in court.
Where It Stands Now
This week, the Education Department took a "critical step" in establishing the new HEA student loan forgiveness program with the first in a series of public negotiated rulemaking hearings, Forbes reported Oct. 10.
"We immediately began this new regulatory process to bring student loan relief to as many borrowers as possible as quickly as possible," Under Secretary of Education James Kvaal said in opening remarks at the hearings. "Already, we've considered more than 26,000 public comments, and now, with your help, our efforts to fix the broken student loan system take another step forward."
$9 Billion Debt Relief
What it Involves
In an Oct. 4 press release, the Education Department stated it will provide "fixes" to  income-driven repayment (IDR) and Public Service Loan Forgiveness (PSLF) plans and also grant automatic relief for borrowers with total and permanent disabilities.
"For years, millions of eligible borrowers were unable to access the student debt relief they qualified for, but that's all changed thanks to President Biden and this Administration's relentless efforts to fix the broken student loan system," Secretary of Education Miguel Cardona detailed in a statement. "Today's announcement builds on everything our administration has already done to protect students from unaffordable debt, make repayment more affordable, and ensure that investments in higher education pay off for students and working families."
Where the Money Will Go
The plan approves loan forgiveness in the following areas:
$5.2 billion in additional debt relief for 53,000 borrowers under Public Service Loan Forgiveness programs.
Nearly $2.8 billion in new debt relief for nearly 51,000 borrowers through fixes to income-driven repayment plans. These are borrowers who have been in repayment for 20 or more years but never got the relief they were entitled to.
$1.2 billion for nearly 22,000 borrowers who have a total or permanent disability and have been identified and approved for discharge through a data match with the Social Security Administration.
More From GOBankingRates